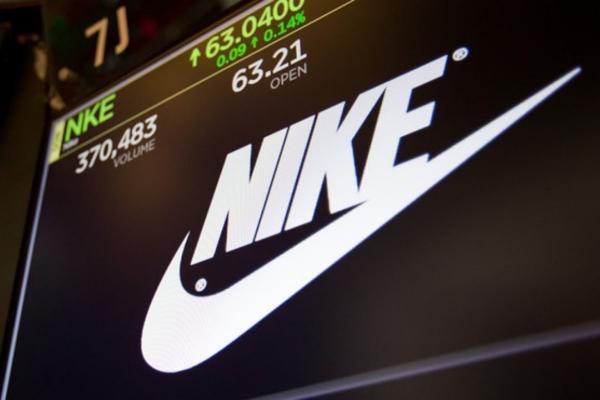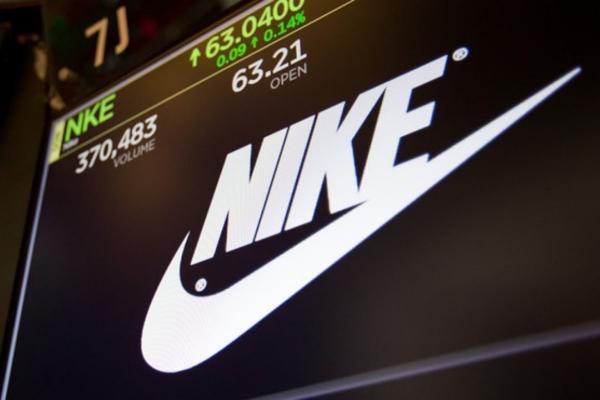 When you're new to investing, finding out which companies are worth putting money into can be quite challenging. With so many competing opinions out there, it can be difficult to figure out whether or not a particular business is a worthwhile investment.
Perhaps you've considered investing in sportswear companies or producers of sports equipment. If so, Nike Inc. is no doubt a company you've come across. But is investing in Nike stock a good idea? And if it is, how should you go about it? This Nike investment report aims to give you enough information so that you can answer these questions. It provides a history of the company as well as some crucial insights into its market performance and volatility. 
The History of Nike Inc.
Nike Inc. (NKE) is one of the world's leading sportswear companies, selling footwear, apparel, and sports equipment. The company was founded in 1964 under the name Blue Ribbon Sports and was headquartered in Eugene, Oregon. In 1966, founders Bill Bowerman and Phil Knight launched their first retail store. Six years later, they released the first Nike brand shoe.
In 1978, the company was renamed after the Greek goddess of victory herself, Nike. Under this name, it went public two years later. Over the next decade, the company steadily grew, developing a wide range of products thanks to several acquisitions they made along the way. Now, Nike sells its products in 170 countries, and its 'swoosh' logo is one of the most widely recognised in the world.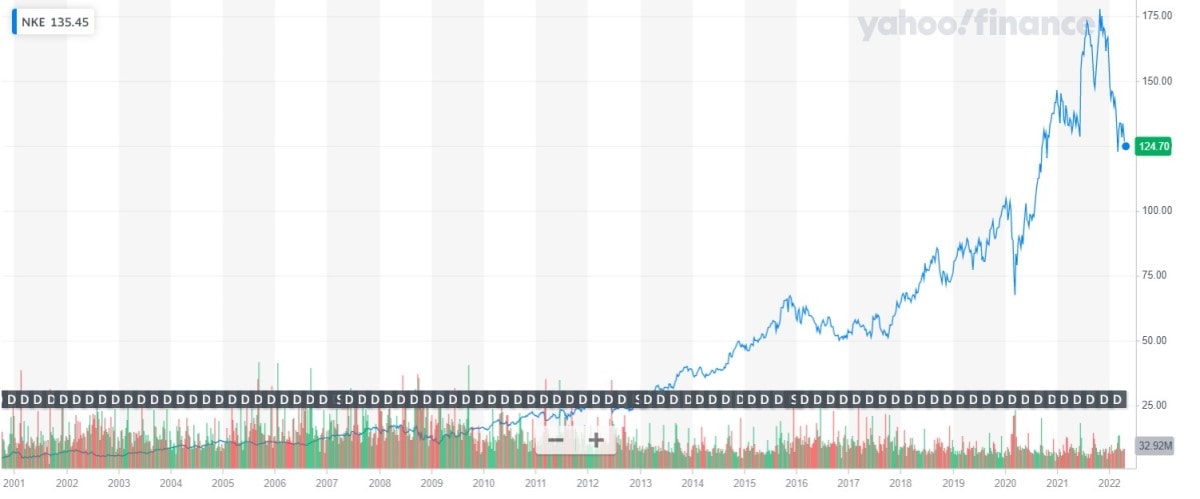 Traded on the New York Stock Exchange (NYSE), Nike has given investors plenty to celebrate in the past few years. In 2021, Nike's revenues shot up by almost 20%, reaching a grand total of $44.5 billion. Furthermore, from the start of January 2019 to January 2022, the company's overall value has gone up by more than 80%, pleasing short-term investors.
Should I Invest in Nike Stock (NKE)?
Given Nike's increase in performance over the past few years, you may be wondering if it's a worthwhile investment. As with all kinds of trading and investing, there is no clear-cut answer to this question. Investing is not a precise art by any means. The stock market can prove quite volatile, and a stock's performance from one day to the next can vary dramatically depending on any number of factors.
That being said, to decide for yourself whether you should invest in NKE, you should make time to look into the fundamentals of the company, as well as carry out technical analysis of its stock. This section will highlight some of the crucial points of information you should know about fundamental and technical Nike investment analysis.
Fundamentals You Should Know Before Investing in Nike Shares
Many analysts favour fundamental analysis as a means of estimating a stock's worth. This method involves trying to determine the intrinsic worth of a company's stock.
Opinions on NKE stock are quite split at the moment. However, Nike's performance over the decades has proved the strength of its company. Its consistent revenue growth has shown that the company is a reliable one to invest in. In 2020, despite the tumult caused by the COVID-19 pandemic, Nike's revenue was still 35% above that of its nearest competitor, Adidas, reaching $37.4 billion altogether. This enables Nike to invest more of its cash flow into its operations.
Clothing retail is often quite changeable. However, Nike still managed to ship roughly 800 million pairs of shoes every year. The company's impressive track record shows that it's more than capable of maintaining its market share, even in the face of changing fashions and consumer needs.
Technical Analysis of Nike Stock
Technical analysis is when investors interpret chart information to try and forecast a stock's performance. Usually, a mix of fundamental and technical analysis is most effective, as opposed to prioritising one over the other.
Despite seeing share price highs of almost $180 per share during 2021, NKE shares on 30 April 2022 are priced lower than they were this time last year, having dropped by 5.96%. Throughout April 2022, NKE stocks dropped 9.98%.

How to Invest in Nike With Mutual Funds and ETFs
While it's true that Nike is a very popular company that can point to years of expansion and revenue growth, it would still be a risky move to invest in Nike alone. Investing in any single company by itself can often prove to be unwise.
A way around this is to invest in mutual funds and exchange-traded funds (ETFs). There are differences between these two types of funds, but both can be explained as bundles of assets that are traded on the stock exchange. Investing in mutual funds and ETFs is, therefore, a good way of diversifying your portfolio and minimising risk to your capital.
The good news is that there are lots of different EFTs that include Nike stocks. As of 30 April 2022, Nike shares are currently held in 266 ETFs.
The top three best-performing ETFs with Nike shares are Direxion Daily Consumer Discretionary Bull 3x Shares (WANT), ProShares UltraPro S&P500 (UPRO) and SoFi Social 50 ETF (SFYF).
The top three ETFs holding the greater number of NKE shares are SPDR S&P 500 ETF Trust (SPY) with 13.76 million shares, iShares Core S&P 500 ETF (IVV) with 11.11 million shares, and Vanguard S&P 500 ETF (VOO) with 9.55 million shares.
How Volatile Is the Price of NKE Shares?
A stock's volatility is a measure of the rate at which its price moves up or down over a given period. If a stock has high volatility, this means it's a potentially risky stock to buy shares in since it's difficult to forecast how the price will move in the future. Because of this, it's always useful to look at a stock's volatility before investing.
That said, how volatile are NKE shares? One way of finding out is by looking at its beta. In investing, measuring a stock's beta is a way of finding out how volatile it is compared to the stock market since the stock market has a beta of 1.0.
Stocks with a beta of more than 1.0 move more than the market does over a set period of time and so are considered high risk but with the potential for high reward. On the other hand, stocks with a beta of less than 1.0 are generally considered to be fairly low-risk stocks but are less likely to generate as much profit.
As of 29 April 2022, NKE's beta — calculated using monthly figures from the past five years on the market — is 0.96. Stocks that fall between a beta of 0 and 1.0 usually have lower volatility compared to those with a beta of more than 1.0 or less than -1.0. This means that with a beta of 0.96, Nike stock is not considered to be very volatile. This means that it usually proves a fairly reliable stock for investors.
Have Nike's Shares Ever Split?
When a business decides to split shares, it means that they multiply the current amount of held shares to increase the overall number of stocks. This raises a company's liquidity but has no effect on its value; the number of shares is increased, not how much they are worth overall. A split is expressed with a ratio, for example, "2:1" or "2 for 1". This means that every stock is turned into two stocks.
Over about 25 years, Nike shares have split six times. Below, you can find a table including the dates and ratios of all six stock splits.
Nike Share Split History

Date

Ratio

08/10/1990

2:1

31/10/1995

2:1

24/10/1996

2:1

03/04/2007

2:1

26/12/2012

2:1

24/12/2015

2:1
Nike Share Dividends
The good news is that Nike does pay dividends. In fact, the company has been paying its shareholders quarterly dividends since 1985. What's more, over the past three years, its dividends have gone up by an average of over 15% every year. 
Dividends are usually paid on or near 5 January, 5 April, 5 July and 5 October. Their last dividend payment, with a yield of 0.9%, was made on 31 March 2022. It is reasonable to expect that Nike's usual quarterly dividend payments will continue throughout the rest of 2022.
How to Invest in Nike Stock in the UK
Before you can invest in NKE in the UK, there are a few steps you'll have to follow. This section offers an informative explanation of the process.
Find a platform with access to NKE stock 
The first step is to find a platform with access to Nike shares. When you're trying to make your decision, there are particular features you should compare to find the best platform for you. For example, it's important to consider the fees charged by various services. Some platforms have an account minimum. Others charge more expensive fees than their competitors. When you're new to investing or if you don't have a lot of capital to spare, this is something you should be very careful of when choosing a platform.
What's more, some platforms offer a different range of services to their competitors, like educational resources and investment advice, paper accounts or a broader range of assets to choose from. These features may come at a price, but they are likely to improve your experience. You should take the time to weigh up a platform's features against its fees.
Finances aren't the only thing to worry about. You should also check reviews to see how their customer support is rated by their users. It's also a good idea to check out the platform app or website to see how easy it is to navigate and to make sure it's accessible for you.
Once you've selected a platform, it's time to open a brokerage account. It's impossible to trade or invest without a broker, as it is only through them you can access the stock market.
Remember to take your time when choosing a broker. You might go with a discount broker to try and save a bit of money, or you might choose a full-service broker instead to make the most of their consultancy services. Whatever option you choose in the end, make sure you go with the broker that suits you the best. Don't think about the price and price alone; weigh the broker's fees against the services they offer their customers.
Deposit capital into your account
After completing the above steps, you should now be ready to confirm your payment details and deposit funds into your account. You will have to provide other bits of information, including your contact details. You'll also need to give your National Insurance number as well, so make sure you have it to hand.
Most platforms offer a variety of payment options. Some of the most popular methods of payment out there include e-wallets, bank cards and cryptocurrencies. If there's a particular method of payment that would suit you best, whether it's on this list or not, you should make sure your platform of choice accepts it before creating an account with them.
Find out more about the stock
Before investing in NKE stock, you should take the time to do a little more research. Try to discover as much about the company and its performance on the market as you can.
Start with the fundamentals: the company's management team, earnings and revenue. A smart trader will combine this approach with technical analysis, studiously observing the stock's performance on the market and analysing chart patterns.
The knowledge you acquire will allow you to determine whether or not investing in Nike stock is a wise move. However, you should apply this process to every potential new investment, not only NKE shares.
If, after your research, you decide to go ahead and purchase shares, there are a couple of ways you can go about doing so. You can opt for an immediate order or wait until the moment when the stock reaches a particular price.
Regardless of how you decide to go about purchasing your shares, start small to begin with if you're new to investing. This allows you to limit the risk to your capital while you're still getting used to the whole investment process. Investment can be exhilarating, rage-inducing, nerve-racking or any combination of these things. While you're still learning how to temper your emotions, don't take any unnecessary risks.
Another important thing to keep in mind is that it's always a good idea to set yourself a budget. When you do so, make sure you keep in mind whether you plan for this to be a short or long-term investment.
Track your Nike stock often
The hard work doesn't end once you've made your purchase! It's important that you keep an eye on your stock, being careful to stick to your preferred strategy. You should also make sure to keep up-to-date on any pertinent news or information.
Is Nike Stock Undervalued or Overvalued?
Valuing a stock is difficult, but there are particular metrics analysts use to try and make the job a bit easier. Two such metrics are known as a stock's price/earnings-to-growth (PEG) ratio and its Earnings Before Interest, Taxes, Depreciation and Amortisation (EBITDA). Investors never consider these figures in isolation but rather view them as part of a wider picture of the stock's overall performance. Make sure that you do the same.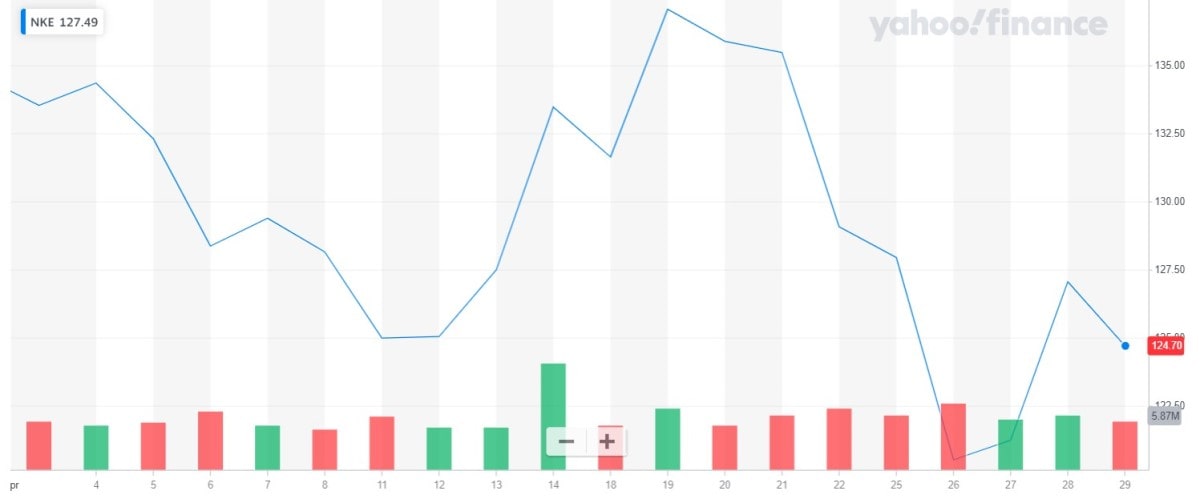 Nike's PEG ratio
To calculate the PEG ratio of a company, you simply divide its price/earnings ratio by its rate of growth. A result of less than 1 indicates that its shares are not overvalued when considered in the context of its current growth rate, while a result greater than 1 indicates the shares are overvalued.
PEG ratios are useful because of the insight they offer into the stock's future. These figures let analysts understand not just how the stock is performing now but how it will perform if it continues to grow at its current rate.
According to Nasdaq, Nike's PEG ratio is around 2.4. This high figure would indicate either that its shares are overvalued or that it may be approaching a growth acceleration. Compared to other sportswear companies — for example, Adidas (ADS.XETRA), with a PEG ratio of 0.51 — NKE's PEG ratio is considerably greater.
Nike's EBITDA
A company's EBITDA is a measure of how much revenue a company has made before any financial reductions have been taken off. Sometimes, EBITDA is used instead of net income for certain types of market analysis. Despite the fact it doesn't take into account various business expenses, EBITDA is a popular way of evaluating a company's performance.
Nike's EBITDA is $8 billion, which is considerably higher than most similar companies, as this table shows.
| | |
| --- | --- |
| Stock | EBITDA ($) |
| Nike (NKE) | 8 billion |
| Adidas (ADS.XETRA) | 2.6 billion |
| PUMA (PUM.XETRA) | 8.6 million |
Should You Buy or Sell Nike Shares?
At the end of the day, whether you should sell or buy Nike stock is up to you. Despite the company's high performance over the past few decades, NKE shares are not risk-free; no stocks are. For example, Nike's stock price is reduced compared to last year, even despite performing well over the course of 2021.
That said, if you're wondering why to invest in Nike, regular dividend payments and the company's consistently high sales make NKE stock at least worth considering. Despite the uncertainty some analysts harbour for the company, there are still reasons to invest in Nike.
As with any investment you make, weigh your options carefully before you put any funds into Nike shares.
FAQ
Is Nike a good stock to invest in?
Nike stock is still relatively expensive, meaning that those working with little capital may want to exercise caution when investing. Some analysts believe that Nike will perform well in the coming months. Others believe that investors should be wary. 
Can you invest in Nike stock?
Yes, you can invest in Nike stock on the NYSE. To begin this process, first, carefully choose a broker and submit an application to them. If your application is successful, you can deposit funds into your account and purchase shares. Remember to research the company thoroughly before investing.
How much does it cost to buy stock in Nike?
As of 30 April 2022, Nike's stock price was $124.70, representing a 1.85% drop in price from the previous close. Stock prices fluctuate rapidly, however, so this value may shoot up or rapidly fall in Nike's future.
How to invest in Nike stocks
To invest in stocks like Nike, you have to create an account with a broker. This will allow you access to the stock market via a programme. After doing an appropriate amount of research, you can start investing. Make sure to only invest small amounts of capital when you're just starting.
Does Nike's stock carry high risk?
Most analysts agree that any stock has a certain level of risk. According to Infront Analytics, Nike Inc. has a risk score of 7 out of a possible 10, with 10 representing a very low risk and 0 representing a very high risk.
Disclaimer: The information in this article is not intended to be and does not constitute investment advice or any other form of advice or recommendation of any sort offered or endorsed by Libertex. Past performance does not guarantee future results.
Why trade with Libertex?
Get access to a free demo account free of charge.
Enjoy technical support from an operator 5 days a week, from 9 a.m. to 9 p.m. (Central European Standard Time).
Use a multiplier of up to 1:30 (for retail clients).
Operate on a platform for any device: Libertex and MetaTrader.