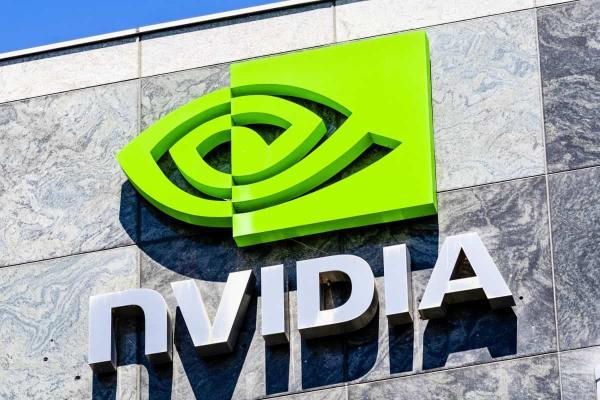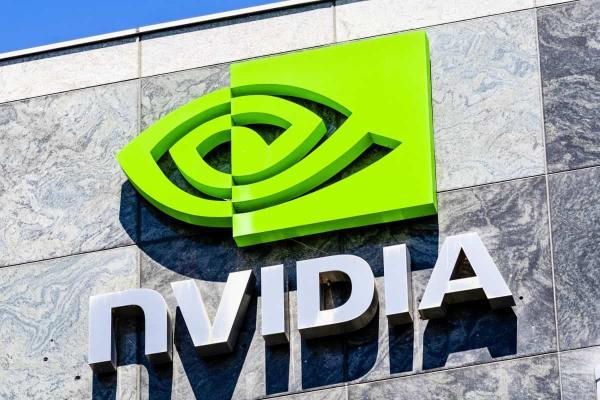 You may have heard something about NVIDIA, and if you're even remotely into gaming, there's a high chance you've used their products without realising it. NVIDIA Corp. is one of the main players in the graphics processing unit market.
In 2020, it was reported that their GPUs powered as much as 80% of PCs and their graphics cards power several game consoles, as well.
NVIDIA's popularity in the GPU market is only one reason why so many investors are interested in the company, however. In the future, its technology could prove indispensable to the development of machine learning, artificial intelligence and robotics.
But is NVIDIA a worthwhile investment? And how can you go about investing in it? This article answers these questions and more, walking you through the process of investing in NVIDIA.
The History of NVIDIA and Recent Developments in the Company
NVIDIA Corp. (NVDA) was founded in April 1993 in Delaware by three American computer scientists: current Chief Executive Officer Jen-Hsun Huang, Curtis Priem and Christopher Malachowsky. Almost six years later, in January 1999, the company went public via an initial public offering and, in October of that year, released the GeForce 256 — "the world's first GPU".
Now, a little over twenty years after its initial release, NVIDIA is one of the best-known companies in the GPU market. It designs and develops graphics processing units and software for PC graphics, video games, virtual reality, augmented reality, machine learning, artificial intelligence and crypto mining.
The company's great success in the GPU market is reflected in its earnings. In FY 2021 alone, NVIDIA made over $4 billion in net income on almost $17 billion.
Since the beginning of 2022, NVIDIA has been making headlines regarding a potential merger with Arm Ltd., a UK-based software company with a focus on AI development. NVIDIA announced its plans to purchase the company in September 2020. However, this planned merger faced scrutiny from the UK's Competition and Markets Authority (CMA) in November 2021.
Despite submitting a 28-page report defending the merger on 10 January 2022, the CMA did not approve of the merger, citing national security risks and the potential that it would actively discourage competitiveness in the chip industry.
Should I Invest in NVIDIAShares (NVDA)?
Given the huge popularity of NVIDIA in the GPU industry, as well as the versatile uses of its technology in everything from AI to crypto mining, many investors are showing interest in the company. If you're an investor yourself, you're no doubt wondering whether NVIDIA is worth investing in. As with all investing endeavours, this question cannot be answered easily.
To decide whether you shouldinvest in NVIDIA shares or not, you should research the company and carry out some basic analysis first. This section will present some fundamental and technical analysis to get you started and will also relay some crucial information about NVIDIA and its stock.
Fundamentals You Should Know Before Investing in NVIDIA Shares
Getting to grips with the fundamentals of a company is important for figuring out whether it is a worthwhile investment. Some investors will try to tell you that only technical analysis is important, but in truth, you should make use of both fundamental and technical analysis to get the full picture. You can't fully evaluate a company without knowing its fundamentals, i.e., the facts about a stock that illustrate its intrinsic value.
So, what fundamentals should you know about NVIDIA before deciding whether or not to invest in it?
NVIDIA has made a name for itself by pioneering the so-called world's first GPU and making waves in the AI chip industry. Its chips are used in everything from data centres and supercomputers to pharmaceutical development and self-driving cars. For instance, there's the NIO ET7, an upcoming automated electric car from Chinese automobile manufacturer NIO, that's powered by NVIDIA.
The company's graphics processing units also act as central processing unit (CPU) accelerators both for other companies and for NVIDIA's own projects. In April, NVIDIA announced their very first CPU, Grace. A collaborative project with Arm Ltd., this new CPU from one of the world's leading GPU and software developers is bound to prove tough competition for the company's main rivals.
Technical Analysis of NVDA Stock
NVDA stock prices hit a 52-week high in November 2021 before declining again due to a market-wide selloff that came about due to concerns regarding inflation and interest rates. Since then, the value has dropped considerably, declining by as much as 25% throughout March. This could be interpreted as a strong sell signal.
That being said, it isn't all bad news for the company. Currently, NVIDIA has an Investor's Business Daily (IBD) rating of 90, meaning the company's fundamental and technical metrics have performed better than 90% of other stocks. This high score places NVIDIA on the IBD Leaderboard, as well as the IBD 50 and Big Cap 20.

How to Invest in NVIDIA With ETFs
Investing in a single stock is always risky, no matter how well the company is performing. That's why many investors choose to put their money into exchange-traded funds (ETFs). ETFs can be thought of as asset 'bundles'. By investing in them, you gain shares in a great number of stocks. Not only do ETFs reduce the risk to your capital, but they also provide an opportunity for you to diversify your portfolio.
Fortunately for those interested in investing in NVIDIA, the company is present on numerous ETFs. As of 5 May 2022, NVDA shares are held on 373 ETFs.
The top three best-performing ETFs with NVDA shares are Simplify Volt RoboCar Disruption and Tech ETF (VCAR), Direxion Daily Select Large Caps & FANGs Bull 2x Shares (FNGG) and ProShares UltraPro QQQ (TQQQ).
The top three ETFs holding the greatest number of NVIDIA shares are Invesco QQQ Trust (QQQ) with 30.38 million shares, SPDR S&P 500 ETF Trust (SPY) with 26.94 million shares and iShares Core S&P 500 ETF (IVV) with 21.76 million shares.
How Volatile Is the Price of NVDA Stock?
Investors use the term volatility to describe the rate at which a price rises and falls over a given amount of time. Stocks with high volatility are riskier investments by their very nature but can also prove to be potentially high-reward. By contrast, stocks with low volatility are typically less risky but also less profitable. 
One way of gauging a stock's volatility is by looking at its beta. Measuring a stock's beta allows you to see how volatile it is when compared to the market, which has a beta of 1.0. 
As of 5 April 2022, NVDA shares have a beta of 1.423. This tells us that NVIDIA's stock has higher volatility.
Comparing NVIDIA's beta to that of similar companies offers some perspective. Below, you can find a table comparing NVIDIA's beta with that of some of its top competitors.
| | |
| --- | --- |
| Stock | Beta |
| NVIDIA Corporation (NVDA) | 1.423 |
| Intel Corporation (INTC.US) | 0.549 |
| Broadcom (AVGO.US) | 1.027 |
| Advanced Micro Devices (AMD.US) | 1.805 |
Have NVIDIA's Shares Ever Split?
When a company splits stock, this increases the number of outstanding shares the company has. While this doesn't affect the actual value of the company, it does increase the number of stocks a shareholder possesses. For example, if a company splits its stock at a ratio of 2:1, then every single share will become two shares.
Since it was founded in the early 90s, NVIDIA has split shares a total of five times. Here is a table of the share split dates and ratios:
NVIDIA Share Split History

Date

Ratio

27/06/2000

2:1

17/09/2001

2:1

07/04/2006

2:1

11/09/2007

3:2

20/07/2021

4:1
NVIDIA Share Dividends
NVIDIA pays quarterly dividends to its shareholders and has done so since 2012. Dividend payments are made every three months in March, June, September and December. The last payment with a dividend yield of 0.08% was made on 24 March 2022. Analysts predict that dividend payments will continue throughout the rest of 2022 and beyond, as there is currently no reason to expect otherwise.
How to Invest in NVIDIA Stock
If this article has piqued your interest, you may be wondering how to invest in NVIDIA. This section will walk you through the process, from opening an account with a broker to making your first purchases.
1. Open your brokerage account
The first step to investing in NVIDIA stock — or, indeed, any stock — is to open a brokerage account. You cannot access the stock market except through a broker, so this is an essential step.
When you're looking for a broker, you shouldn't just go with the first one you happen to stumble across. There are certain features you should look out for in a broker. Additionally, some may offer particular features that would be a help to you as a beginner investor. For example, full-service brokers offer consultancy services and investment advice to their clients.
When you're looking for a broker, make sure you can answer at least these four questions:
Are they reliable? Check out customer reviews to see what their clients are saying about their services.
What services do they provide? Some brokers may be more beneficial to you than others. If you think you'd benefit from more support, a full-service broker might be worth considering.
How much do they charge? Different brokers charge different fees for their services. For example, full-service brokers charge more than discount brokers since they offer additional consultancy services.
Does their software work for you? What kind of platform does the broker use, and is it one that's convenient for you? If you can, try to test the software out before committing to a broker. This gives you the chance to see if the software is useful and easy to navigate.
It's important to do thorough research before choosing a broker. These are just a few questions to help you get started.
2. Decide how much you can invest
The next thing to decide is how much you can invest in the company. If you're new to investing, it's generally better to start small. While it may be tempting to dive straight into the deep end and start making high-risk, potentially high-reward investments, it's best to exercise caution until you're comfortable in what you're doing.
Take the time to get to grips with fundamental and technical analysis, as well as read stock charts before you place too much capital on something. Investing can be highly emotional, especially for new starts, so it's important that all your decisions are founded on logic.
It may be that you want to invest in other companies alongside NVIDIA. In that case, you should consider this as well. How much capital can you afford to place in any one company if you'd like to invest in others, as well?
Also, take the time to consider whether this investment is short-term or long-term. This will also affect your budget.
3. Deposit money into your account
Once you've decided how much you'd like to invest, it's time to deposit funds into your account. Different brokers accept different payment methods — such as bank cards, e-wallets and bank transfers. If there is a particular type of payment method that would be more convenient for you, then that's something to keep an eye out for when you're choosing your broker.
To deposit capital into your brokerage account, you'll have to provide the broker with some personal details. This includes payment information, contact details, and your National Insurance number. Make sure that you have any supporting documents ready in advance to expedite the process.
4. Buy NVIDIA stock
Once you've completed the above steps, you're ready to purchase NVIDIA shares. Before you do so, however, make sure you've done all the research you need to. Be thorough when investigating the company. Acquaint yourself with the relevant stats and figures, and make sure you engage in in-depth fundamental and technical analysis before investing your funds.
After you've researched the company, you should then be ready to invest. This point is applicable for all investments, not just investments in NVDA stock.
There are a couple of different ways you can purchase stock. You can either make an instant purchase called a market order or an automatic limit order that will take place when the stock reaches your desired price point.
5. Closely monitor your stocks
Your investment journey doesn't end the second you've made your purchase. On the contrary, you should keep an eye on your NVIDIA stocks after purchase. Monitor them closely, and make sure also to keep up-to-date on all relevant news about the company.
Is NVIDIA Stock Undervalued or Overvalued?
Valuing a stock is by no means an easy task, but there are a couple of metrics you can use to simplify the process. These figures are the stock's price/earnings-to-growth (PEG) ratio and its Earnings Before Interest, Taxes, Depreciation and Amortisation (EBITDA). When using them, however, it's important that you consider them as part of the wider picture and don't just take them in isolation.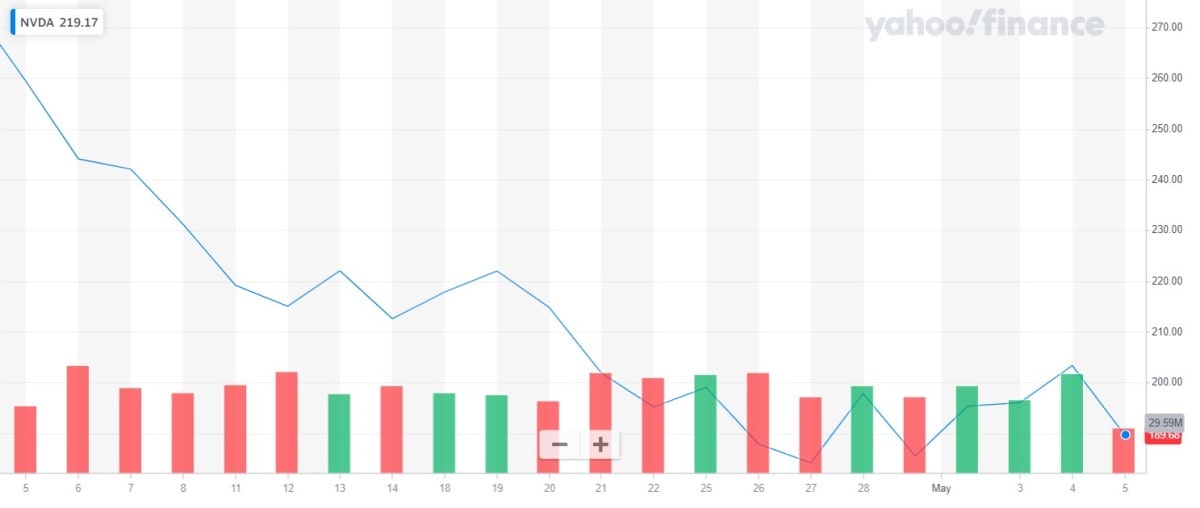 NVIDIA's PEG ratio
To find out the PEG ratio of a company, you have to divide its price/earnings ratio by the business' growth rate. If the resultant figure is less than one, then it is likely the company's stock is not valued, whereas a result greater than one indicates that the stock may be overvalued.
This metric is popular among stock analysts for the insight it allows into the future of the company. It helps investors determine how the company will perform if its expansion continues at its current rate.
Recent figures show that NVIDIA's PEG ratio is around 2.4. Such a high figure could mean either that the stock is overvalued or that it is coming up to an acceleration in growth. As the table below shows, NVIDIA's PEG ratio is a similar level to Intel's and exceeds that of other similar companies.
| | |
| --- | --- |
| Stock | Beta |
| NVIDIA Corporation (NVDA) | 2.44 |
| Intel Corporation (INTC.US) | 2.52 |
| Broadcom (AVGO.US) | 1.17 |
| Advanced Micro Devices (AMD.US) | 1.09 |
NVIDIA's EBITDA
Measuring a company's EBITDA is another way of determining its value. This metric tells you how much revenue a company has made before the deduction of any expenses. It's frequently used in place of net income for various kinds of market analysis, despite the fact it doesn't take into account business costs.
NVIDIA's EBITDA currently sits at an impressive $11.2 billion. The table below compares this figure with that of several similar companies.
| | |
| --- | --- |
| Stock | EBITDA ($) |
| Advanced Micro Devices (AMD.US) | 4.1 billion |
| Broadcom (AVGO.US) | 15.7 billion |
| Intel Corporation (INTC.US) | 33.9 billion |
| NVIDIA Corporation (NVDA) | 11.2 billion |
Should You Buy or Sell NVIDIA Shares?
Whether or not you should sell or buy NVIDIA stock is entirely up to you. No stock investment is completely free of risk. The best thing you can do when considering a purchase in the shares market is to do your research and consider the opportunity from all angles as logically and dispassionately as possible.
So, why invest in NVIDIA? For one thing, the company's high-profit margins and promising AI technology certainly make it stand out. That said, compared to Intel, one of its main competitors, NVIDIA is currently underperforming financially and is also a more expensive investment. At the time of writing, the share price of NVIDIA is $189.05 compared to Intel's share price of $45.27.
FAQ
Is NVIDIA a good long-term investment?
NVIDIA is currently one of the world's leading developers of graphics processing units and AI chips. It might continue to perform well not just in the ever-growing video game industry but also in AI and machine learning development, AR, VR, automated vehicles and more. Keep in mind, however, that it is impossible to guarantee this.
Does NVIDIA pay a dividend?
Yes, NVIDIA pays a dividend. Since 2012, the company has paid dividends on a quarterly basis in March, June, September and December. As of 5 April 2022, their annual dividend yield is 0.085%.
Is it a good time to invest in NVIDIA?
Despite NVIDIA stock declining by as much as 25% in recent weeks, some analysts believe that now is a good time to invest in the company. Due to its high volatility, investing in NVDA shares is currently quite risky.
Is NVIDIA Corporation a good stock to buy?
NVIDIA Corp. has a lot of potential as a company. It is difficult to forecast the future performance of any business, but with NVIDIA's continued influence in machine learning, AI, GPUs and more, there is a positive sentiment around it.
Is NVIDIA stock public?
Yes, NVIDIA is public. The company went public in January 1999, just months before releasing the GeForce 256.
How much does it cost to buy NVIDIA?
Stock prices are always fluctuating. However, at the time of writing this article on 5 April 2022, the stock price for NVIDIA was $189.05 per share.
Disclaimer: The information in this article is not intended to be and does not constitute investment advice or any other form of advice or recommendation of any sort offered or endorsed by Libertex. Past performance does not guarantee future results.
Why trade with Libertex?
Get access to a free demo account free of charge.
Enjoy technical support from an operator 5 days a week, from 9 a.m. to 9 p.m. (Central European Standard Time).
Use a multiplier of up to 1:30 (for retail clients).
Operate on a platform for any device: Libertex and MetaTrader.