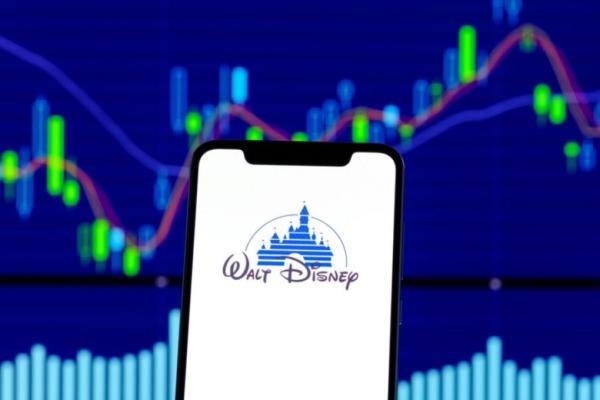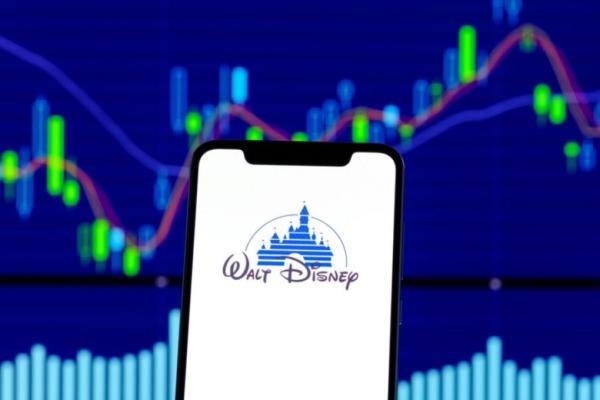 How to Invest in Disney Stock
After a pretty explosive year, Disney stocks are showing some of the best performance in recent decades. Coming back more than 140% from its March 2020 coronavirus crash lows, the entertainment giant gives hope to existing shareholders and wavering investors. But does Disney have a strong position in 2022 and going forward?
Without further ado, let's jump into our comprehensive guide on DIS stock.
Overview of the Disney Company and Stock
The Walt Disney Co. is an international entertainment and media enterprise. The company operates in the following segments:
Studio Entertainment (live-action and animated motion pictures, direct-to-video, musical recordings, and live stage plays).
Media Networks (cable and broadcast TV, television production and distribution, domestic TV, radio stations).
Parks, Experiences, and Products (Walt Disney Resort in Florida, California, Hawaii, Vacation Club, Cruise Line, and Adventures by Disney).
Direct-to-Consumer and International (trade names, characters and visual and literary properties, game developers, publishers and retailers, games, books, magazines, and comic books).
Stock summary:
Exchange: NYSE
Sector: Consumer Services
Industry Services: Misc. Amusement & Recreation
Market Cap: $183.138 billion
Public Float: 1.83 billion shares
Average Volume: 9,832,313 shares (3 months)
52 Week High/Low: $84.07 - $126.48
Dividend Yield: 1.72%
Dividend: $1.76
Earnings Per Share: $1.87
% Of Float Shorted: 1.05%
Disney was originally founded on 16 October 1923 by brothers Walt and Roy O. Disney. The current Walt Disney Studios, where the company remains headquartered, was completed in 1939. In the following year, the company became exchange-traded and had its IPO at $13.88 per share.
Since then,the blue-chip stock has split eight times (1962, 1967, 1971, 1973, 1986, 1992, 1998, 2007), the recent one being the least drastic. It's usually not clear when any stock will split until the company officially announces it. But based on the underlying fundamentals of the business, analysts don't expect another split to happen anytime soon.
There are currently 1.83 billion shares outstanding (the number of stocks that a company has issued); 1.82 billion of them are in the public float. Last year, two-thirds of Disney stock was owned by large financial institutions and mutual funds, which is quite common for corporations of this size. 
Reasons to Invest in Disney Stock
While there are many positive factors at play, let's focus on the three biggest reasons you should consider buying Disney stock.
1. Diversified Lineup
Diversification of Disney's portfolio is important because it prevents any single event from hitting the overall top or bottom line too hard. That is why Disney managed to recover its revenue even amidst pandemic-related restrictions and lower purchasing power among consumers.
For example, 54% of Disney's revenues come from movies and theme parks, but this only accounts for 32% of its profits. Its most profitable growth comes from new products in new markets.
2. Demographic Tailwinds
Disney's target market is, simply put, families. But families are a very broad target market, so the company segments what they offer to appeal to every demographic. And they do so successfully.
Let's take Disney World as an example of diversified offers that support revenue growth from all sides:
Fun characters for the kids.
Nightlife for adults.
Rides for everyone.
Fine dining for foodies (including vegan options).
Sights for the animal lovers.
Indoor shows if you need to cool off.
Delicious breakfasts for morning birds.
The Hollywood experience for movie enthusiasts.
3. Strong Cash Flow
Disney's free cash flow of more than $5 billion gives the company a great financial foundation to keep its momentum going. It offers some room to invest in existing and developing products and reward shareholders through dividends and share buybacks.
Given that in a normal year, the company's cash flows from operations reach close to $14 billion and are expected to grow, investors can expect normalised cash flows to return soon.
How Much Does Disney Stock Cost?
Yahoo! Finance posted the following data for Disney stock, current as of 02 May 2023.
| | | | | | | |
| --- | --- | --- | --- | --- | --- | --- |
| Date | Open ($) | High ($) | Low ($) | Previous Close ($) | Adj Close ($) | Volume |
| 2 May 2023 | 101.33 | 101.69 | 99.62 | 100.30 | 100.30 | 4,306,340 |
Fundamental Analysis of Disney Stock
Fundamental analysis of DIS stock allows you to evaluate its intrinsic value and figure out your long-term investing opportunities. The following five sections will examine related economic and financial factors as well as the stock's historical performance. 
Factors That Affect Disney's Stock Price
Fundamental analysis of DIS stock allows you to evaluate its intrinsic value and figure out your long-term investing opportunities. The following five sections will examine related economic and financial factors as well as the stock's historical performance.
Disney stock is trying to bounce back, and here are the factors that drive the price the most:
Streaming services: The last quarter recorded more than 161.8 million paid subscribers to Disney+. While it's still behind Netflix, Disney has strong intellectual property and leverage in other products. Streaming is also about to enter India and Latin America, which are particularly large markets to tap into.
DTC trends: Disney's recent hiring trend shows the shift to direct to consumer. The company is now trying to buck these trends since they are much more reliable and give Disney full control. For example, with the distribution tool for hot blockbuster releases.
State of restrictions: With increased vaccination rates and relaxed regulations, there is the potential for further reopenings. Gradual increases in the company's theme park capacity should affect the stock in a positive way.
Cross-pollination opportunities: Disney can cross-market its intellectual property by taking an idea and developing multiple streams of income from it. The more revenue with minimised expenses, the better for the stock. For instance, animated movies are turned into live-action movies, rides at its theme parks are developed based on its popular movies.
Price History of Disney Stock
With such a long history like Disney, we could dedicate a whole article describing its stock price dynamics. For the purposes of this article, we'll track the most notable price changes for the last two decades:
$43: Despite the 1990s being the Disney Renaissance, the stock really started to pick up only in 2000. 
$23: Economic effects arising from the September 11 attacks in 2001.
$20-$30: The stock moved in this tight range until 2009.
$16: The lowest point during the US bear market of 2007-2009.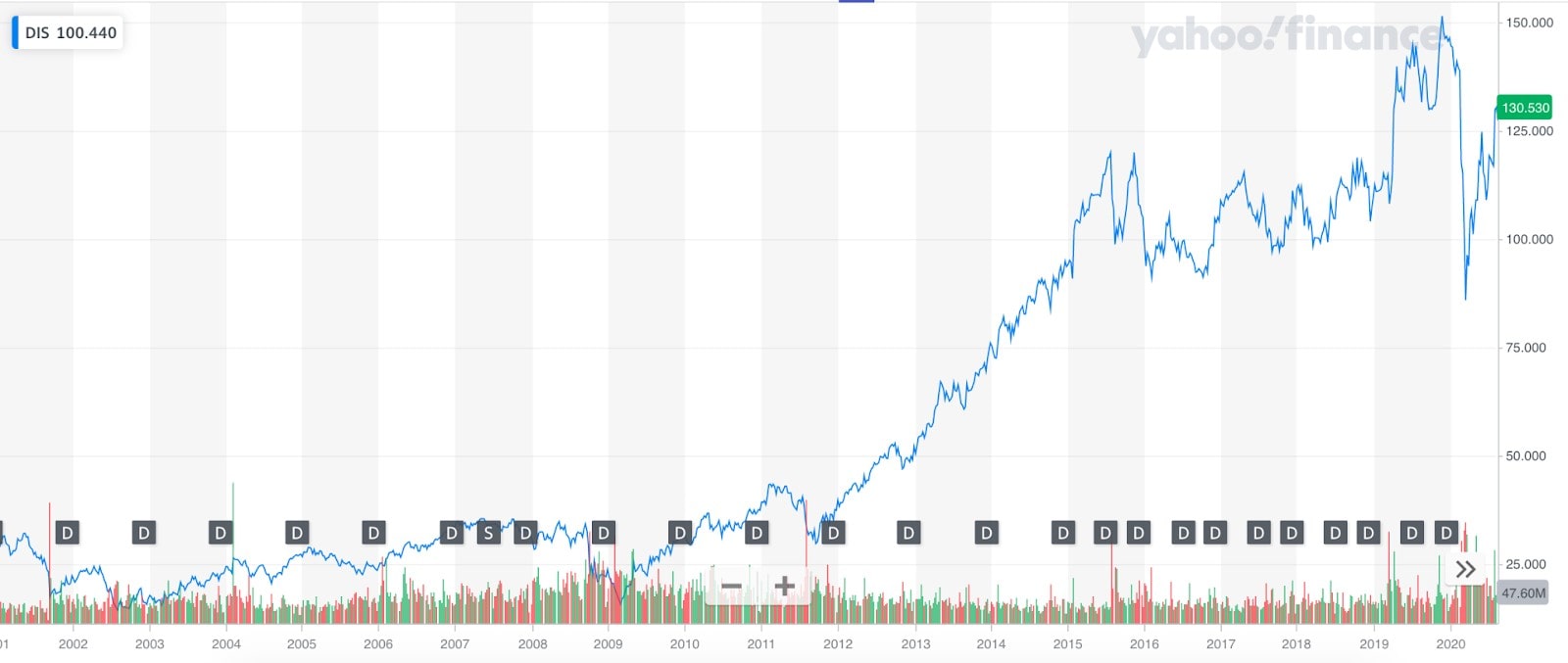 $30-$118: Monstrous rise from 2010-2015.
$90: Q4 2016 earnings report and subsequent stock drop due to missed expectations.
$112-$148: The company kept growing, doing especially well in movies, merchandise, and theme parks.
$85: Coronavirus confirmed as a pandemic by WHO.
$197: Incredible start to 2021 
Disney Stock Performance After the COVID-19 Outbreak
Employees took the biggest hit during the crisis. At the start of the pandemic, Disney suspended payments to 100,000 workers, which is half of its global workforce. But despite that, Disney reported an astonishing 93% drop in revenue, shuttering its theme parks, cruise line, and entertainment divisions.
A year later, Disney is slowly reopening its theme parks with limited capacity and bringing back more than 10,000 furloughed employees that the company also plans to compensate. According to the COO, they met the expectations that they've set for themselves and announced new deals with Major League Baseball and Spain's La Liga soccer league.
Overall, most of Disney's products and services are picking up.
How Was Disney Doing in 2021?
Here is a timeline of events that perfectly describe Disney's situation in 2021: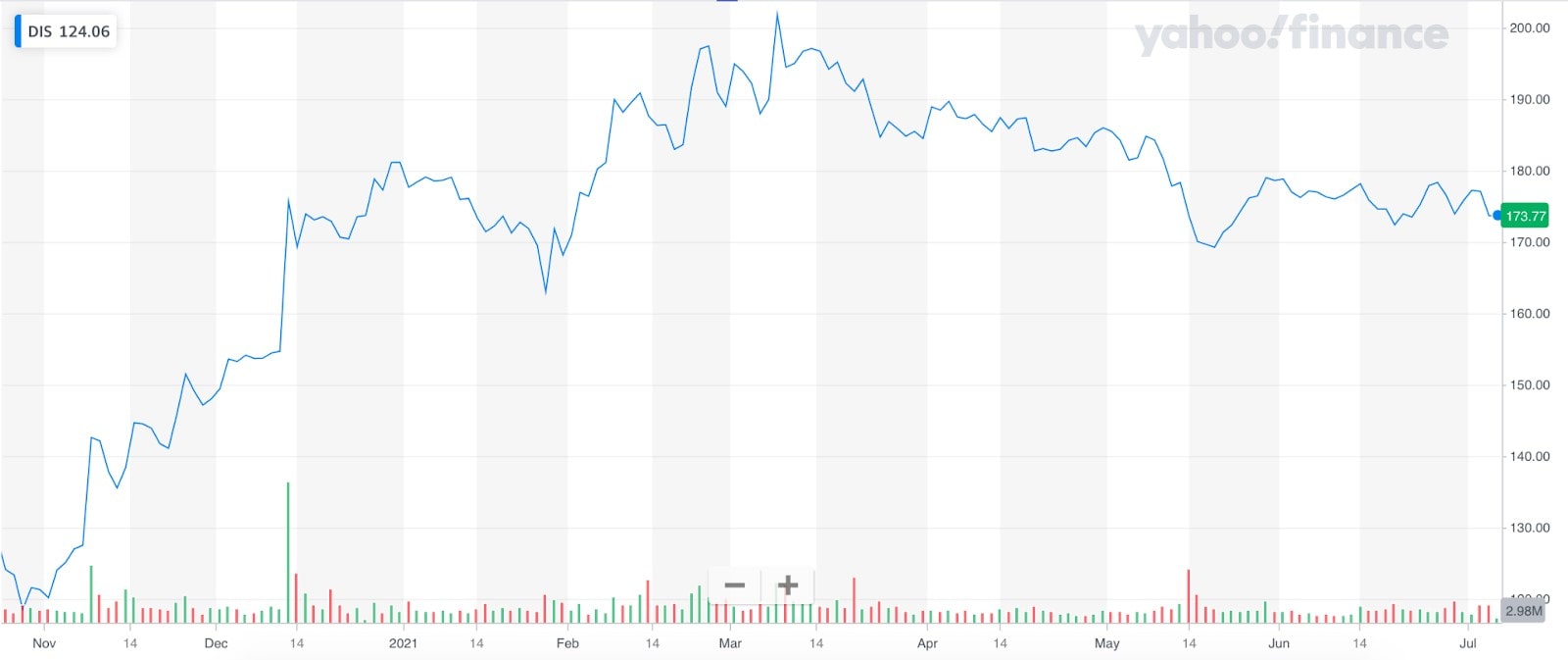 11 February: Q1 2021 earnings show a 79% drop from the previous year in EPS, revenue down 22%.
9 March: Announcement of Disney+ services, with the number of paid subscribers surpassing expectations.
13 April: A deal with Sony Pictures Entertainment for streaming rights of Sony's movies.
30 April: Disneyland reopening after shutting down in March 2020.
13 May: Q2 2021 reports show EPS far above analysts' expectations and the revenue at $15.6 billion, slightly below the $15.9 billion estimations.
26 May: Disneyland operating at full capacity.
30 June: Q3 2021 results surpass expectations.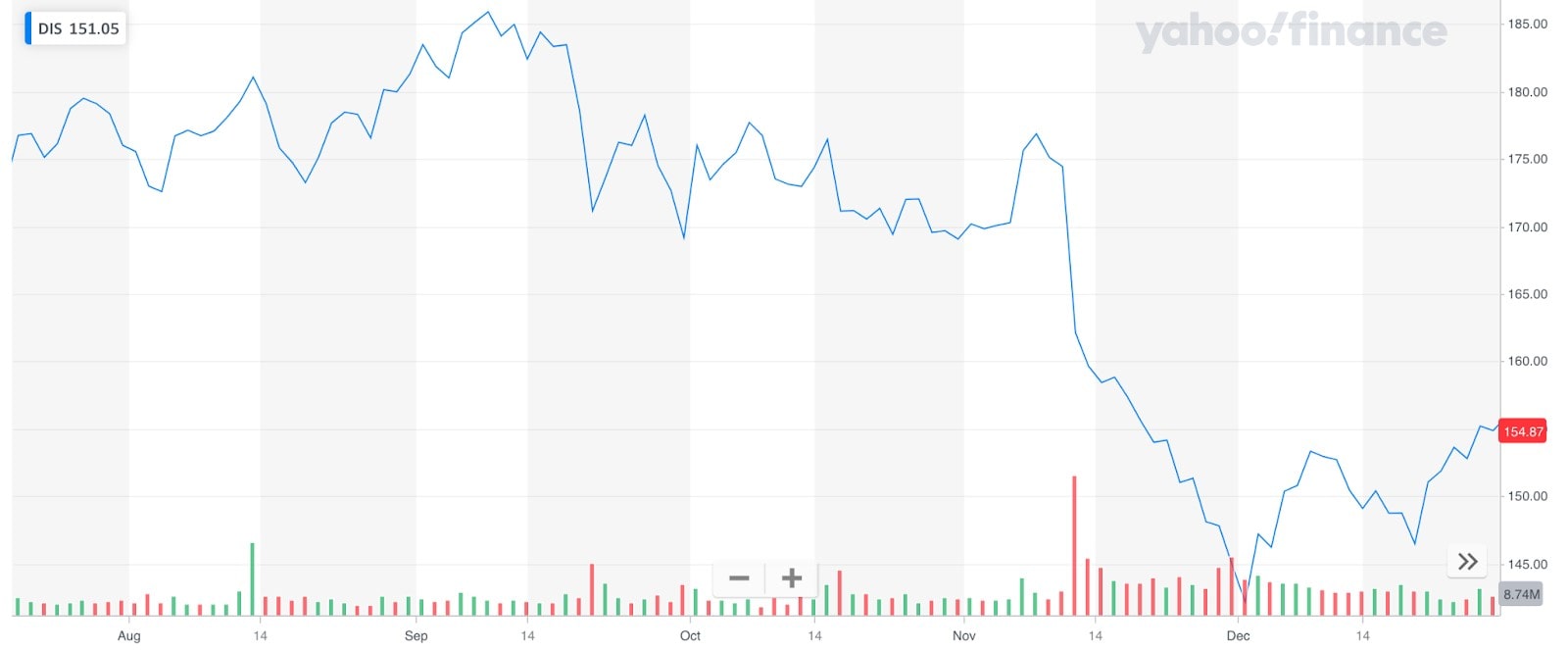 9 July: Black Widow debuted via Disney+ Premier Access and in theatres, pumping the stock price growth for several weeks.
4 August: An alleged breach of contract lawsuit over the star's Black Widow payday.
9 September: Shang-Chi and the Legend of the Ten Rings racked up a record-breaking result at the box office.
30 September: Disney and Scarlett Johansson settle the lawsuit.
8 November: Excitement and brief uptrend before fiscal year results.
1 December: Lowest drop after a disappointing performance in contract with overly positive estimates.
28 December: Big plans revealed – $33 billion will be spent on content in 2022, expansion of the geographic footprint will span 50 more countries.
The company's streaming business continues to perform strongly, and subscriber count has risen in the last year. But the market volatility took a toll on the stock, so there is a temporary drop that isn't expected to last.
How Was Disney Doing in 2022?
Here is a timeline of events that perfectly describe Disney's situation in 2022: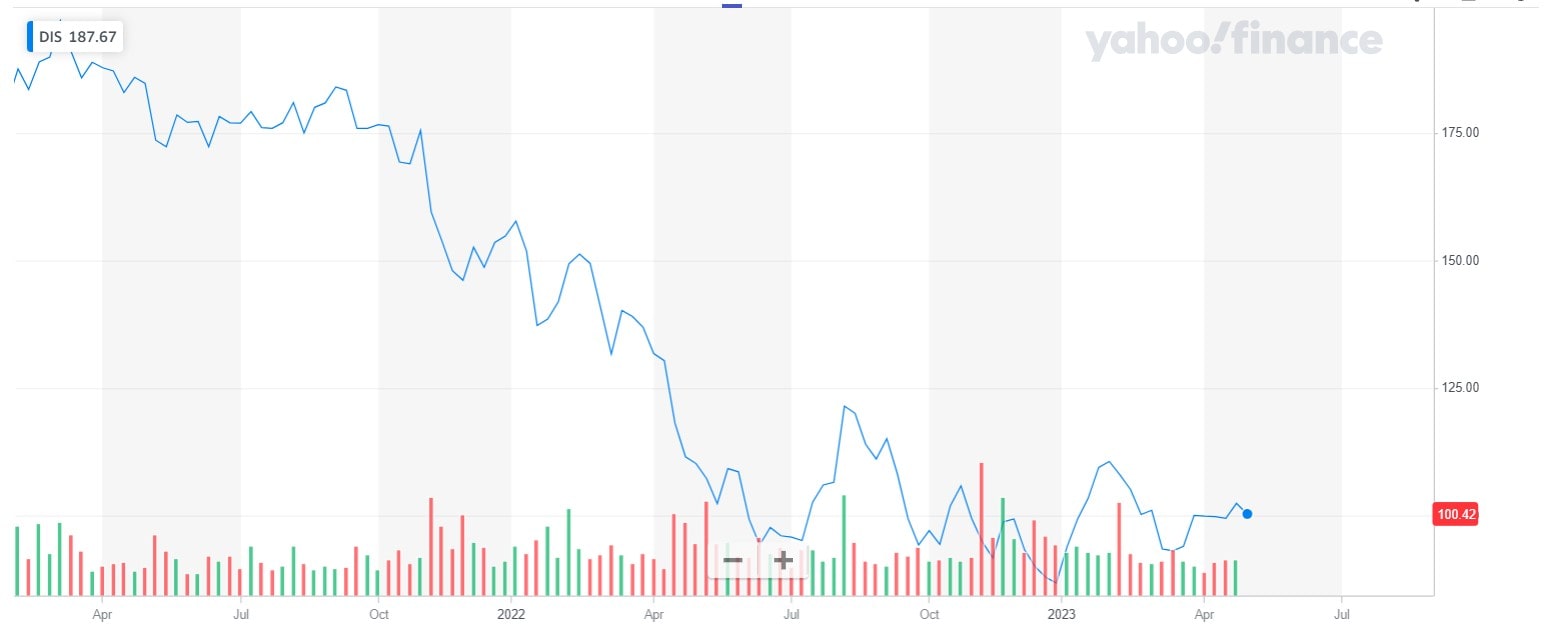 January 2022: At the beginning of the year Disney stock price was traded at around $150.
April 21, 2022: The Florida legislature approved a new bill that revoked the special district utilized by Disney to manage most municipal services at Walt Disney World in Florida.
April 29, 2022: Disney made an announcement regarding the departure of Geoff Morrell, the Chief Corporate Affairs Officer.
May 2022: As a result of the above mentioned events, DIS share value dropped to around $111.
May 11, 2022: Disney unveiled its Q2 FY2022 earnings report, which unfortunately fell short of market expectations. The report indicated that the company's adjusted earnings per share (EPS) and revenue amounted to $1.08 and $19.2 billion, respectively.
Summer 2022: DIS stock price was fluctuating around $112 - $104.
December 2022. Disney closed the year relatively low, at around $87 per share.
What Can We Expect From Disney in the Future?
A comeback of parks and experiences
Bank of America's Jessica Reif Ehrlich and Brent Navon believe that Disney "remains well-positioned for the recovery driven by a continued increase in capacity at theme parks and an improving content slate." But it's not only about the special shows and promotions. It is very likely customers will try to make up for lost time at entertainment venues like Disney's. So, it may not return to the pre-pandemic levels but actually surpass them, at least in the near future.
Disney+ maturity to a real business
Disney+ Premier Access has been a temporary solution to release films during the current crisis. But if the new system proves profitable, it may continue or even become the norm.
The company is going through a reorganisation of its media and entertainment business to further accelerate its streaming strategy. One upcoming addition is the video game interactivity within their services.
Disney's digital future
Up until recently, Disney had been a legacy media company unprepared to make the digital transition. But the changing environment forced them into that transformation. They found their own formula for success in digital media, creating another source of highly profitable revenue.
Disney Share Price Forecast 2023
To get a better understanding of DIS potential development in 2023, let's consider opinion of reputable platforms and experts.
Coin price forecast gives the following Walt Disney stock predictions for the short-term.
| | |
| --- | --- |
| Month | Disney stock forecast |
| May 2023 | $103 |
| June 2023 | $104 |
| July 2023 | $105 |
| August 2023 | $106 |
| September 2023 | $108 |
| October 2023 | $109 |
As for a longer term, this expert platform expects DIS shares to reach $113 by the end of 2023. 
Over the last three months, a group of 21 Wall Street analysts has provided their insights on Walt Disney stock forecast for the next 12 months. Their analysis reveals an average price target of $129.50, with a range of Disney stock predictions spanning from a high forecast of $147.00 to a low stock price forecast of $107.00.
Disney Stock Forecast 2025
Forecasting long-term company's stock price can be challenging due to multiple factors that can impact a company's financial performance and ultimately affect its stock price. However, we have gathered Walt Disney share price forecast for 2025 from different sources to provide you with deeper insight.
Coin Price Forecast expects Disney hares hit 150$ by the end of 2025, this way showing a 47% growth.
According to Charlie Munger, vice chairman of Berkshire Hathaway, predicts Disney stock to bounce back to $200 in 2025
Technical Analysis of Disney Stock
Sixteen Wall Street analysts issued ratings for The Walt Disney. The overall consensus rating is a Strong Buy.
Take a look at the following chart: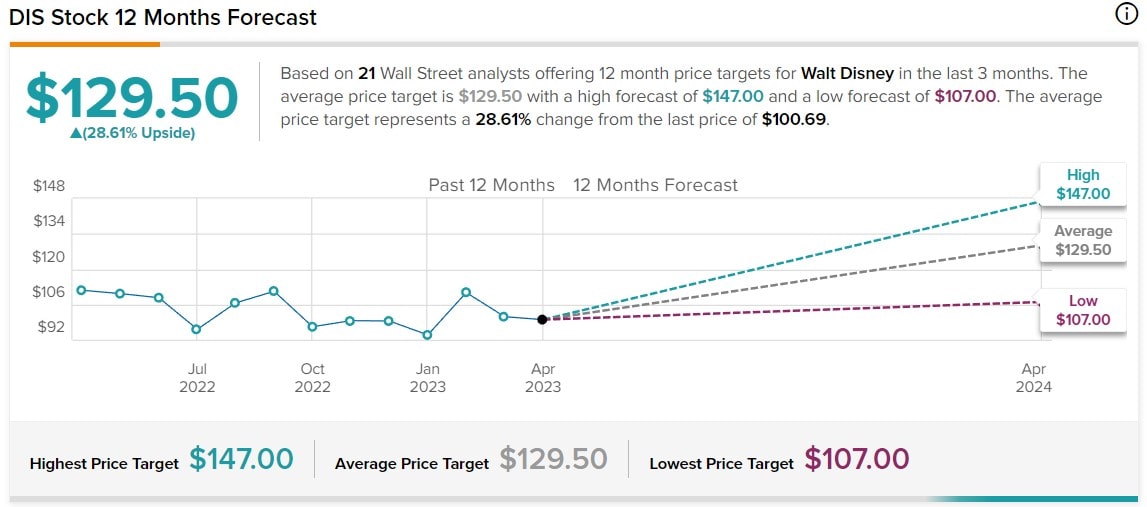 Technical analysis on the monthly chart, on the other hand, show a strong negative trend. Moving averages give a sign to Sell while technical indicators show Strong sell.
The summary of the Moving Averages, you can see in the table below.
Period

Simple

Exponential

MA5

102.31

Sell

100.58

Buy

MA10

100.92

Sell

104.61

Sell

MA20

116.46

Sell

113.23

Sell

MA50

133.92

Sell

123.76

Sell

MA100

119.83

Sell

113.33

Sell

MA200

82.21

Buy

91.88

Buy
Here is a more detailed information about some of the oscillators:
Relative Strength Index (14) - 42.544 - Sell
Stochastic %K (14, 3, 3) - 84.151 - Overbought
Commodity Channel Index (14) - -48.6420 - Neutral
Average Directional Index (14) - 47.873 - Sell
Ultimate Oscillator - 48.174 - Sell
Pros and Cons of Disney Stock
Are you still debating whether you should buy Disney shares?
Pros

Cons

Shares climbed 260% in 10 years (vs S&P 500's 127% climb)
Portfolio of reliable brands
Top-notch intellectual property holdings
Strong balance sheet
Streaming services growing faster than expected
Major expansions on the way

All-in on streaming ramps up the risk for the stock
Dividend cut
Shrinking free cash flow
Execution risk with new acquisitions
What to Do With Disney's Stock: How to Invest or Trade
Do you have a low risk tolerance and want to avoid volatility? Or are you more of a risk-taker and would like the chance to achieve bigger, faster returns? Answer these questions about yourself and learn more details about investing in or trading DIS stock.
Investing
Investing is simple – it involves putting money into a financial asset (here, DIS stocks) with the expectation that it will rise in value over time. This format works for those willing to wait – some investors even hold onto their investments for multiple decades. If the company's underlying value is solid, it will pay off, but there is also a risk of the appreciation not being worth the wait.
How to invest in Disney stocks:
Decide how much money you want to invest.
Open an investment account.
Do in-depth research into the company.
Buy DIS shares through your broker.
Track your portfolio and diversify.
People that are more suitable for investing:
More focused on the underlying company.
Have a fair amount of capital base.
Want to save on commissions (only paying a one-time fee).
Trading
Trading is about buying and selling securities like DIS shares in a short period of time. Traders usually think in terms of weeks, days, or even minutes, instead of years. Here, fundamentals are less relevant, so you don't need to study all financial reports. What you will need to master, however, are technical analysis tools. You can even increase your position size with funds you don't own – through leverage.
How to trade Disney stocks: 
Set your trading budget.
Open a trading account.
Choose your order type to enter the marker at the specified time.
Manage your stock portfolio, and don't be afraid to buy/sell on a regular basis.
Keep track of your returns and try out new strategies.
The pre-opening session starts at 06:30 ET. Orders can be entered until the Opening Auction at 09:30 ET, but they will be queued.
Core trading session:
09:30 ET – Core Open Auction
15:45 to 16:00 ET – 123(c) Closing Imbalance Period
16:00 ET – Closing Auction
People that are more suitable for trading:
Interested in a stock's price action.
Want to have a higher number of opportunities.
Tolerate risk exposure.
Want to utilise leverage for a higher concentration of shares.
Conclusion
Investing is about thoroughly learning the elements intrinsic to the issuing company, while trading is about quick decisions and educated guesses. The first is more likely to bring consistent but relatively small gains, while the second tends to be more rewarding in a shorter time frame.
Other important aspects of trading, specifically CFD trading, are access to the underlying asset at a lower cost, ease of execution, and the ability to go long or short. The last part means that you can speculate on Disney stock going up (as will probably be the major trend) as well as going down (during temporary consolidation periods). Please note that trading CFDs with leverage can be risky and can lead to losing all of your invested capital.
Finally, we want to highlight the best way to start your trading journey is via a Libertex demo account. Find your way into financial markets with no risk and no obligation. Practice in a real environment with virtual funds and enter live trading as an already experienced trader!
FAQ
Should I Sell Disney Stock?
The current market data including Moving Averages and technical indicators shows "Sell" signals. However, whether or not you should sell your Disney stock depends on several factors, including your investment goals, risk tolerance. 
Does Disney Stock Pay Dividends?
Yes, Disney stock does pay dividends. As of May 2, 2023, the dividend yield for Disney is approximately 1.72%, with a quarterly dividend payout of $1.76 per share. The current price of DIS is around $100.
Is Disney a Good Dividend Stock?
After the temporary dividend cut, its history continued as normal after the biggest impacts of the pandemic cooled off. Still, Disney's dividend yield isn't very high. While 2%-6% are considered good yields, Disney lags behind at just 1.22%.
Is Disney Publicly Traded?
Yes, Disney entered the public market in 1940, 17 years after being founded. It is now trading on the New York Stock Exchange (NYSE) under the DIS ticker symbol and as a component in such indices as DJIA, S&P 100, and S&P 500.
Is Disney Stock Expected to Rise?
Disney stock still looks undervalued. It is possible to see a double-digit rise taking into account expectations of revenue and earnings growth in 2022. There have been signs of reopening of the economy and lifting of lockdowns, which will make the traditional revenue sources active again.
Why Buy Disney Stock?
Disney's entertainment offerings are way above any of its competitors. The company isn't stalled as much in its biggest sectors like theme parks, resorts, and movie business. Its streaming service is also very attractive, and it makes it a good stock to look at in the long term.
How Can I Buy Disney Stock?
The most common way to purchase individual stocks is through a brokerage account.
Open a brokerage account online, which will take you just a few minutes.
Decide whether you want to be a hands-on trader or a long-term investor.
Go under the buy or trade section and indicate how much you want to purchase.
Choose your order type (market and limit) and set your stop-loss and take-profit orders.
Monitor your position and try to appropriately diversify your portfolio to minimise risks.
How Do I Buy Disney Stock Without a Broker?
Disney has a direct stock purchase plan, which you can enter with an initial cash investment of $175 or monthly deductions of at least $50 from a bank account.
The downside is that you're limited in the tools you can use. When you purchase through a broker in a regular trading platform, you have the technical tools and different order types of opening your position at the optimal time. 
How Much Is One Share of Disney Stock?
As of 2 May 2023, one DIS share costs $100.68. This is a slight surge compared to results from the previous week (around $97).
Should I Buy Disney Stock Now?
The recent sell-off may have been unjustified. This is exactly by now could be considered as a good buying opportunity, especially for long-term investors. Just be prepared for some short-term volatility associated with the company's rebound. Or, if you're a trader, capitalise on that as well.
How Do I Invest in Disney Stock?
In this case, investing simply means buying the shares. You can buy DIS shares directly through The Walt Disney Company Investment Plan. Another, more common option is to create a brokerage account and purchase any number of shares through a trading platform.
Disclaimer: The information in this article is not intended to be and does not constitute investment advice or any other form of advice or recommendation of any sort offered or endorsed by Libertex. Past performance does not guarantee future results.
Why trade with Libertex?
Get access to a free demo account free of charge.
Enjoy technical support from an operator 5 days a week, from 9 a.m. to 9 p.m. (Central European Standard Time).
Use a multiplier of up to 1:30 (for retail clients).
Operate on a platform for any device: Libertex and MetaTrader.