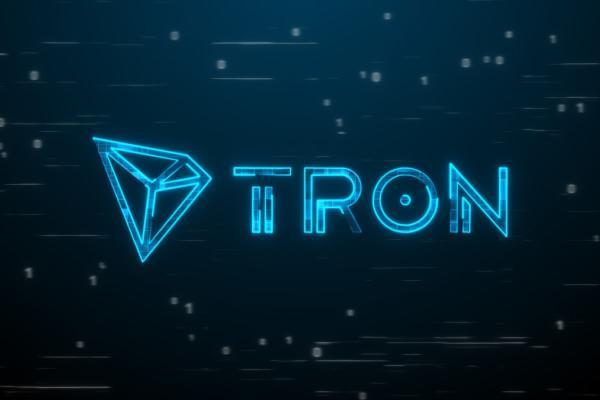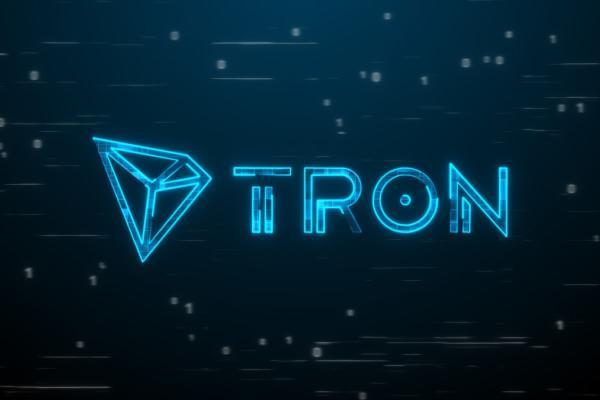 Tron (TRX) Price Prediction: 2024 and Beyond
What associations do you have in mind when you hear the word "Tron"? Some people view it as a corny 1980s film, but it's also a promising blockchain platform for others. The latter is what we'll look at in this ultimate guide. Continue reading to find out more about Tron, its cryptocurrency Tronix, the performance of TRX in 2020–2021, and professional predictions for 2024 and beyond.
Deep-Dive With Us: What Is Tron?
Tron is a decentralised platform that uses P2P and blockchain technology. Its purpose is to share entertainment and other forms of content. Think of it this way: Tron is essentially a next-gen social media platform on which you can create and share content with absolutely anyone, no matter where in the world they live. And you can get paid for creating and sharing content and data.
Tron is a next-gen social media platform for creating and sharing content.
With Tron's cryptocurrency ecosystem, content creators are paid with Tron's basic blockchain unit of accounts, Tronix, which is often shortened to the ticker symbol TRX.
This is revolutionary: many social media platforms gather and monetise data from users, and the account holders never gain any benefits. Take Facebook, for example. This social media giant collects data on almost everything you do on the web, but you certainly aren't going to receive compensation for it. Tron has a different vision: each social media user should be in control of their data and be compensated for what they share.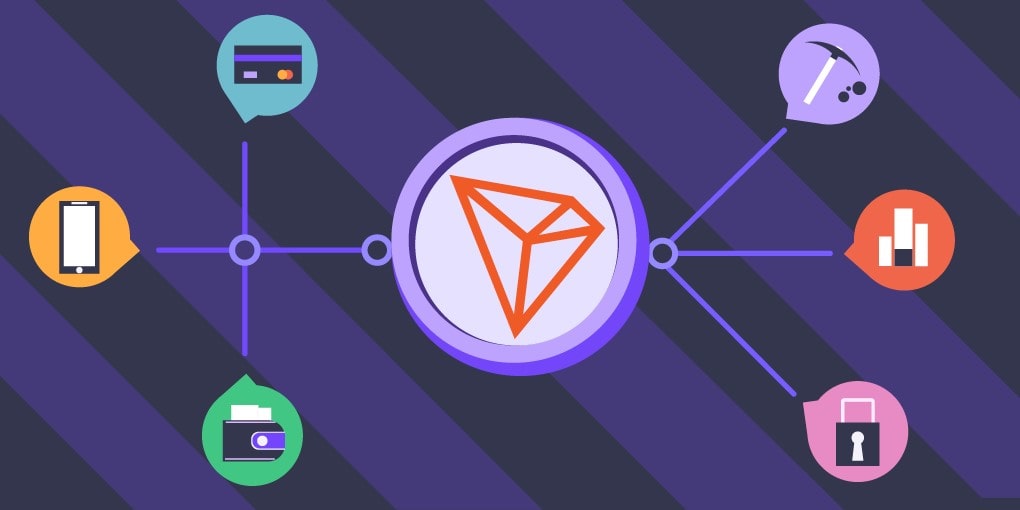 How Is Tron Used?
The most significant advantage of Tron is that you can empower content creators and artists worldwide. This platform is at the forefront of a digital revolution that is often referred to as Web 3.0. Essentially, platforms such as Tron will help the Internet fulfil its original purpose: to be an open, decentralised network. Is Tron the way of the future for content sharing? We think so.
Tron is at the forefront of a digital revolution to make the Internet an open, decentralised network.
Throughout the 'dot-com bubble', the Internet significantly veered away from its decentralisation. Social media giants rewired infrastructure so that tech giants could rake in profits from user data. But, with Web 3.0, that power will be placed back into the hands of Internet users.
Now, that's all fine, but how does Tron stand up from a developer's standpoint? This platform is attractive to developers because it's built to allow a maximum level language in smart contracts. Essentially, future developers can apply any programming language they want to Tron's open-software design.
Tron's Potential: The Good, the Bad and the Ugly
Tron certainly has noble intentions. Putting power back into the hands of internet users and compensating them for their content and data? This seems like it would be widely embraced nowadays. And, in some ways, it has been smooth sailing for Tron, mainly through their success in forming partnerships with big players:
Zag S&W: This is a leading global law firm with expertise in corporate and commercial law. Zag S&W is a member of The Legal 500, which has a huge network containing some of the world's largest companies. 
oBike: This is Southeast Asia's largest bike-sharing company, which launched a token of its own (oCoin) on Tron's network. Users can get paid in oCoins by riding oBikes. The coins, in turn, can be used to pay for oBike rides.
Bitmain: They are the leading designer and producer of ASIC chips utilised for Bitcoin mining.
And this barely scratches the surface. Some other high-profile partnerships that Tron has made include Samsung, Global Social Chain, Baofeng Group, the BitTorrent token and Baidu.
The platform has fostered high-profile partnerships like Zag S&W, oBike and Samsung.
Now, unfortunately, we must address the downsides of the Tron network, namely, its founder, Justin Sun. His communication style often angers investors. For instance, Sun may release an announcement… about an upcoming announcement. This can be frustrating for many people and has led to Sun developing a reputation as being too young and naive to run a blockchain of this magnitude.
What Factors Influence TRX's Price?
Many factors can influence the price of TRX. In order to understand the most Tron price predictions, it's important to have a solid grasp of what kind of events can impact its value. This way, you'll have an easier time monitoring crypto trends, understanding predictions (and even making your own), and, hopefully, turning a profit.
Supply and Demand
This is the #1 factor that can influence the price of any digital coin. TRX's price is driven up if its demand is higher than its supply. When the opposite is true, the price falls. Many crypto evaluation platforms are highly optimistic in their Tron coin value predictions, largely because Tron's high-profile partnerships may drive spikes in demand.
On the Rise: dApps
The demand for decentralised apps, or dApps, has increased enormously, and Tron has found itself to be a big player in the dApp industry, second only to EOS. Investors don't see this trend going away any time soon. In fact, it's likely to continue growing. As more people choose to directly share content with viewers without interference from Apple, Google or other third parties, Tron will emerge as the obvious platform of choice.

Compliance With Global Regulations
We're beginning to see an international shift towards cryptocurrency regulation. Cryptos no longer exist out in the 'Wild West' of the financial world. Nowadays, they're becoming more compliant with government regulations.
As international regulations become stricter, cryptocurrencies with more stringent practices will be better off. After all, if a cryptocurrency fails to meet regulations, it could be penalised. Take Ripple, for instance, which is currently being sued by a regulatory agency. After the announcement, the price of XRP dropped by almost 50% over the course of one week.
Tron is in a great position to withstand regulatory crackdowns because it's approved by the ACCA and is supervised by the Company Law of Singapore.
How Has TRX's Price Performed Over Time?
Let's take a moment to explore how the price of Tron (TRX) has evolved since it was launched in 2017.
First, we'll direct your gaze toward the chart below:
Taken 28/12/2020 from CoinMarketCap

As the chart shows, Tron's standout periods were towards the end of 2017 and the beginning of 2018. TRX hit the crypto exchanges in October 2017 with a price of about $0.002. Just a couple of months later, TRX experienced its first large leap. In the period of 4-18 December 2017, the price jumped from $0.003434 to $0.043127. It then experienced another leap a short while later! In the first week of 2018, Tron hit its all-time high but then quickly dropped during the next couple of months.
However, TRX was not the only cryptocurrency to experience such a huge jump during that time, so it would be wrong to assume that it was simply due to the platform's novelty. During that same timeframe, Bitcoin hit its own all-time high, and Ripple grew by 36,000%. Almost every cryptocurrency skyrocketed in price, with most of them hitting their all-time highs and subsiding afterwards.
So, how did TRX fare after this initial boom?
The coin managed to remain stable throughout the next two years. That is, until the 'COVID Crash' that took place in March 2020. However, once again, TRX wasn't the only cryptocurrency to experience a large price fluctuation.
How Did Tron Do in 2020-2022?
Taking a closer look at the COVID crash: in early March, TRX fell from $0.017251 to $0.010578. Interestingly enough, Tron was already experiencing a bearish run from the very beginning of 2020 and experienced the cryptocurrency market effects of COVID before other cryptocurrencies did. Some analysts speculate that this is because the Tron Foundation is based in South Korea, and its geographic location means it felt the economic impact before other continents.
However, we have good news! TRX managed to recover from the crash.
TRX managed to recover from the crash and rise from $0.010578 to $0.029834.
In 2021, Tron made an attempt to set a new all-time high. It climbed to $0.13 in early April and then to $0.16 in mid-April. But eventually, the coin fell to $0.10, rose to $0.15 by May and suddenly dropped again to $0.06.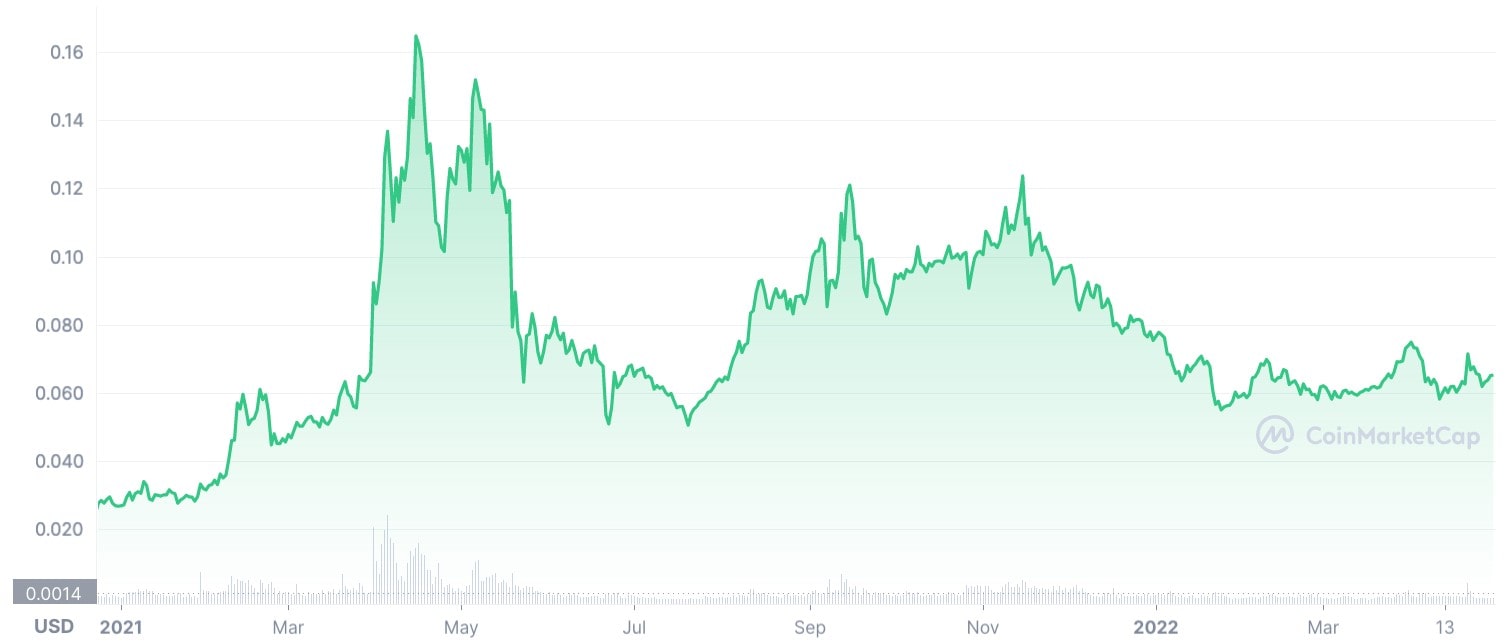 In contrast to mid-year results, Tron finished 2021 better off. Having gone over $1 multiple times in the last few months of the year, TRX settled at $0.08 by the end of the year. January 2022 experienced a downtrend, but it's still an increase from the coin's price at the beginning of 2021.
In February, there was an uptick to $0.07 after an announcement of Grand Hackathon 2022. TRON and BTTC also introduced the TRON DAO Forum to empower developers to create and execute DeFi, GameFi, NFT and Web3 projects. The first half of 2022 has been in a bearish market. Starting the year at $0.076, the coin is now trading at $0.066 (as of late April 2022).
Realistic Short-Term Prediction: How Will Tron (TRX) Do in 2023?
Some claim that Tron is one of the most astounding cryptocurrencies to gain popularity this year (TRX). The realistic Tron price prediction for 2023 expects a large rise in the second part of the year, potentially reaching $0.107483.
The climb will be moderate, much like with other cryptocurrencies, but no significant declines are anticipated. Although $0.100317 is such an aggressive price target, it is doable in the short term due to planned collaborations and developments. TRX is anticipated to trade for at least $0.085986.
| | | |
| --- | --- | --- |
| Month | Minimum Price ($) | Maximum Price ($) |
| February 2023 | 0.07 | 0.051 |
| March 2023 | 0.07 | 0.054 |
| April 2023 | 0.085 | 0.068 |
| May 2023 | 0.11 | 0.08 |
| June 2023 | 0.13 | 0.0952892 |
| July 2023 | 0.11 | 0.083471 |
| August 2023 | 0.14 | 0.1181818 |
| September 2023 | 0.152 | 0.1290909 |
| October 2023 | 0.18 | 0.14 |
| November 2023 | 0.224 | 0.18 |
| December 2023 | 0.29568 | 0.2688 |
TRX Coin Price Prediction for 2024
For the long-term view, we'll take information from PricePrediction.Net. Here is where the source sees Tron in 2024.
| | | | |
| --- | --- | --- | --- |
| Month | Minimum Price ($) | Average Price ($) | Maximum Price ($) |
| January 2024 | 0.098 | 0.11 | 0.11 |
| February 2024 | 0.11 | 0.11 | 0.12 |
| March 2024 | 0.11 | 0.11 | 0.12 |
| April 2024 | 0.11 | 0.12 | 0.13 |
| May 2024 | 0.12 | 0.12 | 0.13 |
| June 2024 | 0.12 | 0.12 | 0.14 |
| July 2024 | 0.12 | 0.13 | 0.14 |
| August 2024 | 0.13 | 0.13 | 0.15 |
| September 2024 | 0.13 | 0.14 | 0.15 |
| October 2024 | 0.13 | 0.14 | 0.16 |
| November 2024 | 0.14 | 0.14 | 0.17 |
| December 2024 | 0.14 | 0.15 | 0.17 |
TRX (Tron) Price Prediction for 2025
PricePrediction.Net also posted the TRX price prediction 2025 table, which you can see below.
| | | | |
| --- | --- | --- | --- |
| Month | Minimum TRX Price ($) | Average TRX Price ($) | Maximum TRX Price ($) |
| January 2025 | 0.16 | 0.18 | 0.18 |
| February 2025 | 0.17 | 0.18 | 0.19 |
| March 2025 | 0.18 | 0.19 | 0.20 |
| April 2025 | 0.18 | 0.19 | 0.20 |
| May 2025 | 0.19 | 0.20 | 0.21 |
| June 2025 | 0.20 | 0.21 | 0.22 |
| July 2025 | 0.21 | 0.21 | 0.23 |
| August 2025 | 0.21 | 0.22 | 0.24 |
| September 2025 | 0.22 | 0.23 | 0.25 |
| October 2025 | 0.23 | 0.24 | 0.26 |
| November 2025 | 0.24 | 0.25 | 0.27 |
| December 2025 | 0.25 | 0.26 | 0.28 |
So the question is: which scenario is more likely, the best case or the worst case? According to our own research, TRX will do higher than average.
Tron might add a lot more companies to its illustrious network of partners, boosting market interest in the platform between 2023 and 2025. We anticipate that Tron will be particularly well-liked by publishing and music entrepreneurs as a consequence of the high exposure. As a result, the expected price of TRX will climb in direct proportion to the pace of adoption and acceptance of TRX.
What's in Store for Tron in 2030 and Beyond?
Coin Price Forecast posted its expected price dynamic for Tron from 2030 to 2033. So let's take a closer look at the TRX (Tron) price prediction 2030 table, along with other following years.
| | | | |
| --- | --- | --- | --- |
| Year | Mid-Year ($) | Year-End ($) | Tod/End |
| 2030 | 0.1795 | 0.1885 | +201% |
| 2031 | 0.1868 | 0.1952 | +212% |
| 2032 | 0.2031 | 0.2114 | +238% |
| 2033 | 0.2197 | 0.2279 | +264% |
The entire potential of blockchain technology hasn't even begun to be realised yet. But only Tron has given significant consideration to the potential it may hold in the future. Given that it is one of the most innovative blockchain initiatives, many experts predict that it will grow rapidly over the next few years. Maybe it's simply too advanced for now. 
Any TRX price forecast is likely to become more accurate as blockchain technology becomes more mainstream and Tron's potential is better realised among content creators. But it's your own risk to make a firm TRX (Tron) crypto price prediction about whether the coin will be a profitable investment after 2030 without first seeing how the Tron project turns out.
Tron Price Prediction 2040
According to our long-term Tron price forecast, this year could see a new ATH level for the cryptocurrency. Depending on the market trajectory, a $15.37 average price in 2040 would be reasonable to anticipate. $20.14 is the highest price we can see Tron reaching in 2040. If the market turns positive, the price of Tron may increase more than we predicted in 2040. While if the market becomes bearish, Tron's minimum price level might be around $13.25.
Tron Price Prediction 2050
According to Telegaon expert analysts, Tron could end 2050 with an average price of $45.09. While a Tron may be purchased for as little as $38.12, on average. Together with Tron, many other cryptocurrencies can reach their new all-time highs this year after such a long journey. The peak Tron price is predicted to be around $50.31 in the year 2050. The price of Tron in 2050 may be far higher than our price prediction if more investors become interested in it in the years between these two.
Technical Analysis of TRX's Price
Now that you are aware of important details about Tron, let's examine the price of TRX in more detail. Although this just covers a brief period for TRX, you can roughly see how the coin performed on average in previous years. We'll show you how to create your own analysis once we give our sample technical analysis!
A massive increase doesn't appear feasible if you compare some TRON price goals to where the market is at the moment. Technical analysis, however, can occasionally foretell future events well in advance of their occurrence, which is an intriguing phenomenon. Traders are left wondering what may cause Tron to see "record growth." So far, we have been able to determine that the price is moving closer to a bullish trend.

Take a look at the oscillators:
Relative Strength Index (14) - 52.26038741 - Neutral
Stochastic %K (14, 3, 3) - 22.86082978 - Neutral 
Average Directional Index (14) - 61.82613364 - Neutral
Awesome Oscillator - 0.02201837 - Neutral 
Momentum (10) - (−0.00200565) - Buy 
MACD Level (12, 26) - 0.01006855 - Sell 
MAs:
Exponential Moving Average (30) - 0.05893052 - Buy 
Simple Moving Average (30) - 0.05025618 - Buy 
Exponential Moving Average (50) - 0.04348266 - Buy 
Simple Moving Average (50) - 0.04200301 - Buy
Learning to create and read technical analyses of your own doesn't have to be difficult. It just takes some practice.
First, you need to use a reputable platform with plenty of analysis trading tools, such as creating a Libertex demo account. It contains a practice environment for all real markets, and you can apply whichever indicators you wish.
After choosing a platform, you'll need to acquaint yourself with a few key concepts:
Trends. There are three kinds of trends: an uptrend, a downtrend and a sideways trend. With an uptrend, TRX is rising, thus forming greater highs and higher lows. In a downtrend, TRX is falling, creating lower highs and lower lows. And with a sideways trend, the asset is moving horizontally. You may also come across the terms 'bullish', which refers to an uptrend, and 'bearish', which refers to a downtrend.
Resistance vs Support. Movements don't happen in a smooth line; they experience upward and downward bounces. As a price goes up, it experiences resistance, and as it moves down, it experiences support. Thus, 'resistance' is the level at which an uptrend might pause or rebound (and it implies that there's a concentration of sellers). Conversely, 'support' is the level where the downtrend might pause or rebound (and it means that there's a concentration of buyers). 
Analysis Tools. Now we're getting into the meat of the matter! There are a plethora of analysis tools at your disposal. Some of the most popular ones include OHLC charts, Bollinger Bands, MACD and the Simple Moving Average. For a better look at each of these tools, the Libertex blog has excellent tutorials on how to read the results. Like this MACD tutorial, for instance.
The Experts Weigh In on Tron's Long-Term Forecast
What exactly have the experts been saying about how Tron will perform long-term? We've compiled opinions from some of the digital entertainment industry's best crypto analysts for your perusal.
In exactly one year and three years, according to CoinArbitrageBot, TRX will be worth $0.14 and $0.34, respectively. 
According to WalletInvestor, TRX will reach $0.12 this year and $0.34 in five years. 
Based on the CoinSwitch opinion, the Tron price prediction 2023 is $0.14, the Tron prediction 2025 is $0.75, and $1 or more in 2030.
PricePrediction.Net predicts that TRX will be worth $0.12 in exactly one year and $2.55 in ten years.
CoinPriceForecast gives a prediction of a $0.087 TRX cost in 2023 and $0.210 in 2032.
What Should You Do With Tron?
So, the question is: to hodl or not to hodl?
On the one hand, if you play the long game, you can potentially rake in huge profits from sharp increases in TRX's price. However, holding crypto may end badly: if there's a sharp price decline, exchanges can close a trader's positions.
One way to get security and growth potential profit in a shorter timeframe is to trade TRX as a CFD. Want to try this out in a totally risk-free way? Check out Libertex's demo account!
You'll get €50,000 to practise trading with. Our platform has won awards from World Finance, FX Report and European CEO. More than 2.2 million users trust our analytical services. Our intuitive platform answers any questions that might arise for beginner traders. Try it out for yourself. We know you'll love it!
FAQ
What Will Tron Be Worth in 2023?
The experts predict that in 2023, the average TRX will be worth 0.086 USD based on historical data.
Does Tron Have a Future?
Even though experts may disagree on the rate at which Tron's future price will increase, they all agree on one thing: it will, indeed, go up. So, yes, Tron does have a long-term future.
How Much Will Tron Be Worth in 5 Years?
According to technical analysis performed on Tron prices by cryptocurrency specialists, the minimum and maximum TRX values in the Tron prediction 2027 are expected to be approximately $0.19998 and $0.249975, respectively. The typical anticipated average trading price is $0.209979.
Will Tron's Price Go Up?
Pretty much all signs point to yes: Tron will continue to increase. Gains will be slow in the short term but should increase heftily in a couple of years.
Can Tron TRX Reach $10?
The case is unlikely to remain unchanged throughout, and macroeconomic variables and liquidity may end up working in the TRX coin's favour. As a result, it can probably get there faster than this. Will Tron finally reach $10? Well, if the current circumstances continue, it's undoubtedly impractical.
Will Tron Ever Hit $1?
In accordance with analysts Charu Taneja opinions, TRX might increase in value 20 times before it reaches $1. Consequently, it may require 12.6 years to get there.
Disclaimer: The information in this article is not intended to be and does not constitute investment advice or any other form of advice or recommendation of any sort offered or endorsed by Libertex. Past performance does not guarantee future results.
Why trade with Libertex?
Get access to a free demo account free of charge.
Enjoy technical support from an operator 5 days a week, from 9 a.m. to 9 p.m. (Central European Standard Time).
Use a multiplier of up to 1:30 (for retail clients).
Operate on a platform for any device: Libertex and MetaTrader.