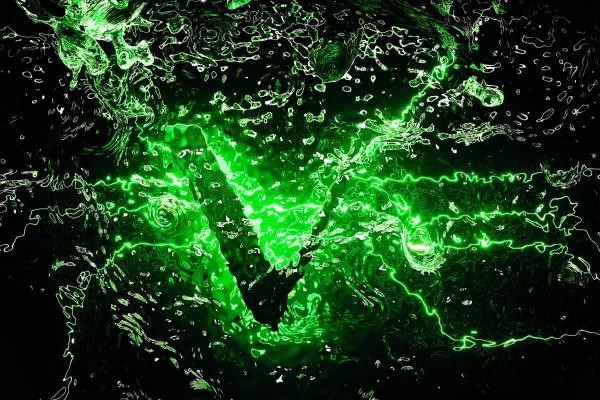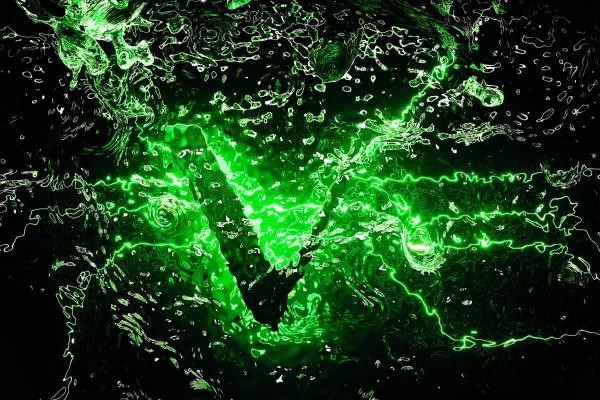 VeChain Price Prediction: Is It on the Verge of Massive Growth?
Asia continues to be at the forefront of blockchain development, and VeChain is one of the brightest crypto projects in the region. There are different opinions about where this particular altcoin is heading, so today, we'll analyse them and take a deeper look into the project. Read on for a detailed analysis to see whether VET's price prediction shows a promising future.
What Is VeChain (VET)? 
VeChain is a blockchain built to enhance supply chain management processes on the enterprise level. It uses a combination of physical tracking (IoT devices) and blockchain records to keep track of what happens at every stage.
VeChain is a blockchain-based project for supply chain management.
The project was founded in 2015 by the former CIO of Louis Vuitton China, Sunny Lu. His goal is to make sure products are handled properly so that consumers can be sure of a product's authenticity. The project has grown to cover the following areas:
Anti-counterfeiting: With smart chips and a public ledger, each item is tracked to avoid duplication. This feature is popular among luxury brands.
Cold-chain logistics: Smart IoT sensors automatically transmit essential info about transportation and storage to the blockchain. For example, to make sure that produce is fresh.
Clinical trial traceability: VeChain offers information traceability from an early stage for studies conducted. This side project is being implemented in a partnership with Bayer China.
Vehicle data collection: Cars already collect a significant and growing amount of data. Now, there's a tamper-proof way to record and store it.
Carbon contribution records: Companies can keep track of their CO2 emissions. As for consumers, they can be awarded special credits if they make environmentally conscious decisions and exchange the credits for goods or as donations.
The movement of goods and services is structured around VeChain's utility token, VET. In fact, it has a two-token system, where one funds projects and the other powers the blockchain.
VeChain uses a two-token system: one funds the projects, and the other powers the blockchain.
It has forged partnerships with DNV GL, PriceWaterhouseCoopers (PwC), National Research Consulting Center (NRCC), Yida China Holdings Limited, BitOcean and many more.
Factors Driving VET's Price
Some factors that affect VET's price are inherent to all crypto coins. These include supply and demand, regulations and legal affairs and competition. But to delve into the matter deeper, we'll cover the factors that affect VET specifically the most.
User Adoption
VeChain isn't aimed at the average consumer but rather at enterprises. This means that prices aren't affected by how many users gravitate to it, unlike with BTC or ETH. Instead, its widespread adoption relies on partnerships and integrations.
VeChain relies on partnerships and integrations.
For instance, VeChain is in contact with the Chinese government. Having good relations with the government, the coin has increasingly more positive prospects each year. Based on the CEO's own words, the implementation of the project's technology is likely to increase its price.
Moreover, the project has recently been endorsed by Germany-based certification body TÜV Saarland, which accredited VeChain after conducting a strict audit on its services.
New Developments
We've briefly mentioned several areas that VeChain has ventured into. Some of the latest tools were food safety traceability, sustainability services for immutable proof of a green supply chain and several more in recent years.
Considering the flexibility of its blockchain, VeChain can potentially be adapted for many other projects. With more and more developments, VET's relevance is going to grow accordingly.
The solution can be adapted to many different projects.
Company News
This factor can affect the price both in positive and negative directions. For example, following a cyberattack in late 2019, VET traded at $0.0059. On the other hand, if VeChain announces a new partnership, as it did for the BMW group car mileage programme, prices start moving up. 
The Price of Bitcoin
Most altcoins have some correlation with BTC's performance. VET, in particular, has a positive correlation of 0.37, meaning that if Bitcoin's price moves in an upward direction, VET's price also increases. Although it's not an identical parallel, it's something to always keep in mind.
There is a 0.37 positive correlation between VET and BTC.
There have even been studies on short- and long-term interdependent relationships between Bitcoin and altcoins. So, if you're thinking of trading or investing, it's a good idea to look at the original cryptocurrency.
How Has VET Performed in the Past?
Time-wise, the project doesn't go very far. VET's mainnet was officially launched in 2018. However, Google Trends shows that prior to this event, there was already a splurge of interest in the project. Perhaps this is why VET's price was at one of the highest points it's ever seen: $0.0193.

By December 2018, VeChain was doing poorly compared to its previous highs. However, the announcement of several partnerships and devotion to new projects has contributed to a long period of stability. Nevertheless, the price has remained rather low, hovering in the $0.003-$0.007 range, as you can see from the chart.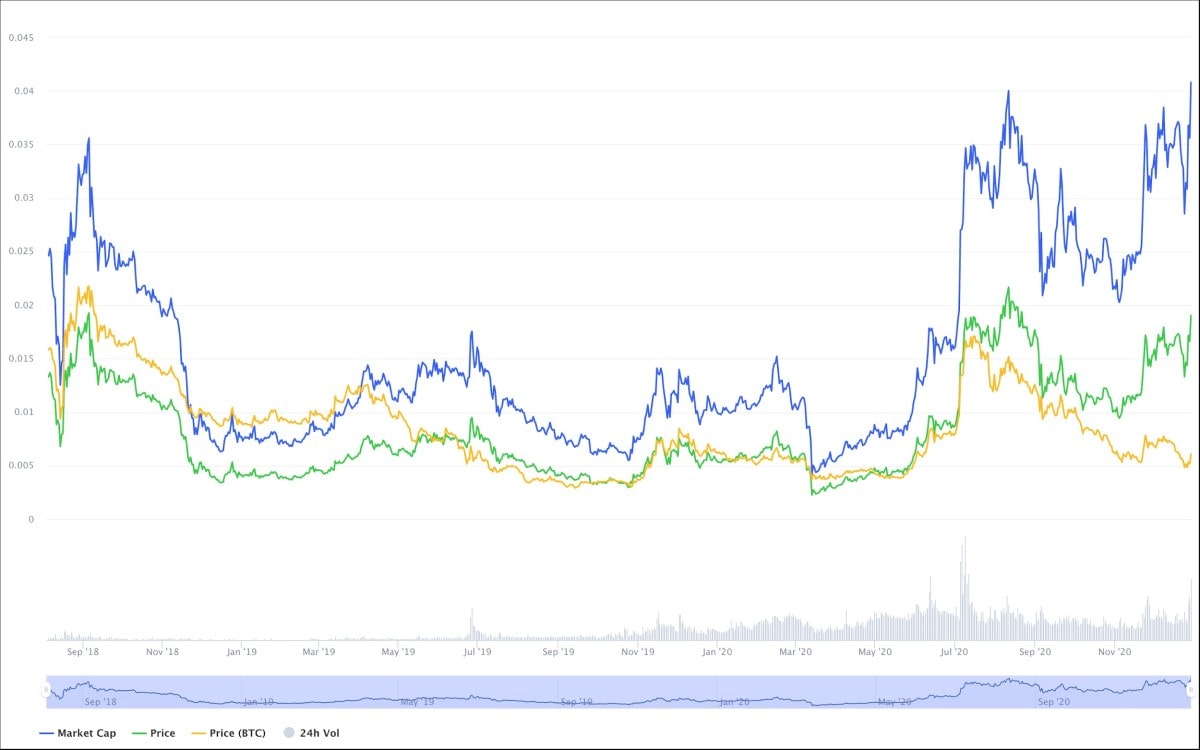 There have been a few notable events that were positively reflected in the price. For example, in June 2019, Walmart China's decision to work with VeChain incentivised the network. VET had a brief breakout from its price range with a $0.0095 at the peak.
Another notable event was in November 2019 ($0.0082). They showcased limited edition artworks powered by VeChain ToolChain in collaboration with CoinMarketCap.
VeChain's Performance in 2020-2022
The crypto market started 2020 off with bearish sentiment. Price movement was rather unremarkable until 13 March 2020, when VET reached its all-time low of $0.0016.
Unsurprisingly, many industries also took a huge hit around that time. But what VeChain did differently is that they utilised their technology for good. The VeChain platform ensured that new KN95 masks imported from China were credible and reliable while working in close cooperation with production offices and facilities.
VET reached its all-time low of $0.0016 on 13 March 2020.
After that, VET followed a path of stable growth, continually rolling out new projects and collaborations. In 2020, VeChain teamed up with Travala.com, the leading cryptocurrency-friendly travel booking platform. The partnership was formed around integrating VET as the payment option for over 2,200,000 hotels and homes worldwide.
In 2021, VeChain followed the path of many other cryptocurrencies, starting the year at $0.02 before rapidly rising to and above $0.25 by April. It hit its all-time high of $0.2782 on 17 April 2021.
VET's all-time high of $0.2782 was on 17 April 2021.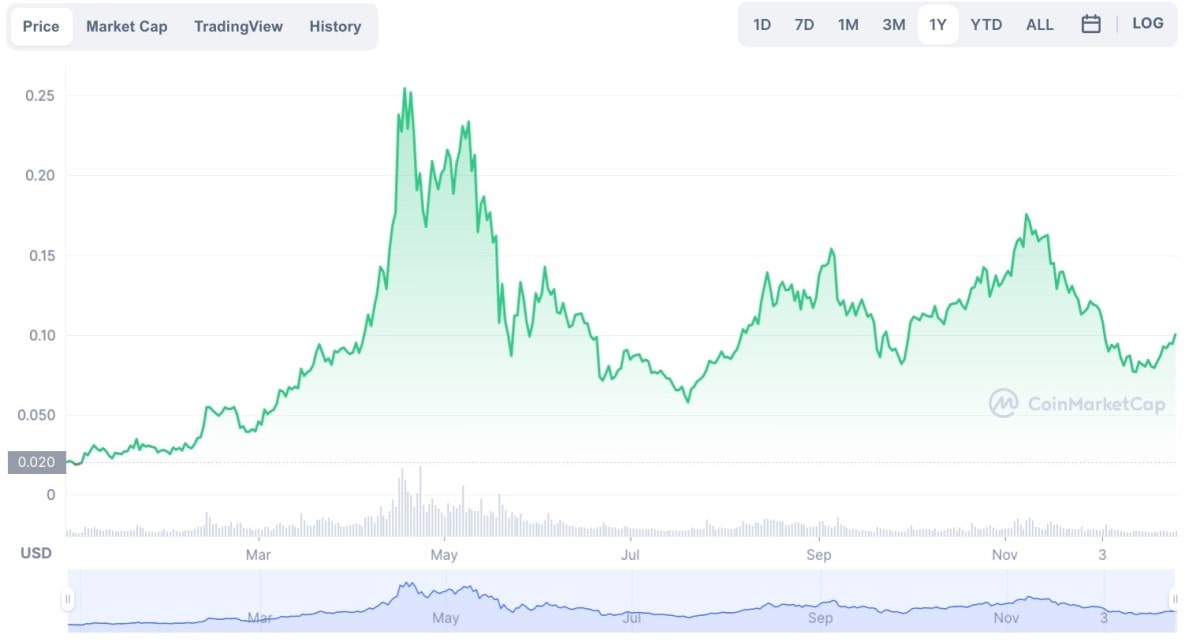 Unfortunately, after that, VET hasn't shown the same kind of growth. Currently, VeChain is consolidating just below its resistance level at $0.1.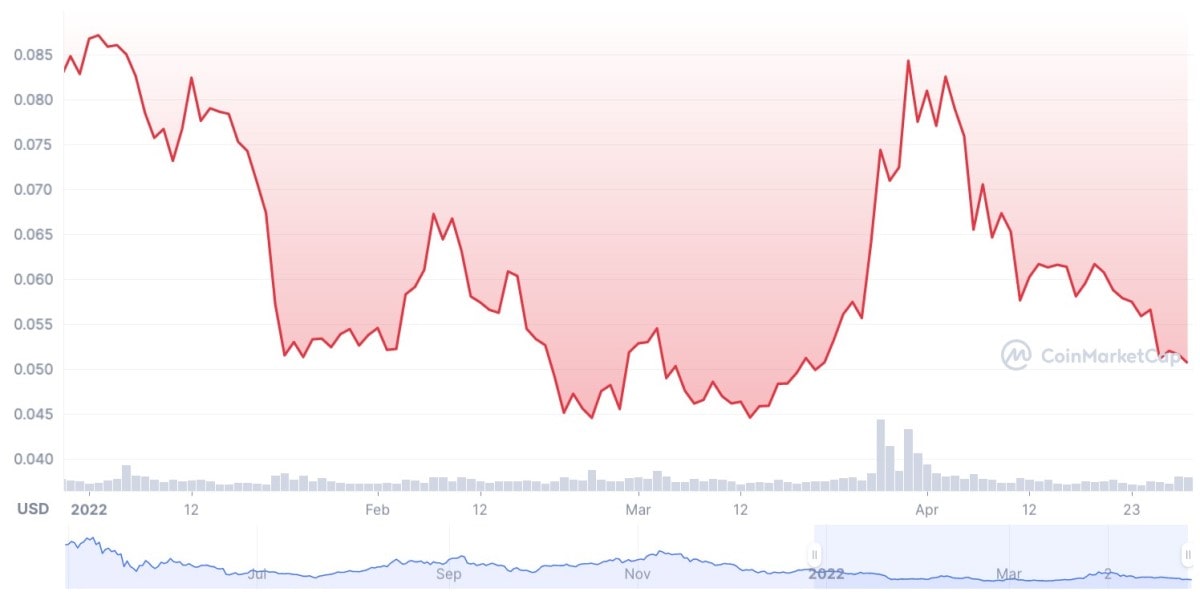 At the time of this update in late April 2022, VET had a market capitalisation of $3,249,778,228 and a daily trading volume of $377,534,424, ranking 37th on CoinMarketCap by market capitalisation. The trading price wass $0.05. 
Short-Term VeChain Price Prediction for 2022
Now, let's proceed to the most exciting section of our article: what can we expect from VeChain's price in the future?
The graph below illustrates Wallet Investor's forecast for 2022.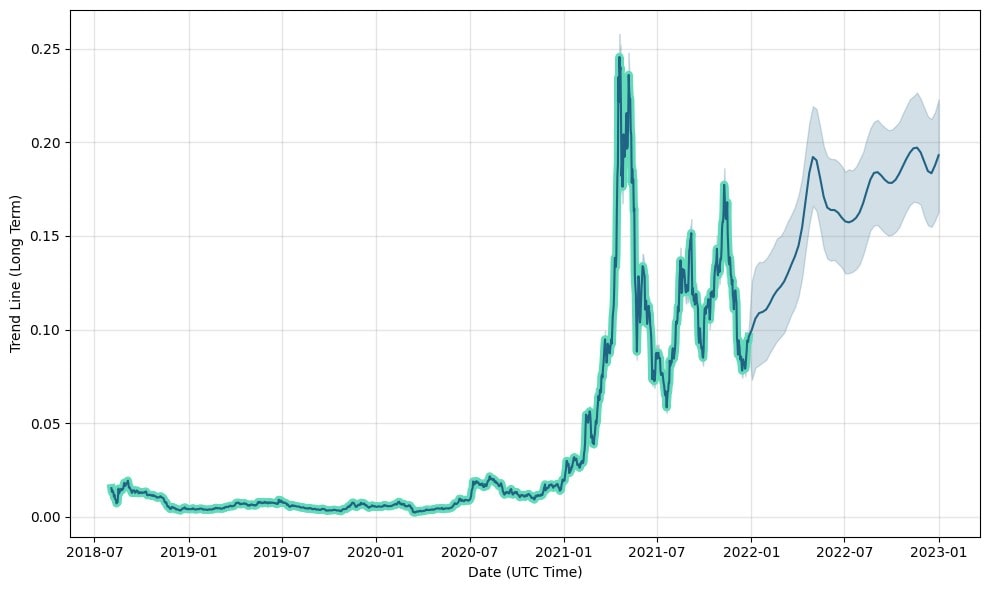 TradingBeasts offer the following view of VET's price for 2022. As you'll see, it's a similar projection to Wallet Investor's (albeit slightly less positive).
| | | | | |
| --- | --- | --- | --- | --- |
| Month | Minimum Price ($) | Maximum Price ($) | Average Price ($) | Change |
| May 2022 | 0.0653997 | 0.0961761 | 0.0769409 | 37.43% |
| June 2022 | 0.0651367 | 0.0957893 | 0.0766314 | 36.87% |
| July 2022 | 0.0647694 | 0.0952492 | 0.0761993 | 36.10% |
| August 2022 | 0.0642592 | 0.0944988 | 0.0755991 | 35.03% |
| September 2022 | 0.0635980 | 0.0935265 | 0.0748212 | 33.64% |
| October 2022 | 0.0627926 | 0.0923421 | 0.0738737 | 31.95% |
| November 2022 | 0.0617600 | 0.0908235 | 0.0726588 | 29.78% |
| December 2022 | 0.0605293 | 0.0890137 | 0.0712110 | 27.19% |
Below, we've compiled a couple of explanations of why this might occur:
By the end of 2022, the total value of counterfeit goods will be $1.9-$2.8 trillion globally. Projects like VeChain will come in handy in this field. Since VeChain was originally an anti-counterfeit tracking solution, the company has great potential to grow in this area.
Blockchain spending in China is anticipated to rise to over $1.5 billion. As mentioned before, VeChain already has good standing in this region.
VeChain Price Forecast for 2023-2025
For VeChain's token price in 2023-2025, we've decided to head over to DigitalCoinPrice.
| | | | |
| --- | --- | --- | --- |
| Month | Minimum Price ($) | Average Price ($) | Maximum Price ($) |
| January 2023 | 0.0697 | 0.0846 | 0.0913 |
| February 2023 | 0.0703 | 0.0777 | 0.0865 |
| March 2023 | 0.0689 | 0.0770 | 0.0793 |
| April 2023 | 0.0682 | 0.0732 | 0.0840 |
| May 2023 | 0.0693 | 0.0729 | 0.0804 |
| June 2023 | 0.0704 | 0.0717 | 0.0873 |
| July 2023 | 0.0686 | 0.0744 | 0.0907 |
| August 2023 | 0.0703 | 0.0894 | 0.0938 |
| September 2023 | 0.0685 | 0.0727 | 0.0762 |
| October 2023 | 0.0693 | 0.0847 | 0.0881 |
| November 2023 | 0.0688 | 0.0809 | 0.0855 |
| December 2023 | 0.0692 | 0.0718 | 0.0791 |
Skipping 2024 to cut straight to the chase, the dynamics for 2025 are presented in the VET forecast table below.
| | | | |
| --- | --- | --- | --- |
| Month | Minimum Price ($) | Average Price ($) | Maximum Price ($) |
| January 2025 | 0.0906 | 0.10 | 0.12 |
| February 2025 | 0.0912 | 0.09 | 0.13 |
| March 2025 | 0.0905 | 0.10 | 0.12 |
| April 2025 | 0.0906 | 0.10 | 0.12 |
| May 2025 | 0.0913 | 0.11 | 0.13 |
| June 2025 | 0.0903 | 0.11 | 0.12 |
| July 2025 | 0.0910 | 0.10 | 0.10 |
| August 2025 | 0.0900 | 0.12 | 0.13 |
| September 2025 | 0.0890 | 0.09 | 0.12 |
| October 2025 | 0.0899 | 0.11 | 0.12 |
| November 2025 | 0.0893 | 0.09 | 0.12 |
| December 2025 | 0.0909 | 0.09 | 0.0 |
These are very optimistic numbers, so here are a few possible explanations for them:
We can't deny the high levels of uncertainty about future global trade. A report on the Future of Supply Chains in 2025 shares that there will be a bigger emphasis on enhanced transparency. Blockchain is a breakthrough technology for the quality and scope of supply chain disclosure.
VeChain is already participating in policy commitments to transition to low-carbon economies. Future changes are likely to accelerate the need for climate-smart supply chains.
Companies are likely to build on the lessons learned in well-worn sourcing locations, such as China, to develop smart supply chain models in emerging hubs.
We also found an interesting take from Gov Capital Investor Blog generated by deep learning algorithms:
| | | | |
| --- | --- | --- | --- |
| Month | Min. Price ($) | Max. Price ($) | Av. Price ($) |
| January 2025 | 0.362 | 0.307 | 0.416 |
| February 2025 | 0.371 | 0.315 | 0.426 |
| March 2025 | 0.413 | 0.351 | 0.474 |
| April 2025 | 0.521 | 0.442 | 0.599 |
| May 2025 | 0.497 | 0.422 | 0.571 |
| June 2025 | 0.497 | 0.422 | 0.571 |
| July 2025 | 0.514 | 0.436 | 0.591 |
| August 2025 | 0.541 | 0.459 | 0.622 |
| September 2025 | 0.536 | 0.455 | 0.616 |
| October 2025 | 0.566 | 0.481 | 0.650 |
| November 2025 | 0.577 | 0.490 | 0.663 |
| December 2025 | 0.574 | 0.487 | 0.660 |
VeChain Coin Price Prediction for 2030
If VET maintains its relevance, at least in some of the industries it's currently involved in, it'll still be around in 2030. There's reason to believe that this blockchain will be one of the main backbones of the world's supply chains and economy. If that happens, its price would be many times higher than it is now.
Technical Analysis of VET Price
Vechain is highly volatile. In this regard, you can barely find technical analysis by other traders or analysts that will prove to be reliable. That's why you need to be equipped with technical analysis to make price predictions.
If you're a newbie to crypto trading, open a Libertex demo account. The demo account includes all real markets and allows traders to test new strategies, apply unknown indicators and strengthen trading skills without losing real funds.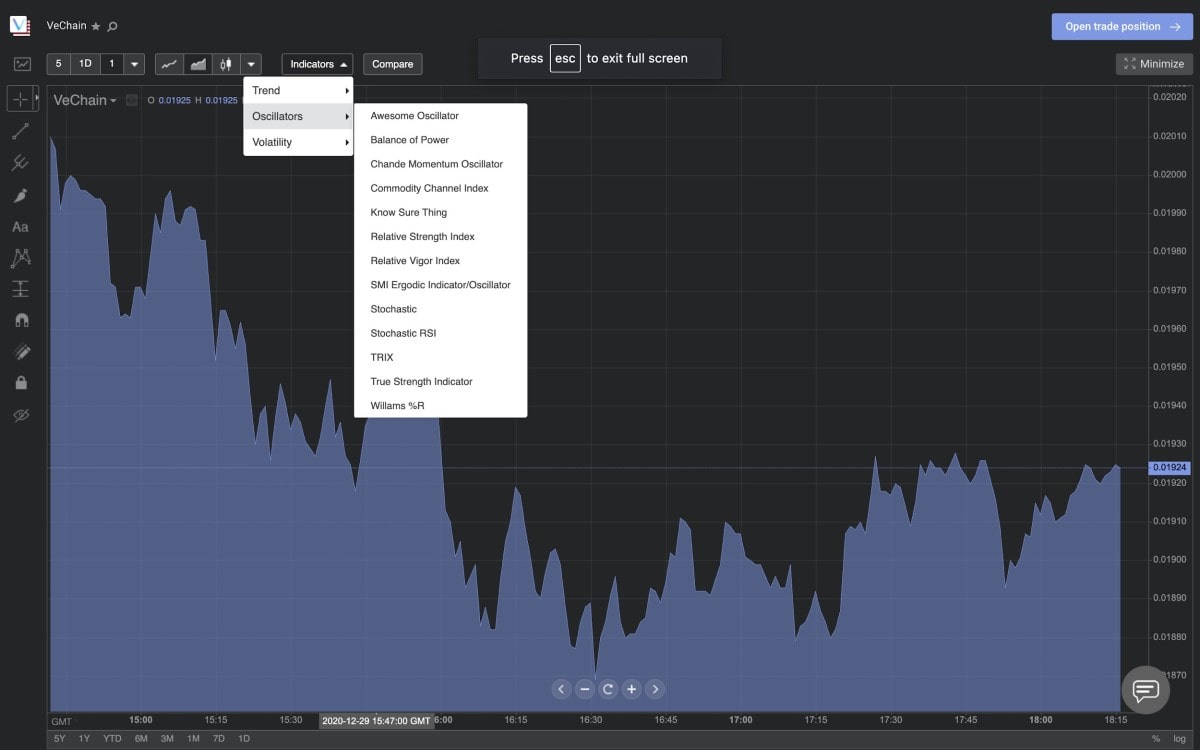 When it comes to technical analysis, if you know how to deal with currencies or CFDs, it won't be a challenge for you. You should always find the trend and define support/resistance levels. As the market suffers high volatility, you should check market movements on different timeframes to be sure you haven't missed a key point. Candlestick and chart patterns are also available for you to either find a reversal point or determine a trend's continuation.
You should keep technical indicators in mind. The most popular are RSI, MACD, Stochastic and the Awesome Oscillator.
What Do the Experts Think?
Let's start off with an undeniably positive outlook from Michaël van de Poppe. He said that $0.075 might act as a 'trigger' for VET. The coin is up from where it was priced one week ago but not yet at the breakout point.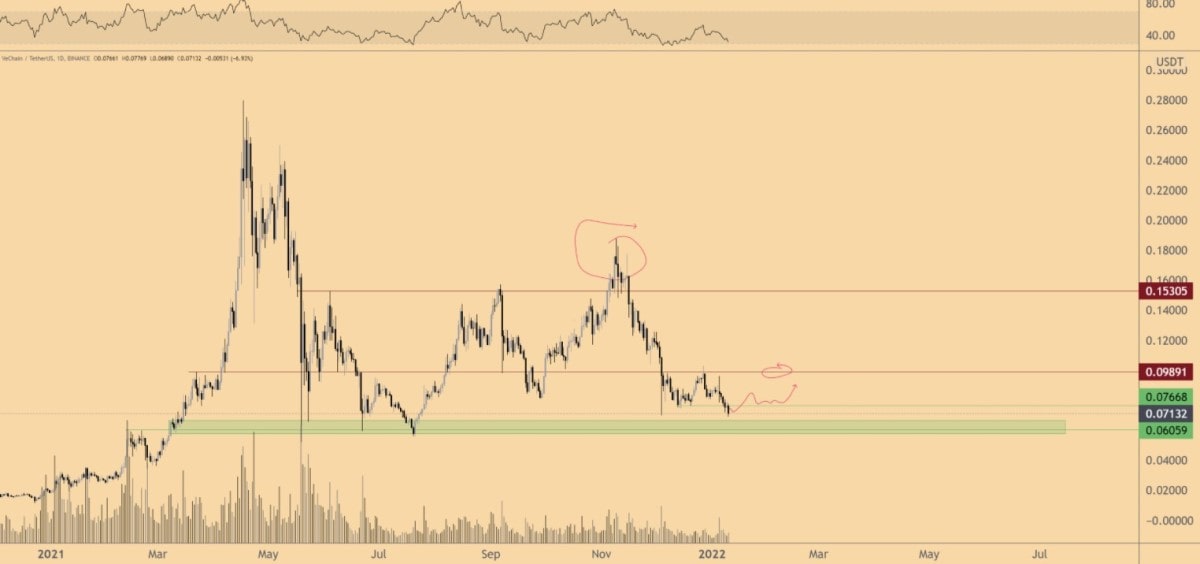 Another crypto analyst, Justin Bennett, made the following statement about VET: "As long as it's above that $0.06 area, I'm still bullish on VET over the next year… I do think we get that move back toward the $0.12 region, and potentially $0.15 and then some."
CoinPriceForecast is particularly optimistic about VET's future movements. Since we've already looked at shorter-term projections, here is a longer-term view.
| | | | |
| --- | --- | --- | --- |
| Year | Mid-Year ($) | Year-End ($) | Tod/End |
| 2025 | 0.1069 | 0.1189 | +128% |
| 2026 | 0.1308 | 0.1237 | +137% |
| 2027 | 0.1338 | 0.1438 | +176% |
| 2028 | 0.1538 | 0.1637 | +214% |
| 2029 | 0.1479 | 0.1545 | +196% |
| 2030 | 0.1627 | 0.1708 | +227% |
Mind you, long-term predictions for relatively young projects are hard to nail down precisely. VeChain coin price predictions included. So, every figure you come across should be treated as a suggestion rather than guidance.
Should You Trade or Invest in VeChain (VET)?
There is a never-ending battle between two schools of thought: trading and investing. Anyone can combine investing and trading, but one should not confuse the two.
Investing in VET
Investing in VET means gearing up for the long term. You can already see that VeChain is disrupting traditional systems (at the very least, enhancing them) and gaining mainstream adoption. This gives investors a reasonable basis to bet on the coin's long-term potential. 
Investing in VET means gearing up for the long term.
VET investors aren't concerned with its short-term price movements. However, it's important to point out that cryptocurrency market cycles are much shorter compared to, let's say, those of stock markets. That means you don't need to forecast for an extremely long period into the future. Instead, expect both bull and bear markets with greater intensity.
Trading VET
Trading VET, on the other hand, is based on a short-term horizon. In many ways, this is the only reliable forecast option for cryptocurrency. The volatility of the cryptocurrency market and VET, in particular, can be a highly profitable endeavour for traders.
Trading VET is based on a short-term horizon.
However, engaging in buying and selling in the short term requires much deeper involvement. You can't just purchase coins and let them sit. You'll need to learn a great deal of information and devote sufficient time to analysing it. And while fundamental analysis alone won't suffice, the end result may be worth it and more.
Finding the Balance
Both approaches have pros and cons. When you invest, it can potentially bring steady profits in the long run. But a sharp decline may end badly for the investor. Considering the uncertainty of crypto in general and VET, specifically, this is very much a possibility.
Trading VET has a significant advantage over investing. Traders can potentially make money from both upward- and downward-trending markets. Gains from the bull market are made the same as with investing: by buying low and selling high. However, traders can also short-sell coins, which opens up more opportunities for possible profits.
Traders can potentially profit from both upward- and downward-trending markets.
As you've seen in our analysis, VET occasionally makes very sharp price movements. To capitalise on these short-term changes, you can trade VeChain by using CFDs. What's more, you can start your trading journey risk-free with a Libertex demo account.
You can capitalise on these short-term changes by trading CFDs.
Conclusion 
We can't compare VeChain's future with the crystal clear potential of the top cryptocurrencies (Bitcoin, Ethereum, EOS, Ripple and Litecoin). As a business solution, it has undeniable advantages, especially when it comes to the changing conditions for supply chain management.
VeChain is already used by many luxury goods stores, food/drug companies and logistics companies. We expect its technology to infiltrate more and more businesses down the line.
All the VeChain price predictions we've examined are predominantly positive. But it's important to stay sensible and not go all-in at these uncertain times. Considering the coin's current price, even if it rose by 1,000%, VET's value would be around $1. So, take the time to weigh all opinions and come back with your own decision. Make sure to practise in the meantime!
FAQ 
Rounding up this article, we'll cover some essential questions about VeChain.
What Will VeChain Be Worth in 2022?
The majority of forecasts are positive, although to different extents. The lower projected price is around $0.07, and the upper edge could be close to $0.10. Overall, there could be a growth of 25%-35% at different points during the year.
Is VeChain Worth Investing in during 2022?
So far, it's behaving just like the rest of the market, fallingbelow $0.10 as of December 2021. But after that, the coin is expected to rise. By investing now, you can see a good return in the future, especially as a long-term investment. But if you're counting on substantial gains, this pick may not be the best.
Does VeChain Have a Future?
VET has lots of advantages on its side: secured partnerships, an experienced team and diverse blockchain-based solutions. However, we should mention that, with such high competition and the uncertainty of entering new arenas, VeChain has a lot to work on. Still, the bullish predictions for the next 5 years are painting a good picture.
How Much Will VeChain Be Worth in 5 Years?
The goal VeChain needs to meet is to provide complete integration of its blockchain-based platform with the actual business world. If the strategic partnerships and new endeavours work out, VeChain could be worth $0.2-$0.7.
Will VeChain's Price Go Up?
The overall sentiment in the trading community, as well as among experts, is bullish. Although some opinions are less than optimistic, the price is very likely to go up considering the project's aspirations. However, the growth won't be outrageous; certainly not like it was with BTC.
Can VET Hit $10?
Given its current price, VeChain would need to rise by as much as 58,000%. That's not impossible, but it seems very unlikely in the near future. It may even take decades unless something unexpected happens.
Can VeChain Reach $100?
At this point, it doesn't seem likely. If it hits $1, that would still be good news and a substantial leap forward. So, it's safer to have more reasonable expectations and to hope for the bullish trend to continue to $1.
Is VeChain a Good Buy?
We can't say that investing in VeChain will certainly bring profits. However, based on our analysis and experts' opinions, it could be a good buy for the long-term. Short-term price fluctuations aren't vast enough for a significant profit, but in the years to come, VET could reach some heights.
Why trade with Libertex?
Get access to a free demo account free of charge.
Enjoy technical support from an operator 5 days a week, from 9 a.m. to 9 p.m. (Central European Standard Time).
Use a multiplier of up to 1:30 (for retail clients).
Operate on a platform for any device: Libertex and MetaTrader.