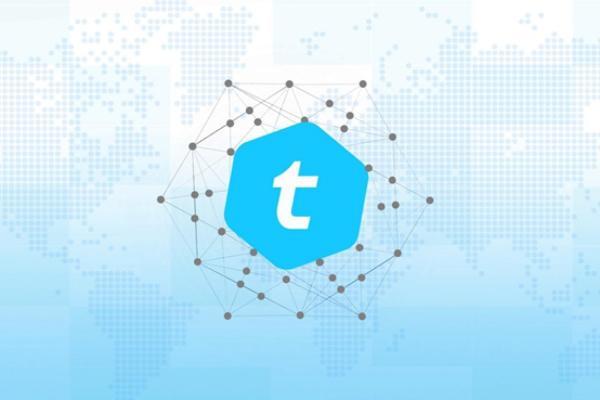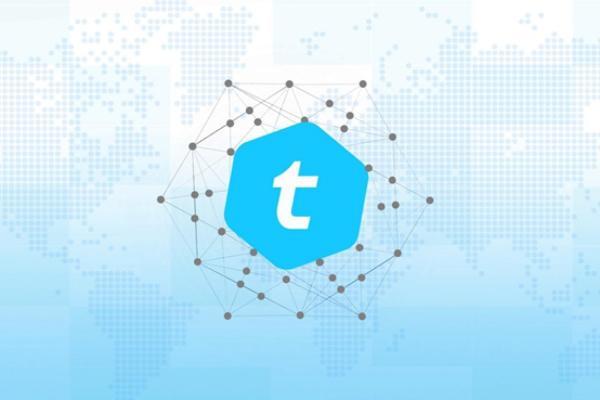 Telcoin Price Prediction: The Future of the Dark Horse of Cryptos
The cryptocurrency world famously has its ups and downs, and 19 May 2021 was not a good day. However, investors remained optimistic, and it paid off. Most cryptocurrencies have already bounced back and recovered some of the losses after the major sell-off, including Telcoin. 
Experts and traders have shared their thoughts and made their forecasts. In this Telcoin price prediction, we'll figure out what the recent turmoil means for the future of the coin.
The cryptocurrency world famously has its ups and downs, and 19 May 2021 was not a good day. However, investors remained optimistic, and it paid off. Most cryptocurrencies have already bounced back and recovered some of the losses after the major sell-off, including Telcoin. 
Experts and traders have shared their thoughts and made their forecasts. In this Telcoin price prediction, we'll figure out what the recent turmoil means for the future of the coin.
What Is Telcoin (TEL)? 
Telcoin is an ERC-20 Ethereum-based decentralised crypto coin that first came onto the scene in July 2017. The project is run from Singapore with the goal of bridging cryptocurrency, blockchain and telecommunications. TEL is used for payments within the system.
The project aims to build a sustainable ecosystem with high-speed, low-cost digital remittances to mobile platforms and e-wallets. As for more specific goals, Telcoin tries to foster partnerships with telecom giants like Verizon and AT&T and bump Western Union as the only leader in the remittance market.
As soon as a new operator connects with Telcoin, they can start issuing TEL tokens. The more TEL token traffic these operators have, the more incentives they receive from Tecloin.
Technical Info
Market capitalisation: $751,240,709 (as of December 2021)
Volume (24h): $6,942,636
Supply in circulation: 57.68B TEL (58% of the total supply)
Max supply: 100,000,000,000 TEL
Algorithm: Not mineable
Rank: 117
At the time of launch, 25% of TEL tokens were crowd-sold to investors, 15% were kept by the Telcoin Team and 5% were kept for the liquidity fund.
Since it's a proof-of-concept model, there are also no validators on the network, although Telcoin partners that are integrated into the network serve as the equivalent of validators. The system also supports integration into existing telecom mobile money wallets as well as its proprietary wallet.
Before any transaction is completed, it needs at least two private keys, which is a multi-signature crypto security model. It's up to users to set this requirement before a transaction.
The Team Behind Telcoin

Paul Neuner and Claude Eguienta are the two co-founders of Telcoin. With an MS in Computer Science, Eguienta had been working for startups and large tech companies for a decade. More recently, his focus has turned to distributed systems.
Neuner had worked in the telecommunication field for 12 years before becoming Telcoin's chairman. One of his tech ventures was Mobius, a startup to integrate fast, free mobile payments into apps and businesses. Pangea, a Japan-based software mobile application development company, is another project he was involved in.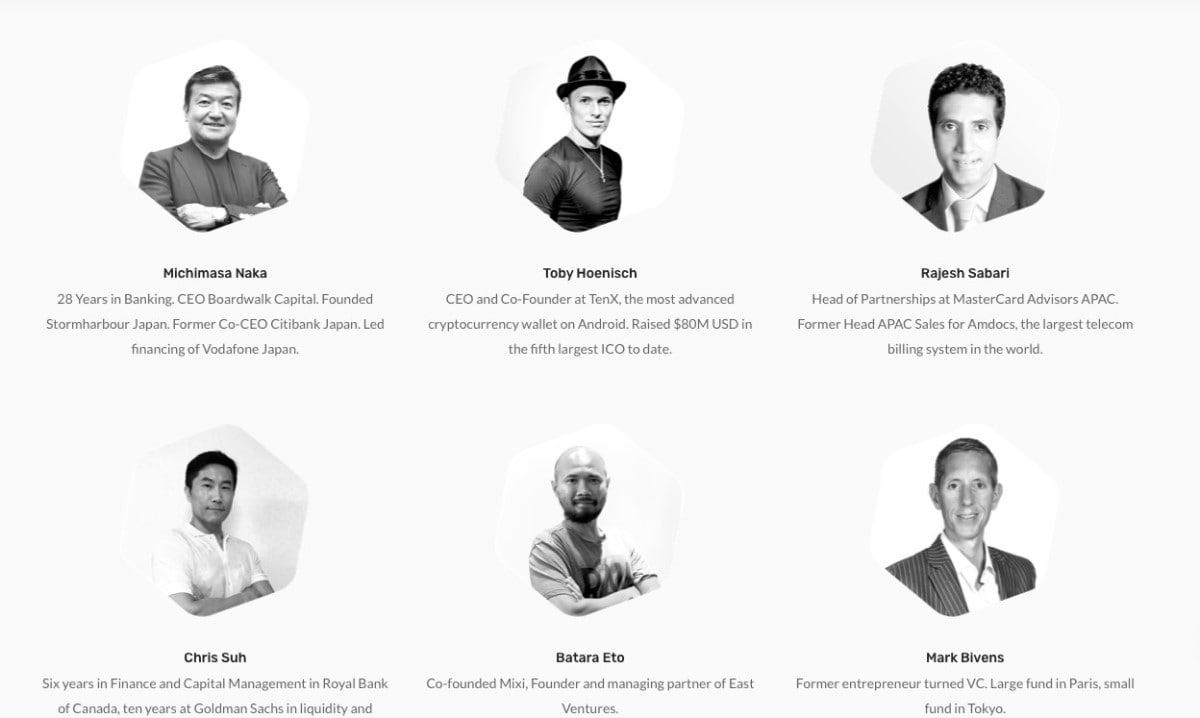 The specialists that comprise the advisory team come from different backgrounds, also with extensive experience in their respective fields. For example, business and corporate development, full-stack programming, UI/UX design, telco consulting and blockchain research.
Factors That Affect Telcoin's Price Changes
Now that we've covered general info about the coin, let's look at major factors that have a great effect on price projections. Later in the article, we'll also correlate these factors with Telcoin price predictions.
Telcoin 2.0
At the start of the year, the team shared their plans for the unofficial Telcoin 2.0. Each new stage brings the coin closer to wider adoption and a higher token price.
Summer Roadmap for July-September:
Telcoin app V3.1
Three new receiving markets
A new sending market
Three new fiat-TEL on-ramp integrations
Three new fiat-TEL off-ramp integrations
Expanding marketing campaigns
The Autumn roadmap for October-December includes:
Telcoin app V3.2
Three new receiving markets
A new sending market
More fiat-TEL on-ramps
More fiat-TEL off-ramps
New Remittance Corridors
Currently, remittances to the Philippines are done through mobile apps with GCcash as the main partner. Additional corridors are also in the works, the biggest one being US-Mexico.
Telcoin notes that the average cost of sending a remittance is 7% globally. But with Telcoin's service and the company's mobile app, the cost is reduced to as low as 2.5%. This makes a very strong case for a bullish projection.
The Cryptocurrency Bill
Nebraska could soon become the second state in the United States after Wyoming to accept crypto deposits through state-chartered banks.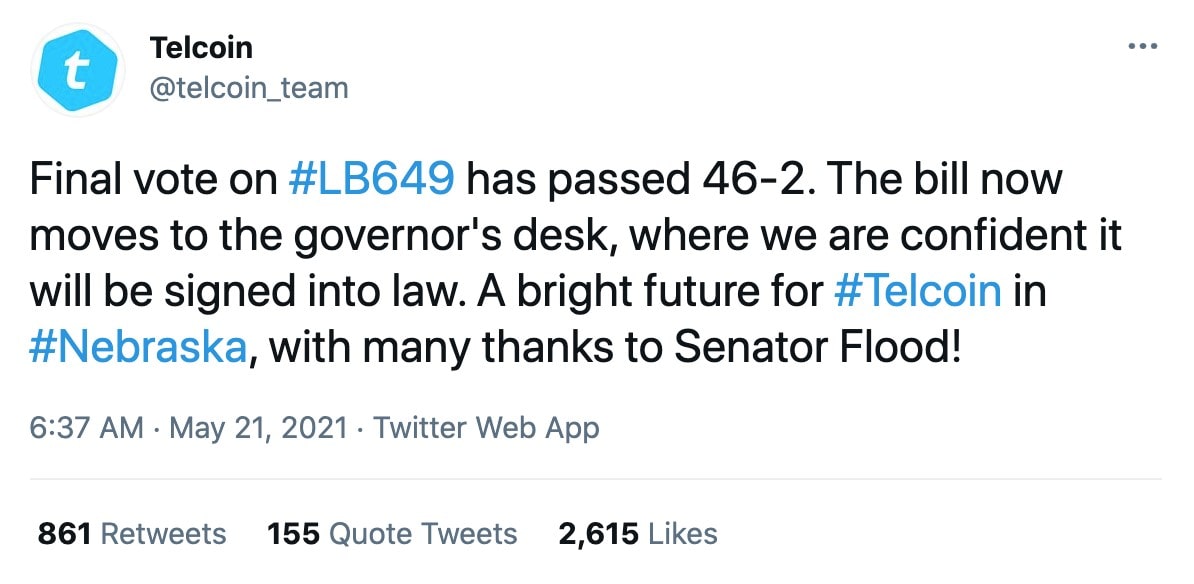 This news establishes a crypto and digital asset banking framework for the entire state of Nebraska, which could be very good for Telcoin. It pushes them beyond the traditional remittance business as they're also seeking to acquire a digital banking licence.
Regulatory Changes
If Telcoin plans to cash in on remittance corridors with China, that will depend on the Chinese government warming up to cryptocurrency. For a long time, Chinese authorities have been concerned about the speculative nature of cryptocurrencies. So, Telcoin's growth is massively limited unless financial institutions in the region are allowed to handle crypto transactions.
The Volatility of Bitcoin and Ethereum
When BTC and ETH, the largest cryptocurrencies by market cap, increase in value, other digital tokens tend to go up, as well. Similarly, when BTC and ETH decline, other players are likely to go down shortly after.
Telcoin (TEL): Overview of Its Past Performance
The ticker TELCOIN first became available on 11 December 2017, and its ICO lasted until 30 December. The only two accepted forms of payment were BTC and ETH, and 1 TEL went for 0.00000181648490 ETH. The token became transferable right after ICO.
For a few years after that, nothing significant happened with its price. The only exception was during the 2018 crypto bubble, when its price briefly broke above the $0.01 range on 20 January before falling to $0.001 in a matter of a few months.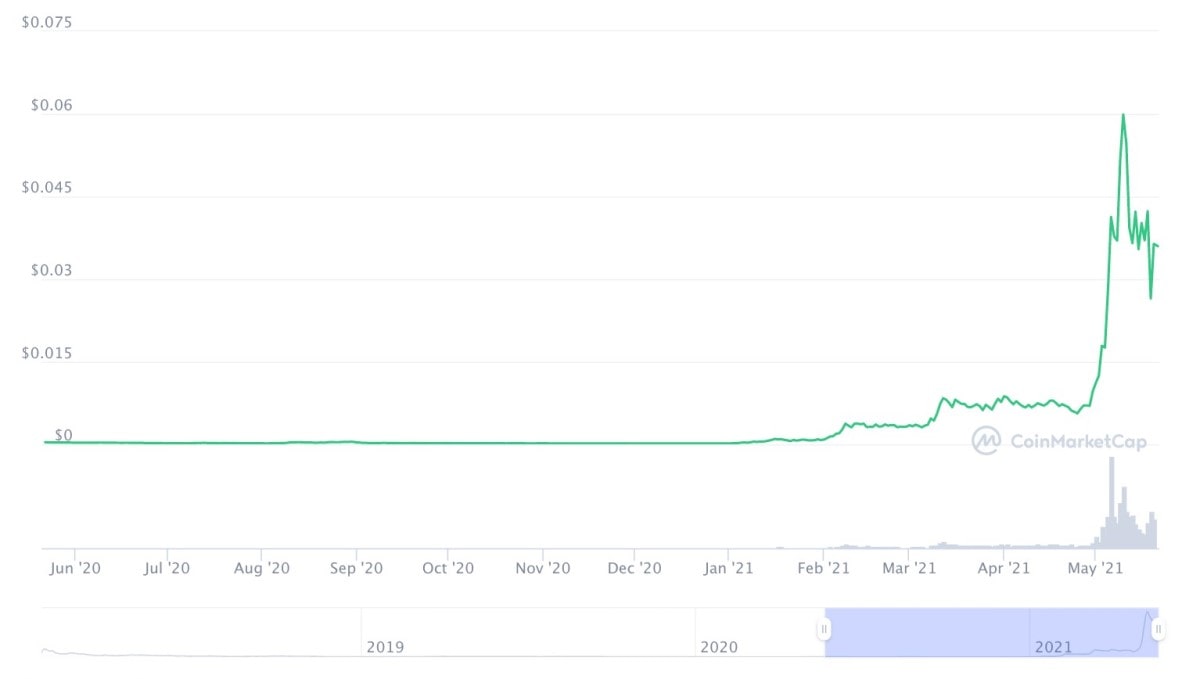 For the rest of 2018, as well as 2019 and 2020, Telcoin's average price was around $0.0003. Even the seemingly minuscule rise to $0.00047 on 30 August 2020 was considered huge compared to any other price movements throughout the year. But taking into account the pandemic-triggered drop to $0.000077 on 16 March 2020, it's an impressive recovery. 
Telcoin's Current Standing: Price Changes in 2021
In 2021, Telcoin picked up momentum. A scroll of Telcoin's news feed shows that one of the biggest changes was the launch of an upgraded protocol. This allowed money transfers between the Philippines and Canada, which was a big first step. Shortly after the launch, the price grew from $0.003 to $0.008.
Another contributing factor to the rising price was the iOS and Android mobile apps for users in participating jurisdictions. Mobile users open up doors to wider adoption since transactions become much more accessible.
Back in February 2021, Telcoin CEO Paul Neuner appeared before the Nebraska state legislature to discuss the potential benefits that crypto could bring to the fintech space. Finally, on 21 May, the bill moved to the governor's desk, where it was signed into law. The news triggered a relatively steep rise from $0.022 on 19 May to $0.039 on 21 May. 
Telcoin's listing on the decentralised exchange QuickSwap has also added a dose of rocket fuel after a period of sideways trading. But the biggest difference it made was not in the price itself but rather in the increase in daily transaction volume, racing to well above $200,000,000 in May.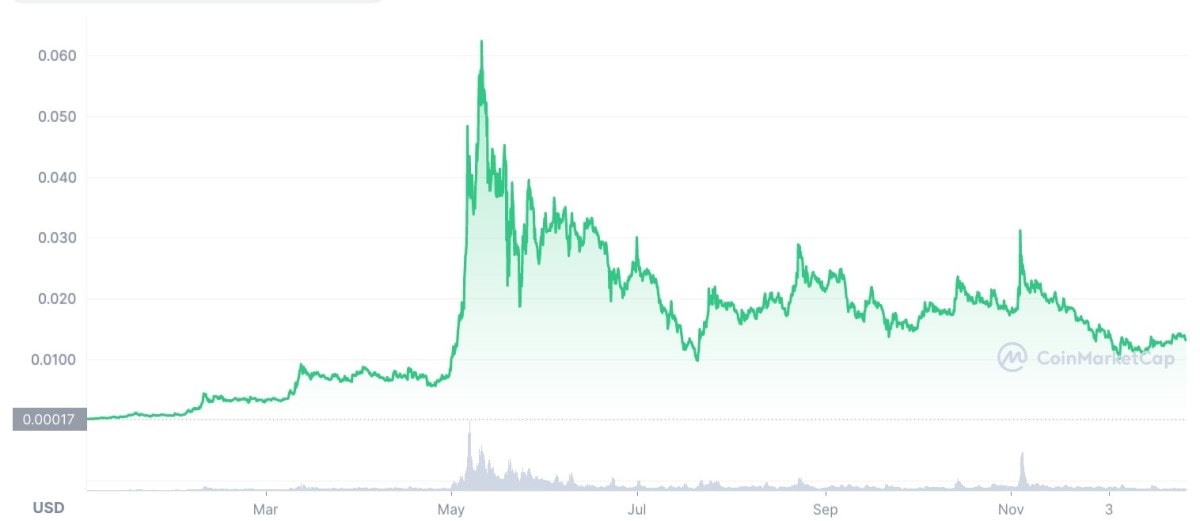 Telcoin dropped positions since its price surge in May. It was unable to go higher than $0.0395 (June), $0.030 (July), $0.0288 (August), $0.023 (October) or $0.0312 (November).
At the time of writing, Bitcoin is fighting uncertain conditions, and the picture for altcoins seems similarly unstable. Among the biggest drops was Telcoin, which had previously booked significant gains. TEL briefly lost sight of a third of its price before recovering.
Short-Term TEL Price Prediction for 2022
According to the Telcoin price prediction from DigitalCoinPrice, the coin will recover from the recent fiasco. Although it won't be nearing its all-time high of $0.0649 (set on 11 May 2021), the slow rise is great news for both traders and investors.
| | | |
| --- | --- | --- |
| Month | Average Price ($) | Change |
| January 2022 | 0.01957236958 | 50.51% |
| February 2022 | 0.02083931626 | 60.25% |
| March 2022 | 0.01957751693 | 50.55% |
| April 2022 | 0.02156282050 | 65.81% |
| May 2022 | 0.01990376001 | 53.06% |
| June 2022 | 0.02299516095 | 76.83% |
| July 2022 | 0.01892699000 | 45.54% |
| August 2022 | 0.02287603855 | 75.91% |
| September 2022 | 0.01935932014 | 48.87% |
| October 2022 | 0.01916598268 | 47.38% |
| November 2022 | 0.02013054676 | 54.8% |
| December 2022 | 0.02153449046 | 65.6% |
One of the most dramatic spikes in the history of Telcoin was after a Cointelegraph Markets Pro member suggested adding the cryptocurrency to the platform. One of the functionalities provided in the members' dashboard is the VORTECS™ score, an algorithmic metric derived from historical analysis. For 2022, the algorithm already has clear confidence in bullish conditions for the TEL token.
The VORTECS™ score confirms the rising momentum projected by DigitalCoinPrice. Although the proprietary formula is unknown, we know that it also takes into account sentiment analysis, tweet and trading volume, and price action.
Moving on to the Telcoin price prediction for 2022 by PricePrediction.Net. It estimates a similarly positive picture as in the chart above. The prediction calls for TEL's price to start the year at an average of $0.015 and around $0.021 by the year's end.
| | | | |
| --- | --- | --- | --- |
| Month | Minimum Price ($) | Average Price ($) | Maximum Price ($) |
| January 2022 | 0.014 | 0.015 | 0.016 |
| February 2022 | 0.015 | 0.016 | 0.016 |
| March 2022 | 0.015 | 0.016 | 0.017 |
| April 2022 | 0.016 | 0.017 | 0.018 |
| May 2022 | 0.017 | 0.017 | 0.019 |
| June 2022 | 0.017 | 0.018 | 0.019 |
| July 2022 | 0.018 | 0.018 | 0.020 |
| August 2022 | 0.018 | 0.019 | 0.021 |
| September 2022 | 0.019 | 0.019 | 0.022 |
| October 2022 | 0.019 | 0.020 | 0.023 |
| November 2022 | 0.020 | 0.020 | 0.023 |
| December 2022 | 0.021 | 0.021 | 0.024 |
The remittance flows in the context of global growth alone can justify the positive prognosis. More specifically, the remittance flows to low- and middle-income countries are expected to increase to $565 billion in 2022.
However, the outlook for remittances remains uncertain. As nations make significant progress in vaccinating their populations, the picture will become clearer. But to solidify its position and increase its price, Telcoin needs to tap into the world's top remittance corridors:
US-Mexico
UAE-India
US-China
US-India
US-Philippines
Another piece of information that confirms the huge potential for the crypto in 2022 is the number of unbanked populations worldwide. According to longtime Telcoin community ambassadors, the project will give access to a suite of financial products to the unbanked (around 15% of adults globally in 2022).
Telcoin Price Forecast for 2023-2025 
The next two forecasts come from PricePrediction.Net, which projects significant fluctuations for the coin based on historical price movements.
| | | | |
| --- | --- | --- | --- |
| Month | Minimum Price ($) | Average Price ($) | Maximum Price ($) |
| January 2023 | 0.020 | 0.022 | 0.023 |
| February 2023 | 0.022 | 0.023 | 0.024 |
| March 2023 | 0.023 | 0.024 | 0.025 |
| April 2023 | 0.024 | 0.024 | 0.026 |
| May 2023 | 0.024 | 0.025 | 0.027 |
| June 2023 | 0.025 | 0.026 | 0.028 |
| July 2023 | 0.025 | 0.026 | 0.029 |
| August 2023 | 0.026 | 0.027 | 0.031 |
| September 2023 | 0.026 | 0.027 | 0.032 |
| October 2023 | 0.027 | 0.028 | 0.033 |
| November 2023 | 0.028 | 0.029 | 0.035 |
| December 2023 | 0.028 | 0.029 | 0.036 |
Let's skip the Telcoin price prediction for 2024 and go straight to 2025. After a relatively stagnant period, the coin might have a rocky year, moving up and down in the range of $0.04-$0.06.
| | | | |
| --- | --- | --- | --- |
| Month | Minimum Price ($) | Average Price ($) | Maximum Price ($) |
| January 2025 | 0.042 | 0.046 | 0.047 |
| February 2025 | 0.045 | 0.047 | 0.049 |
| March 2025 | 0.046 | 0.048 | 0.051 |
| April 2025 | 0.047 | 0.049 | 0.054 |
| May 2025 | 0.049 | 0.051 | 0.056 |
| June 2025 | 0.050 | 0.052 | 0.058 |
| July 2025 | 0.051 | 0.054 | 0.061 |
| August 2025 | 0.053 | 0.055 | 0.063 |
| September 2025 | 0.055 | 0.056 | 0.066 |
| October 2025 | 0.056 | 0.058 | 0.068 |
| November 2025 | 0.058 | 0.060 | 0.071 |
| December 2025 | 0.059 | 0.062 | 0.074 |
Long-Term Telcoin Price Forecast for 2030 
Unfortunately, the accuracy of 2030 forecasts isn't nearly the same as shorter-term ones. It's very hard to predict the direction of the crypto market in 10 years. Judging by unprecedented ups and downs over the last 10 years, the community should brace itself for more surprises.
But if you assume that the market won't be significantly disrupted in the next decade, we have the following Telcoin price prediction.
| | |
| --- | --- |
| Period | Possible Price ($) |
| Start of 2030 | 3.2208 |
| End of 2030 | 3.9706 |
In a report by Deutsche Bank, analysts explored the question of whether cryptocurrencies will "take centre stage and usurp cash". Essentially, cryptocurrency can potentially replace the current cash status quo. And since the unbanked rely on cash, Telcoin has an opportunity to expand inside this sector.
For the next 10 years, Telcoin, as well as other cryptocurrencies, need to overcome three main hurdles: 
Legitimacy in the eyes of governments and regulators
Global reach in the payment market
Alliances with key stakeholders: Apple Pay, Google Pay, Visa, Mastercard, Amazon and Walmart
If Tecloin finds a solution to these problems, it won't stay in the shadows for long. 
Technical Analysis of Telcoin
Having looked at what others think of Telcoin's future direction, it might be the perfect time to do some technical analysis yourself. As the first step, take a look at the price chart to gauge the overall trend. This part doesn't require any tools or specific skills, just the ability to differentiate price directions.
Now comes the more complex part: technical indicators. Below is a summary based on the most popular technical indicators — Moving Averages, Oscillators and Pivots — on a weekly chart.

Look at the metric for popular oscillators like Relative Strength Index, Stochastic %K, Awesome Oscillator, Momentum, MACD Level, etc. Also, see the moving averages (50-day, 100-day, etc.) to identify significant and overall trends.
Turning back to the chart, you can assess whether certain patterns are forming. 

If the Nebraska crypto Bill hadn't passed, we could have seen a head and shoulders pattern come into effect and a move to the downside. But since it did pass, we can assume sideways consolidation as a bare minimum and even an uptrend. Support levels are always key levels to buy.
Telcoin Price Predictions by Analysts and the Trading Community
Harry Newman, Head of Banking at SWIFT, and Olivier Denecker, Partner at McKinsey & Company, shared their vision for cross-border payments, which Telcoin has set its foot in. They say that even though remittance corridor flows account for only 1/6 of total transaction values, they're increasing by 6% annually.
They also pointed out that distributed ledger technology and network innovations further accelerate the growth. Such a positive outlook on a sector Telcoin is operating in from firms like McKinsey makes for a hopeful forecast. 
We also found a couple of opinions that many traders seem to agree with. For example, below is the Telcoin price prediction that a Twitter user recently shared.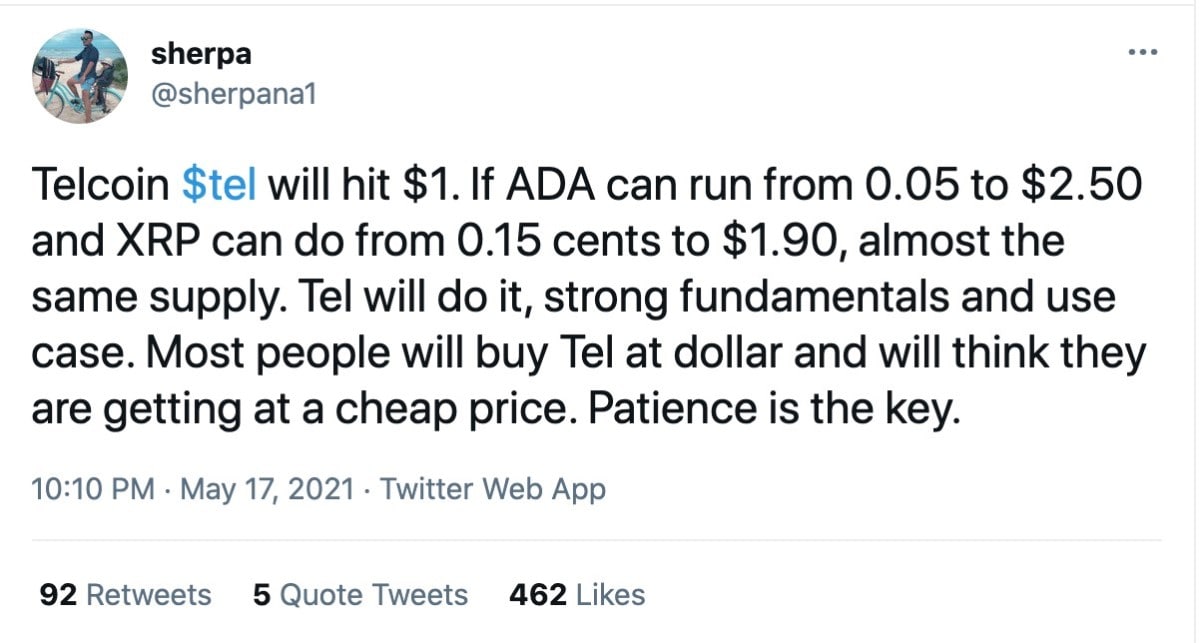 Speaking of strong fundamentals, another Twitter user also shared his positive views that rely on remittance flow and partner markets. The following forecast doesn't include the same shockingly high values. It's more in line with historical price-based tables that we've looked at in the previous sections.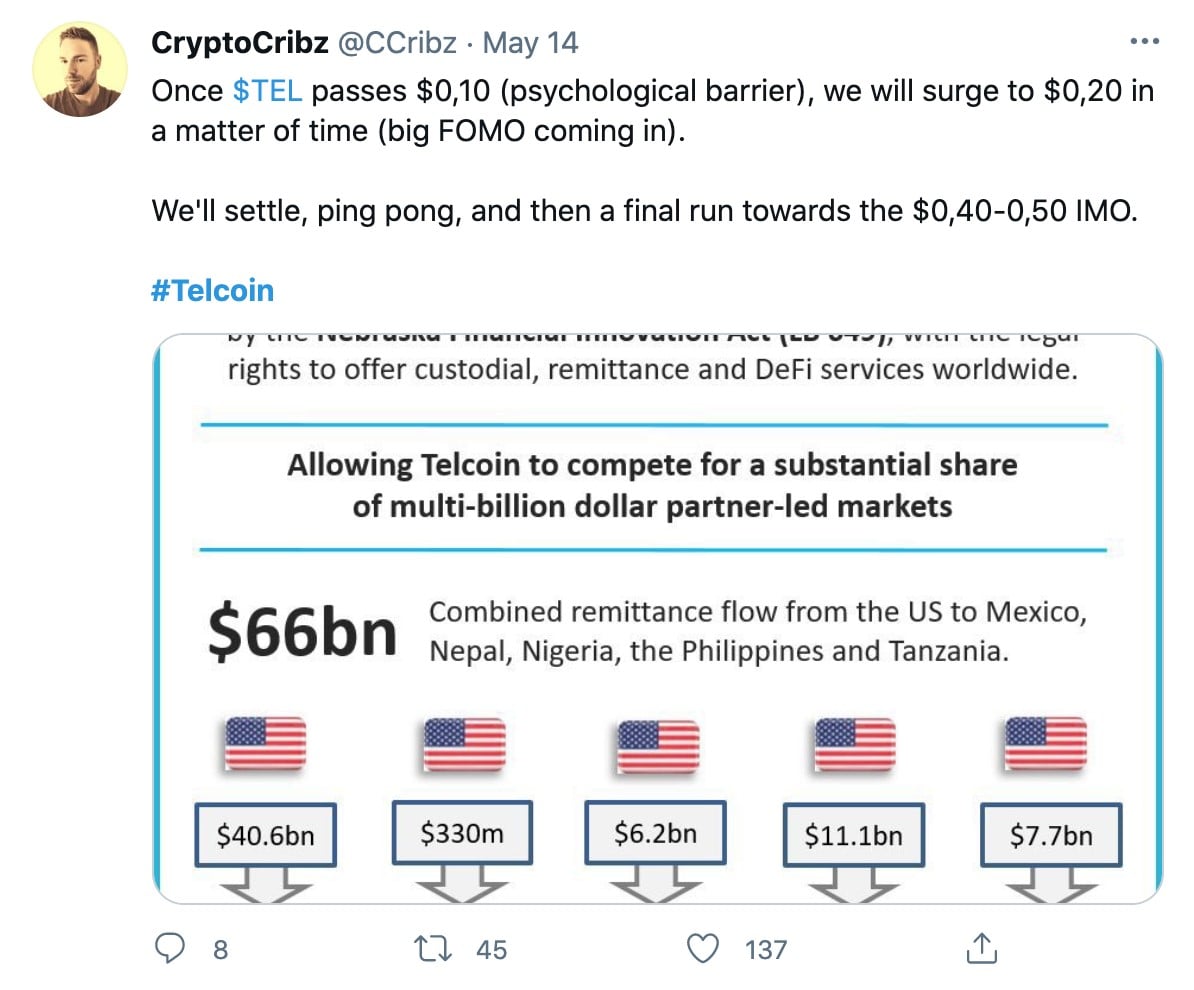 Is Telcoin a Good Investment or Trading Asset?
Telcoin crypto has never been a beneficiary of the various crypto booms. So far, it has kept its head down and consistently focused on the current projects at hand. This fact alone characterises the digital currency as relatively stable.
By partnering with mobile phone services, Telcoin aims to distribute its tokens to telecom providers for free. If they are passed on to user bases, it can lead to increased adoption.
However, working on remittance corridors is not a simple task. In particular, there are regulations to overcome since some countries aren't welcoming towards crypto transactions. But there have been some breakthroughs worth noting, such as the Nebraska bill.
Overall, potential investors should have no problem acquiring Telcoin. Bitcoin and Ethereum are available pairings for it, and there's enough liquidity in both to support a trade. Taking into account the positive outlook for the coin, it might generate some gain over the long term. 
But there is another way to get your hands on some TEL. Instead of taking ownership of the financial product, you can take a shorter-term outlook and trade on margin with CFDs.
As opposed to holding the underlying asset, a CFD is traded with leverage, which allows the investor to buy or sell a number of CFDs with extra leverage. Additionally, while you can hold your CFD position for weeks, months or even years, you can also capitalise on bearish conditions.
To ease your way into financial markets, consider opening a Libertex demo account. It's a free, hands-on way to explore assets and test your manual or automated strategies before you commit any of your own money.
FAQ 
Is Telcoin a Good Investment in 2022?
Telcoin is trying to figure out a way to make remittances a whole lot easier and cheaper. Most recently, the Nebraska legislature passed a bill that became law, placing a spotlight on the coin. Combined with all the positive forecasts, it may be a good asset to invest in. 
Is Telcoin Worth Buying?
After a recent period of turbulence, TEL's price is lower than it was at the beginning of May. So, this asset can be a good contestant for a buy low/sell high strategy. Additionally, the project's efforts to break into the remittance market look to be starting to pay off.
What Will Telcoin Be Worth in 2025?
By 2025, Telcoin might comfortably sit at the $0.04-$0.07 mark. However, there might not be noticeable price changes over the course of the year. The price might not go much higher than $0.074.
What Will Telcoin Be Worth in 2030?
Assuming Telcoin fulfils its remittance plans while also staying relatively in the shadows, the coin might be priced at around $3. On the other hand, there are different scenarios where Telcoin surges way higher than expected or where it doesn't move higher than its current price. It will ultimately depend on the health of the crypto market.
Can Telcoin Reach $1?
Yes, but Telcoin might take a long time to do so. Based on the more conservative forecasts, it won't be until the end of 2025 when TEL finally surpasses the $1 mark. Of course, there are forecasts that expect the price to reach the $1 threshold earlier, but it's safer to assume slow but steady growth.
Why to trade with Libertex?
access to a demo account free of charge
technical assistance to the operator 5 days a week, 24 hours a day
leverage up to 1:500
operate on a platform for any device: Libertex and Metatrader 4 and 5
no commissions for extractions in Latin America