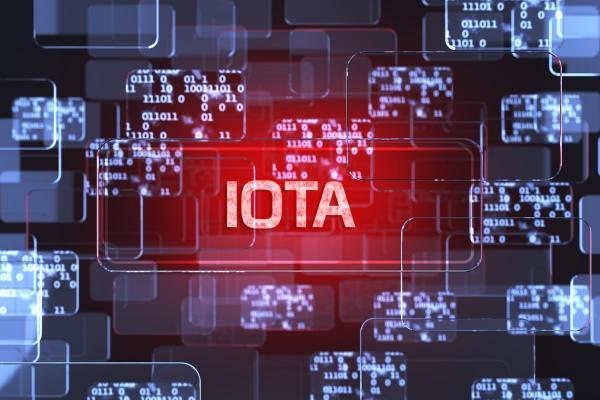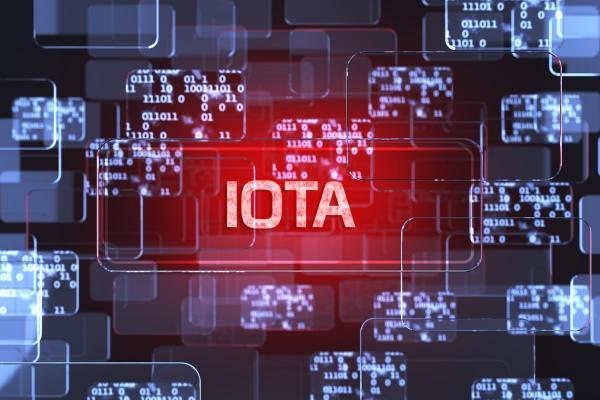 IOTA Price Prediction: Will It Transform IoT and Rise?
From smartwatches and home appliances to self-driving cars, the Internet of Things (IoT) ecosystem has grown to cover all kinds of devices. That said, we expect urban IoT infrastructure to expand even more. The latest findings indicate that implementing regular blockchain is complicated for IoT and requires a dedicated blockchain. IOTA, a ledger-based technology designed specifically for IoT, is being proposed as a solution.
An innovative technology called Tangle has put IOTA on the map as one of the most promising projects for the coming years. This made us particularly interested in IOTA price predictions. How will this next-generation tech influence different industries, and how will it be reflected in the coin's corresponding value?
What Is IOTA (MIOTA)? 
As we stated above, IOTA (MIOTA) is a different kind of cryptocurrency. What's unique about it is that it doesn't utilise blockchain technology. Instead, IOTA is a block-less platform known as Tangle, which we'll talk about shortly. It relies on an open-source ledger protocol and various IoT applications.
The platform was launched in 2015 by the team consisting of David Sønstebø; Sergey Ivancheglo, the project lead; and Dominik Schiener and Dr Serguei Popov, who were responsible for the mathematics and programming.
From the start and to this day, the project focuses on the following objectives:
Research and implementation of its protocol
Collaboration with partners for sustainable impact
Open-source software with no unnecessary friction in transactions
Educating the community and promoting use cases
What Makes the Project Different?
The first thing that sets IOTA apart is its unique blockless technology, Tangle. Whereas blockchain data structure is an ordered list of blocks of transactions, Tangle's branched system can evolve in different directions.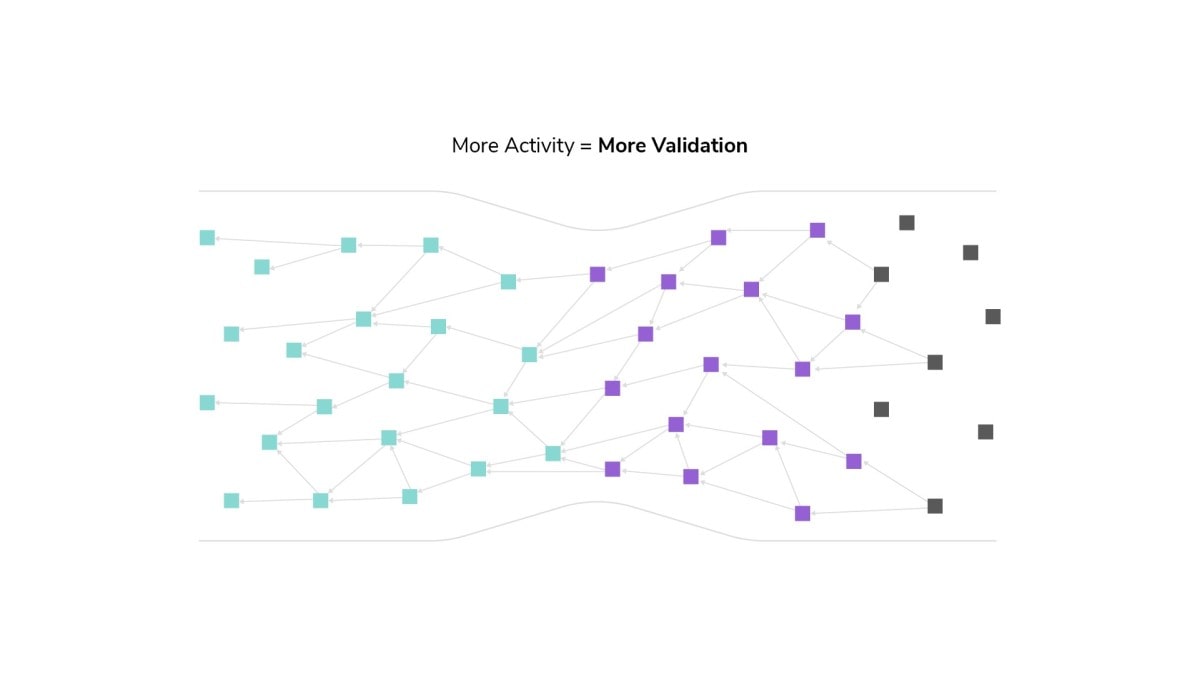 Tangle is a Directed Acyclic Graph (DAG) that doesn't require mining or energy-consuming equipment. That means there's no reward system for miners, eliminating most of the costs. This makes Tangle more feasible for situations like micro- or nano-transactions between devices and sensors.
Generally speaking, as a blockchain grows, it requires more assets. With Tangle, it's the opposite. The wider the network grows, the more quickly and safely new transactions are validated.
The project itself exists through contributions from individuals and organisations as well as research and development grants from public bodies.
Potential Issues
IOTA has promised to solve the inherent scalability issues that blockchain is facing. However, the underlying data structures for DAG — hashgraphs — may not be the perfect solution. Vitalik Buterin, the co-founder of Ethereum, shared that hashgraphs are currently still similar to blockchains in that they are still dependent on the capacity and speed of devices within the network.
In 2020, IOTA also introduced a Coordinator, which goes against the claim of a decentralised system. The existence of a Coordinator creates a single point of failure, potentially slowing down the entire network. IOTA aims to replace the Coordinator with a plan called Coordicide to eliminate the problem.
What Will Affect IOTA's Price?
Before we go into IOTA price predictions, we need to define what factors can affect its price and how. Some are associated with the crypto market in general, but others specifically concern IOTA. Bear in mind that all the points mentioned below can drive the price either up or down.
Increased Adoption of IoT
There are more than 30 billion IoT devices connected around the world. This figure is projected to grow to over 75 billion by 2025.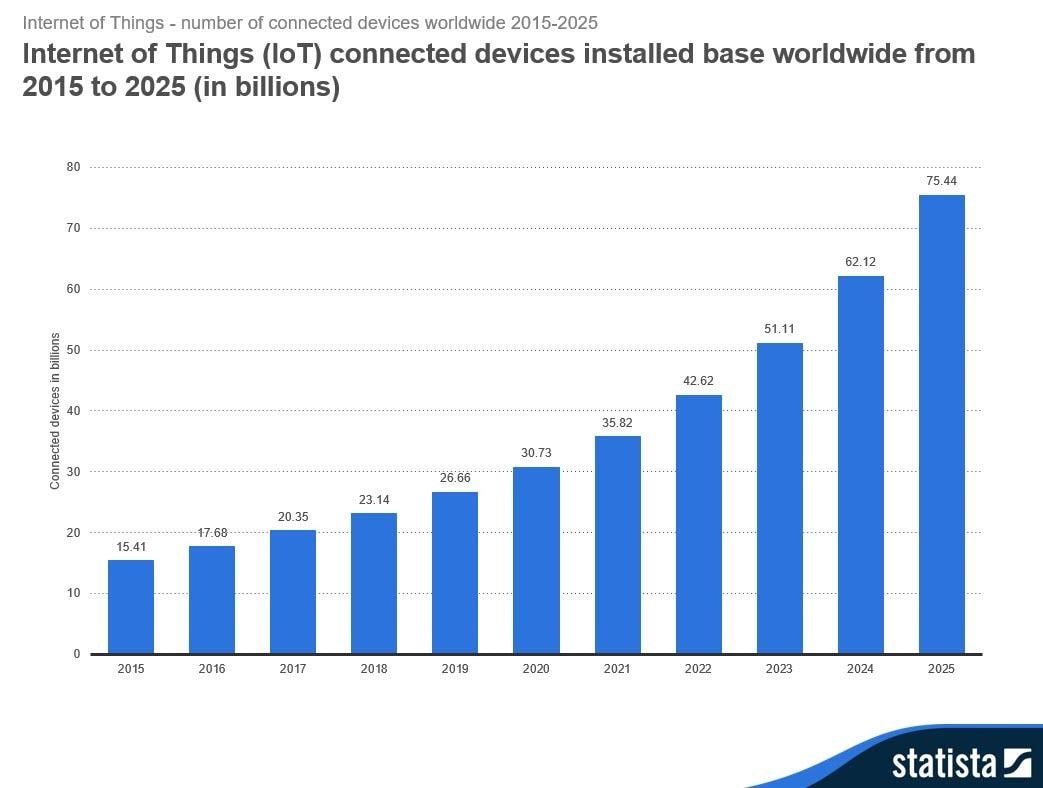 As one of the first projects to marry IoT and crypto payment processing, IOTA has a lot of potential in this field. If the growing number of IoT devices is complemented by the increased adoption of IOTA, its price is bound to go up.
It's clear that more and more machines are going to have processing power, and, with IOTA's focus on the machine-to-machine (M2M) economy, IOTA can become a potential enabler for this economy.
Technical Maturity
IOTA's Tangle could be a game-changer for the cryptocurrency world, but it's not working at full capacity yet and has still not replaced blockchain, even in terms of micro-transactions. If the team manages to unleash Tangle's full potential, the coin's price will take off.
In the meantime, IOTA introduced the three phases of IOTA 2.0 that will lead up to Coordicide. A new version of its Pollen Testnet v0.3.5 has just been released to the public, and the development team is working on several improvements, including Tangle refactoring, congestion control and timestamp validation.
Availability on Exchanges
IOTA hasn't been listed on all major exchanges yet. For example, it's missing from top exchanges like Poloniex and Kraken. The expectation is that, as IOTA gets listed on more exchanges, it will start expanding its reach of investors. Plus, interest from short-term traders will also likely grow.
Strategic Alignment
Any cryptocurrency benefits from strategic partnerships and real-world applications that come from it, and IOTA is taking the necessary steps to make sure that happens.
For example, Jaguar Land Rover has collaborated with the IOTA Foundation to allow drivers to earn crypto and make payments on the go. Another interesting case is the City of Taipei, which is about to offer Tangle-based ID cards to its citizens. The list also includes Dell Technologies, the Linux Foundation, EDAG Group and over 100 other entities.
General Market Sentiment
Any IOTA price prediction relies on investor sentiment and the value of other currencies. A favourable environment has a positive effect on all cryptocurrencies. A very good example is the crypto boom of 2017, when most cryptocurrencies reached their all-time highs, including IOTA. 
If the situation repeats itself, IOTA will likely go up. If the opposite happens, we'll be seeing drops for more than one coin.
Analysis of IOTA's Past Performance
At the end of 2015, IOTA's ICO was a huge success, raising over $400,000. All one billion IOTA tokens were sold for less than $0.001; $0.000434512, to be specific.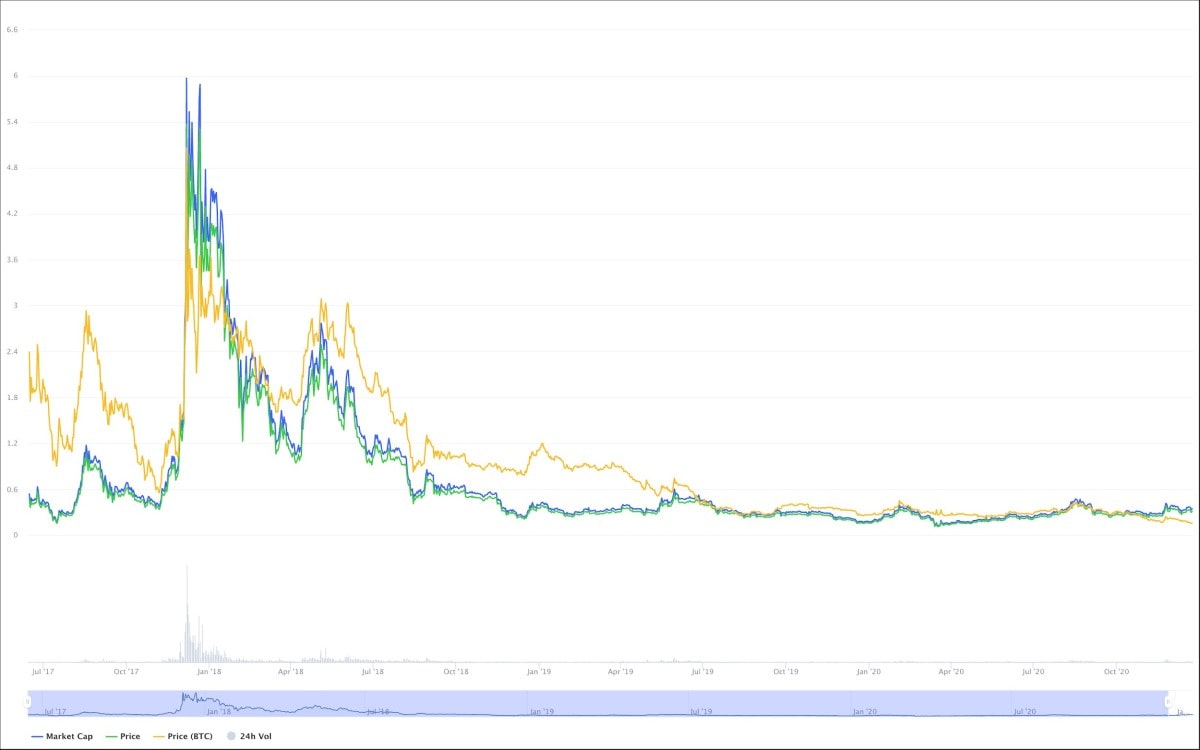 By December 2017, IOTA went up more than 1 million per cent from its initial coin offering price. On 19 December, the coin traded at $5.69, which is still its all-time high. The rally followed the IOTA Foundation's announcement of their partnership with Microsoft, Samsung and Fujitsu.
Unlike many projects in this space, IOTA doesn't put up any paid promo, so it solely relies on its technological advantages and a steady stream of these large news stories. Unfortunately, IOTA is far from catching up to its previous highs.
Another spike was in May 2018. This was when the IOTA Foundation signed a cooperation agreement with DNB ASA, Norway's largest financial services group. The Head of DLT at DNB said at the time that they thought engaging technology like IOTA could give them valuable experience and know-how on future revenue streams. The coin's price was $2.41 around that time.
How Did IOTA Perform in 2021?
2021 can only be described as a sudden take-off for IOTA. During this particular period, the project didn't make any huge announcements. On the contrary, the team has been taking its time to reflect on the past. IOTA continues to move upward with noticeable fluctuations.
The first half of 2021 coincided with the overall crypto market's behaviour. A jumpstart in January morphed into a steady climb for the next few months. The highest price that IOTA reached in 2021 was $2.53 on 16 April. After a volatile period, the price settled at a low mark of $0.50-$1.00.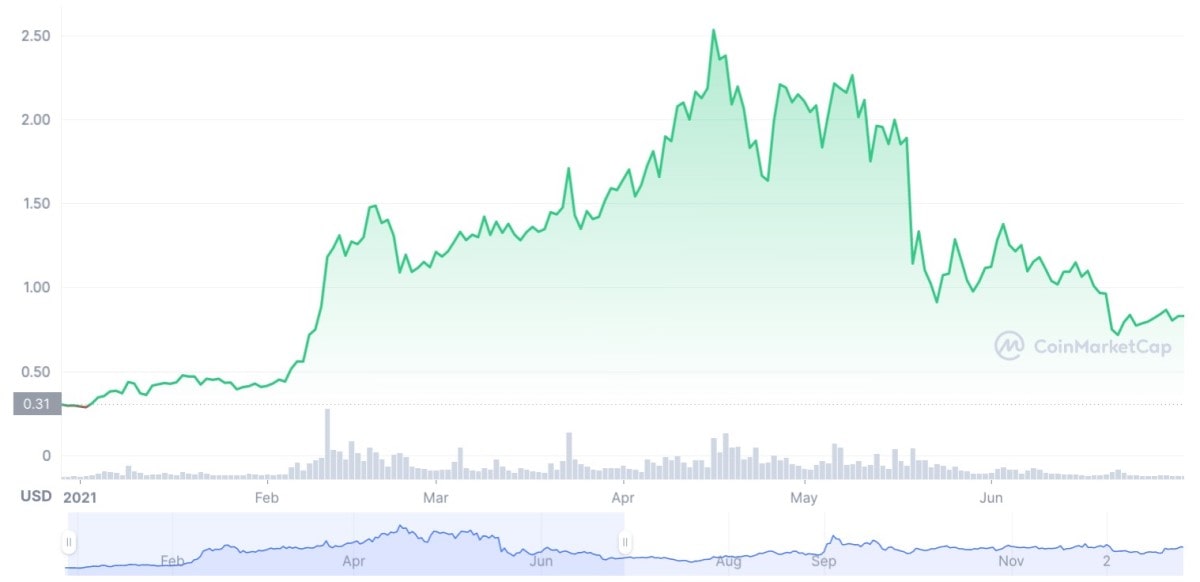 Similar to many crypto coins, IOTA has been moving up and down in a tight range. After reaching $1.99 on 4 September, the closest price points were $1.74 on 17 September or $1.55 on 25 November. That was followed by two significant dips: from $1.50 on 2 December to $1.03 on 13 December and from $1.48 on 29 December to $0.77 the following year on 22 January.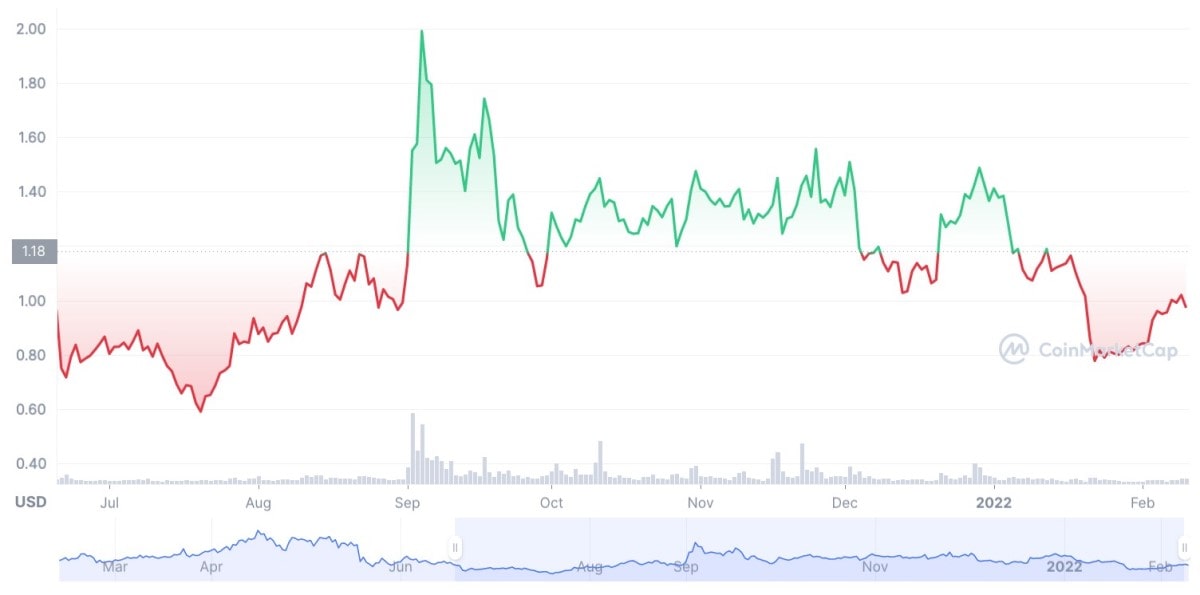 After looking at IOTA's performance over the years, we now have a little context. Now, let's move on to IOTA price predictions.
Short-Term IOTA (MIOTA) Price Prediction for 2022
For the 2022 IOTA (MIOTA) price prediction, we're using a source called Long Forecast. Below is a month-by-month overview of the coin's possible movements.
| | | | | | |
| --- | --- | --- | --- | --- | --- |
| Month | Open ($) | Low-High ($) | Close ($) | Monthly Change | Total Change |
| March 2022 | 1.24 | 0.80-1.54 | 1.44 | 16.1% | 71.4% |
| April 2022 | 1.44 | 1.13-1.44 | 1.21 | -16.0% | 44.0% |
| May 2022 | 1.21 | 1.07-1.23 | 1.15 | -5.0% | 36.9% |
| June 2022 | 1.15 | 1.05-1.21 | 1.13 | -1.7% | 34.5% |
| July 2022 | 1.13 | 1.13-1.40 | 1.31 | 15.9% | 56.0% |
| August 2022 | 1.31 | 1.31-1.63 | 1.52 | 16.0% | 81.0% |
| September 2022 | 1.52 | 1.52-1.75 | 1.64 | 7.9% | 95.2% |
| October 2022 | 1.64 | 1.63-1.87 | 1.75 | 6.7% | 108% |
| November 2022 | 1.75 | 1.37-1.75 | 1.47 | -16.0% | 75.0% |
| December 2022 | 1.47 | 1.14-1.47 | 1.23 | -16.3% | 46.4% |
Digital Coin Price has a similar view on IOTA in 2022. While the price projection is not as impressive, these experts predict stability.
| | | |
| --- | --- | --- |
| Month | Average Price ($) | Change |
| March 2022 | 1.47 | 41.06% |
| April 2022 | 1.39 | 33.3% |
| May 2022 | 1.31 | 25.68% |
| June 2022 | 1.44 | 38.38% |
| July 2022 | 1.49 | 43.27% |
| August 2022 | 1.54 | 48.61% |
| September 2022 | 1.52 | 46.2% |
| October 2022 | 1.37 | 31.92% |
| November 2022 | 1.39 | 33.56% |
| December 2022 | 1.46 | 40.5% |
Forecasts for IOTA in 2023-2025
Next up, Digital Coin Price rolled out their opinion on the coin's price movement. As you go further, the figures aren't as descriptive compared to shorter-term IOTA predictions.
| | | |
| --- | --- | --- |
| Month | Average Price ($) | Change |
| January 2023 | 1.46 | 40.5% |
| February 2023 | 1.72 | 65.14% |
| March 2023 | 1.64 | 57.71% |
| April 2023 | 1.55 | 48.94% |
| May 2023 | 1.53 | 47.46% |
| June 2023 | 1.61 | 54.56% |
| July 2023 | 1.71 | 64.53% |
| August 2023 | 1.64 | 57.96% |
| September 2023 | 1.77 | 70.78% |
| October 2023 | 1.47 | 41.88% |
| November 2023 | 1.78 | 71.51% |
| December 2023 | 1.83 | 75.76% |
Continuing the previous forecast and moving to 2024, here's what's expected for IOTA's price performance.
| | | |
| --- | --- | --- |
| Month | Average Price ($) | Change |
| January 2024 | 1.79 | 72.38% |
| February 2024 | 1.57 | 51.01% |
| March 2024 | 2.01 | 93.63% |
| April 2024 | 1.63 | 57.01% |
| May 2024 | 1.89 | 82.16% |
| June 2024 | 1.59 | 52.83% |
| July 2024 | 1.85 | 77.69% |
| August 2024 | 1.57 | 50.68% |
| September 2024 | 1.56 | 50.32% |
| October 2024 | 1.83 | 75.75% |
| November 2024 | 1.73 | 66.84% |
| December 2024 | 1.80 | 73.38% |
The same source (Digital Coin Price) also has an IOTA price prediction for 2025. Here's how it might play out. 
| | | |
| --- | --- | --- |
| Month | Average Price ($) | Change |
| January 2025 | 2.09 | 101.3% |
| February 2025 | 2.07 | 99.65% |
| March 2025 | 2.50 | 140.44% |
| April 2025 | 1.88 | 80.91% |
| May 2025 | 2.40 | 130.9% |
| June 2025 | 2.06 | 98.6% |
| July 2025 | 2.20 | 112.01% |
| August 2025 | 2.51 | 141.78% |
| September 2025 | 1.93 | 85.39% |
| October 2025 | 2.02 | 94.35% |
| November 2025 | 2.26 | 117.76% |
| December 2025 | 2.41 | 131.8% |
Here are a few educated IoT-related guesses for 2023-2025:
Technologies such as smart devices, 5G and machine learning algorithms will greatly influence the industry.
5G alone will significantly contribute to the IoT network. Faster networks allow devices to gather, analyse and manage data more efficiently. In turn, that will fuel innovation and boost consumer demand for new products.
With the increased use of IoT devices, cybercriminals will escalate in using them to facilitate Distributed Denial of Service (DDoS) attacks. Although it's not IOTA's responsibility to handle them, the network will inevitably feel the effects of large-scale attacks (if they happen).
Overall, anything that happens in the IoT industry has an indirect effect on IOTA. But this doesn't negate the fact that IOTA needs to make improvements within its system.
Long-Term Prediction: IOTA in 2030
Finally, there is the long-term IOTA price prediction by Coin Price Forecast. It's the least descriptive, but what it does show is extremely positive sentiment toward IOTA in the future.
| | | | |
| --- | --- | --- | --- |
| Year | Mid-Year ($) | Year-End ($) | Tod/End |
| 2030 | 4.85 | 5.09 | +393% |
IOTA remains one of the only platforms that can offer:
The possibility of instant transactions
Zero fees
Near infinite scalability and decentralisation through side-chain/off-chain/horizontal scaling
These advantages can be the driving force behind IOTA's growth in the next decade. The nominal costs of transactions make IOTA a perfect candidate for micropayments, which are only destined to grow in scale. Not to mention, it uses one-millionth of the energy that Bitcoin does. 
IOTA Price Analysis
The first stage of carrying out technical analysis is to switch to higher timeframes on the chart to determine the current trend and see the full picture.
alt7="

Then, you need to place support and resistance levels. For IOTA, we have the following key levels:
Resistance levels: $1.117145, $1.083543, $1.054489
Support levels: $0.991833, $0.958231, $0.929177
The next step is to use indicators to define high probability setups in the market and figure out a set of actions.

Use chart analysis in combination with indicators for additional confirmations and signals.
Another piece of advice is to differentiate between timeframes depending on your goals. If you want to gauge movement in the near future, go for short periods. But you can also look at daily, weekly and monthly charts for a longer-term perspective.
What the Community and Experts Think
A trustworthy source and an online publication we've yet to mention is FX Leaders. They have conducted a thorough analysis of the coin both from technical and fundamental perspectives. In the end, they rolled out their forecasts:
This year: $0.80-$1.00 due to crypto market sentiment, IOTA sentiment and global politics.
Next year: $1.50-$2.50 driven by post-COVID-19 improvements and the global economy's recovery.
Three years: $5.00-$10.00 affected by technical aspects of the protocol and surrounding solutions, IoT adoption and global politics.
One of the most popular content creators putting out crypto analyses, including IOTA price predictions, is SkinnyMoonHunter. In his video, he shared a price goal for IOTA at $1.1231.
The analyst and his team simply say that "IOTA is really out." He also doesn't rule out the possibility of the coin reaching $3, but the 591% increase is unlikely to happen soon. It's best to take things one step at a time because there is no guarantee against a sudden reverse.
There was an interesting tweet by a Ranorex engineer. Although he might be biased (as a founder of the IOTA community), we can still take away useful information.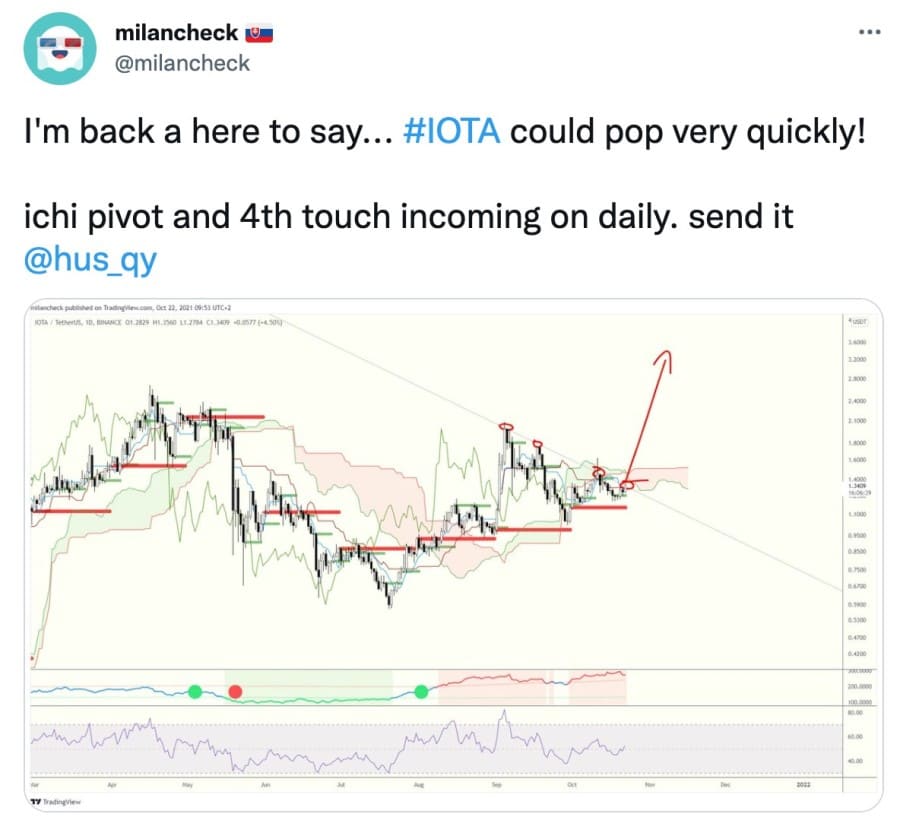 He expects a rosy future for many altcoins, and IOTA is one of them. This outlook aligns well with everything we found in other sources so far and proves once again that this cryptocurrency has potential.
Invest or Trade: What's Better for IOTA?
Based on the IOTA price predictions we currently have, there are many reasons to enter the market. But the big question is whether you should play the long-term game or the short one.
Investing in IOTA
As IoT devices become more widely adopted, the true potential of IOTA tokens starts to take shape. Some think that IOTA is a long-term hold because it will take a few years for the development team to fully address all of its issues. But when it finally does, the project is going to provide some truly transformative features.
Make sure to find a reliable crypto storage method. Serious IOTA investors should consider splurging for a hardware wallet. If you're planning to store crypto for years, it's advisable to do everything in the safest way possible. So, minimise the possibility of online threats to make your investment work in your favour.
Trading IOTA
Alternatively, you can take the best of both worlds: keep a good amount of tokens stored and trade a smaller amount for short-term capital gains. There is always a risk of the coin not appreciating over time, so short-term trading can help you offset that.
There are a few benefits to trading, specifically IOTA CFDs. For example, the ability to succeed in both rising and falling markets and trading on leverage. So, even if IOTA sees a price decrease, there's a chance to take advantage of the unfortunate change. And when you add a small capital and leverage, you could gain a large exposure to the cryptocurrency market, but please note that trading CFDs with leverage can be risky and can lead to losing all the invested capital.
IOTA proves to be resilient in terms of tradability. Even though the coin doesn't show drastic price changes, there is still quite a lot of volatility. If you're considering whether you should enter this market or not, try a Libertex demo account. It's a risk-free way to try out different strategies and get familiar with a new trading asset. When you're ready to enter the real market with your strategy, you can graduate to a live trading account and get to work! 
Conclusion
IOTA needs to achieve quite a lot to gain widespread credibility. But if the technology succeeds, it might lead to a revolutionary change: a peer-to-peer internet for IoT instead of service providers.
But as you've seen in each IOTA price prediction featured in this article, the overall consensus is positive. Despite its obvious drawbacks, IOTA's Tangle could be the next big advance in crypto technology. In the end, try to remain at least somewhat sceptical without jumping right into it. After all, the uncertainty of the crypto market can't be overlooked.
FAQ
Is IOTA Worth Investing in During 2022?
The past year has shown that IOTA is capable of growth, indicating that it could be a worthwhile investment. It started 2020 with a market capitalisation of under $450 million. By the end of the year, it reached more than $900 million. While the project still has a rocky road ahead, a gain of over 100% is a good sign.
What Makes IOTA Different?
IOTA is behind the next generation of protocols for the connected world. There are no transaction fees, its transaction speed is through the roof (250 TPS compared to Bitcoin's 7 TPS), and it has low computing power requirements. Thus, it has the ability to empower the Internet of Things under more advanced conditions.
What Are IOTA's Future Plans?
In December 2020, co-founder David Sønstebø was voted out of the project. This decision is likely to reflect positively on the interest of IOTA and its ecosystem since Sønstebø wasn't particularly loved by the community or the media. Currently, the network is expecting the fully decentralised Iota mainnet, IOTA 2.0, which launched in 2021. Other than that, IOTA plans to continue partnerships with large corporations and focus on IoT.
Will IOTA's Price Go Up?
With IOTA being one of the most ground-breaking projects in the crypto sphere, its prospects are huge. At the very least, the idea is impressive. The question is whether it can bring them to fruition. If IOTA manages to overcome its problems, the value of its coin will likely rise.
What Will IOTA's Value Be in 2022?
Some available forecasts put IOTA in the $1.30-$1.50 range for 2022.Considering it's been under, in and above this range so far this year, the anticipation is moderately positive.
What Will IOTA Be Worth in 2030?
By 2030, the bulls are expected to push the price higher to new levels. The most optimistic IOTA price prediction puts it at $5.09.
Why trade with Libertex?
Get access to a free demo account free of charge.
Enjoy technical support from an operator 5 days a week, from 9 a.m. to 9 p.m. (Central European Standard Time).
Use a multiplier of up to 1:30 (for retail clients).
Operate on a platform for any device: Libertex and MetaTrader.