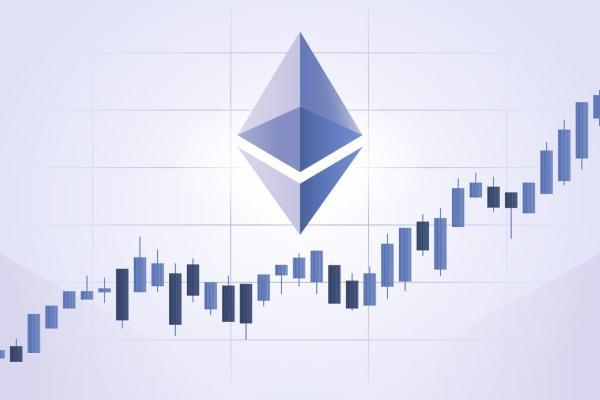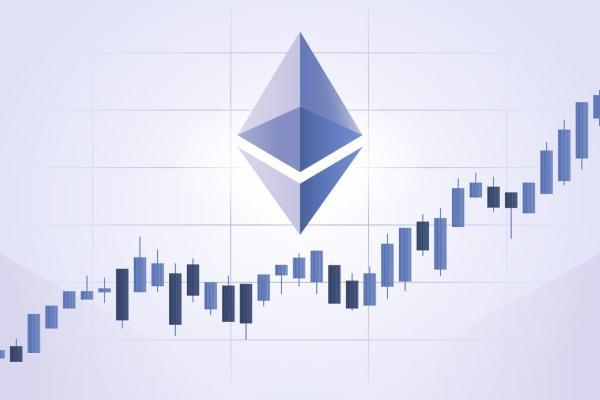 Ethereum Price Prediction: Will ETH Break Above $4,000?
The recent spike in crypto prices has coincided with the strongest period for the cryptocurrency and blockchain market since 2018. Ethereum's price has increased fivefold throughout 2021, from less than $750 to over $3,900.
For a long time, Ethereum has been the world's second-largest cryptocurrency by market capitalisation after Bitcoin, and the question of whether Ethereum will reach new heights is intriguing. We'll look at multiple Ethereum price predictions to guide you through different opinions about this asset's future.
What Is Ethereum (ETH)?
Ethereum is a decentralised, open-source and distributed computing platform that facilitates smart contracts and decentralised applications (dApps).
The project was proposed in 2013 by programmer Vitalik Buterin, crowdfunded in 2014, and fully launched on 30 July 2015. His idea was to elevate blockchain from a public ledger to organising people, companies, money and services. So, if anything can be written into code and used by a smart contract, Ethereum can build it.
You can think of Ethereum as a programmable Bitcoin that makes it possible to create markets, shared ledgers, digital organisations and other creations that need immutable data and agreements without an intermediary.
The Eth2 Upgrades
Ethereum 2.0 ("Serenity") is an upgrade to the already existing blockchain that is supposed to address bottlenecks and increase the number of transactions. Eth2 has some fundamental changes in its structure and design:
Sharding: The blockchain will be broken into 18 shards operating simultaneously to make the network more efficient. 
Staking: The network will move to the Proof-of-Stakealgorithm that relies on validators instead of miners, eliminating the concept of mining.
One of the significant changes coming in version 2.0 is reduced transaction fees. Sharding drastically increases network bandwidth and reduces gas costs. Gas refers to the fee pricing value to successfully conduct a transaction or execute a contract. Reducing gas consumption translates to lower fees for users.
This improvement also addressed the problem of environmentally wasteful mining. Annual carbon emissions from the electricity generated to extract and process every cryptocurrency are becoming a huge concern for the public. After Eth2.0, the underlying mechanism will activate validators upon receipt of enough stake, which doesn't take nearly as much time or energy.
Tests for Ethereum 2.0 are currently being conducted with the Medalla Testnet and over 20,000 validators worldwide. This is the final stop before Phase 0 is deployed.
The Main Drivers of ETH Price
The price of traditional crypto assets, such as stocks or bonds, is driven by economic factors like inflation or government regulation. 
ETH prices are strongly driven by popularity among investors, political or regulatory events and investor expectations in the markets.
The Success of ETH 2.0
The success of Ethereum 2.0 directly affects ETH prices spiking up. Some even refer to the launch of the upgrade as the starting gun going off. Because Ethereum becomes more scalable via layer-2 technology, it'll draw more attention from traders, investors and a large pool of corporate and individual users.
Ethereum 2.0 is very likely to cause a long-term bullish impact on the value. The influence may already be present. 
Ethereum Futures
Ethereum futures allow traders to speculate on ETH's value at a given date in the future for the first time. This launch can be considered as opening the doors for traditional investment firms.
What does it change? Futures allow exposure to the digital asset market without navigating crypto exchanges or setting up digital wallets. This leads to a spike in investors that prefer the structure of traditional financial markets.
Decentralised Finance
Ethereum is already active in the DeFi space. It uses smart contracts to create protocols replicating existing financial services in a more transparent way.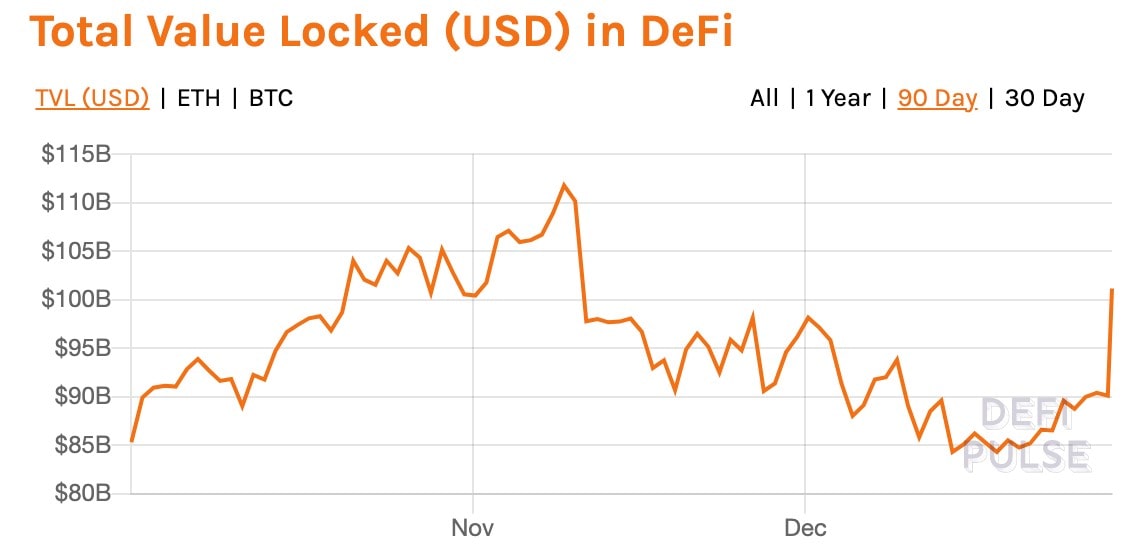 DeFi is already a trend, and the more demand there is for it, the more valuable it becomes. Consequently, the price of Ethereum will follow.
Ethereum is playing a pivotal role in the growth of DeFi because every major DeFi protocol is built on the Ethereum blockchain, and new projects are joining at a rapid pace. Even with crypto's price volatility, the long-term upward price trend in DeFi remains.
BTC/ETH Correlation
If we compare BTC and ETH's charts, we see patterns of their price movements that correlate over a long period of time. No other cryptocurrency pair shows as many signs of an extremely strong bond. In this part of the market cycle, the BTC/ETH correlation is 0.81.
This phenomenon shows up especially vividly with large price fluctuations. The correlation is instantaneous in most cases, with a difference of several minutes or hours.
Ethereum Price History
Let's go through notable events in the project's history and see how they affected its price:
22 July-2 September 2014. You could officially buy ETH with BTC for 42 days. No fiat currencies were involved.
20 July 2015. The network went live with 72 million coins pre-mined and ready for circulation. The price was around $1.
7 September 2015. The frontier thawing fork lifted the 5,000 gas limit per block, making it possible to perform transactions. But this didn't affect the price at all; at the time of the launch, it was $1.24.
20 July 2016. After a hack due to an insecure DAO contract (3.6 million ETH lost), the team introduced the DAO fork. At the time, ETH was priced at $12.54, but it dropped to $8 in response. 
22 November 2016. The Spurious Dragon fork, which introduced new security features, was the second attempt to come back from the DoS attacks. Ethereum was worth $9.84.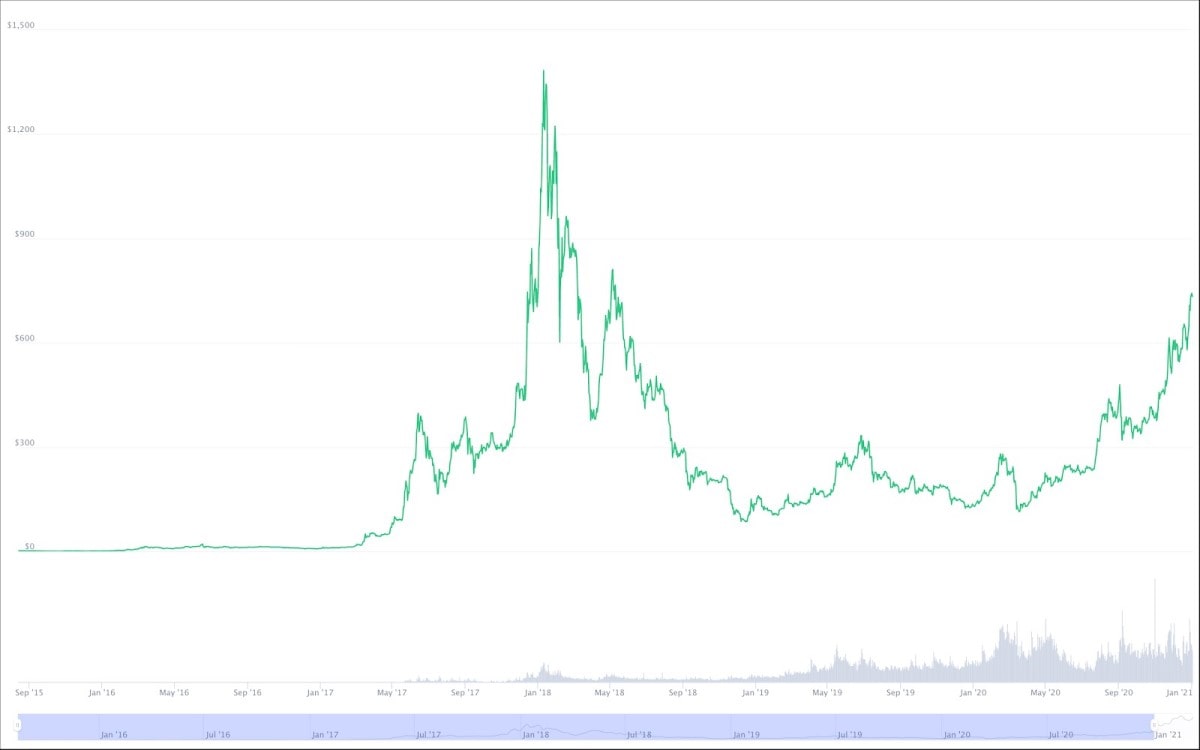 13 June 2017. The price skyrocketed to $391.89. Around that time, the Bancor Foundation raised $153 million worth of Ether in just 3 hours. This generated tremendous returns and spiked demand for Ethereum.
14 January 2018. After rising fivefold in the final few months of 2017, Ethereum reached $1,417.11. This was due to the notion that it would become the world's most valuable cryptocurrency, a moment dubbed "the flippening".
6 April 2018. The lowest point for the year was $368.69, and the hype was long gone.
27 June 2019. The year wasn't very successful for ETH, with the highest point being $350.81.
18 March 2020. From the lowest point of $112.94, Ethereum started a slow but consistent upward trend that continued all the way to 2021.
How Was Ethereum Doing in 2021? What About 2022?
ETH was worth $738.73 on 1 January 2021, but not for long. The prices rallied upwards across most cryptocurrencies. Ethereum reached its (at the time) ATH mark of $2,036.29 on 20 February 2021. Other currencies like Bitcoin, Litecoin, Bitcoin Cash and Uniswap have also substantially increased. But that price surge wasn't the end.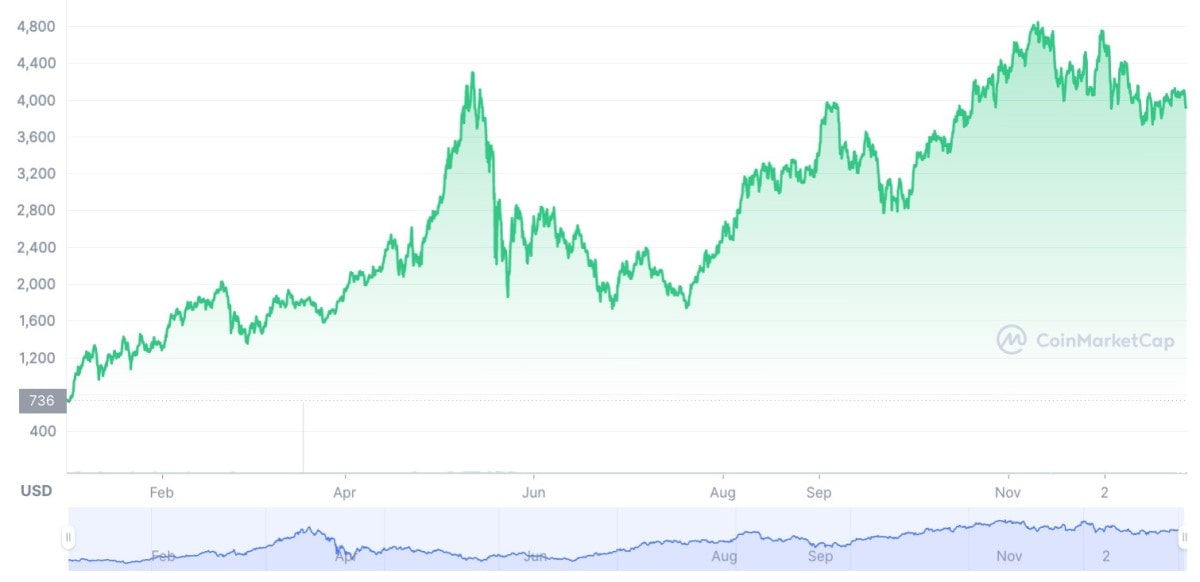 Ethereum made an impressive leap to $4,293 on 12 May, which became yet another peak for the year. Other notable mentions include $4,213 in October, $4,843 in November and $4,736 in December. By the end of the year, ETH was trading at a slightly lower rate of around $3,900.
There are four reasons why ETH's price jumped in 2021:
The ETH 2.0 upgrade is progressing well. Investors are already paying close attention and preparing for the upcoming releases to make Ethereum more scalable, secure and sustainable.
The rising adoption of Decentralised Finance mentioned above. We can already see its positive effect on the price. 
Ethereum has proven itself as a reliable alternative to Bitcoin among retail traders. Besides, Bitcoin is already testing the $60,000 level. 
The US's ongoing fiscal and monetary policy offers an incentive to rush to risky assets by most crypto investors. Congress is also considering a $1.9 trillion package for the near future.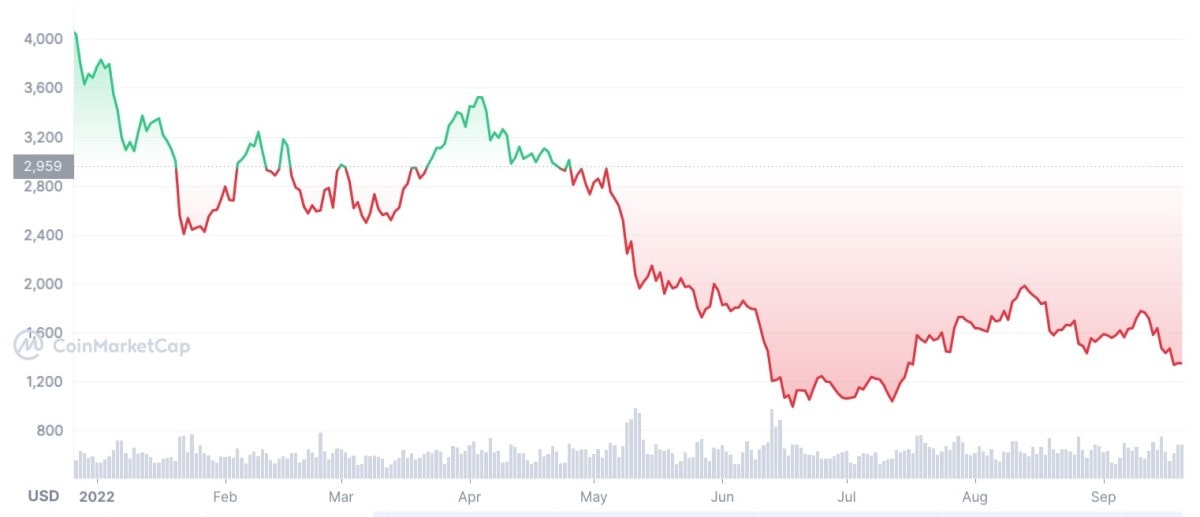 In September 2022, the average trading price was around $1,350, the market cap was over $165 billion, and the trading volume was over $21 billion.
Ethereum Price Prediction 2023
PricePredictionNet believes that 2023 will be a noteworthy year for Ethereum. While it anticipates a strong start for the coin at roughly $1,700, it also foresees a gradual increase by year's end. Comparing the end-of-year results to the current pricing reveals a considerable appreciation.
| | | | |
| --- | --- | --- | --- |
| Month | Minimum Price ($) | Average Price ($) | Maximum Price ($) |
| January 2023 | 1,562.79 | 1,709.30 | 1,758.14 |
| February 2023 | 1,695.46 | 1,760.58 | 1,826.51 |
| March 2023 | 1,714.39 | 1,795.79 | 1,896.93 |
| April 2023 | 1,768.27 | 1,849.66 | 1,986.72 |
| May 2023 | 1,823.76 | 1,905.15 | 2,060.71 |
| June 2023 | 1,861.86 | 1,943.26 | 2,155.96 |
| July 2023 | 1,939.59 | 2,020.99 | 2,233.69 |
| August 2023 | 1,980.01 | 2,061.41 | 2,314.53 |
| September 2023 | 2,037.52 | 2,102.63 | 2,417.60 |
| October 2023 | 2,121.62 | 2,186.74 | 2,501.71 |
| November 2023 | 2,165.36 | 2,230.47 | 2,611.05 |
| December 2023 | 2,209.97 | 2,275.08 | 2,722.57 |
Ethereum Price Forecast 2024
DigitalCoinPrice predicts that 2024 could be a volatile year. Beginning at around $4,372, the asset might decrease to between $3,993 and $4,242.
| | | | |
| --- | --- | --- | --- |
| Month | Minimum Price ($) | Average Price ($) | Maximum Price ($) |
| January 2024 | $3,923.88 | $4,372.59 | $4,414.54 |
| February 2024 | $3,922.54 | $4,243.84 | $4,864.82 |
| March 2024 | $3,921.77 | $4,063.85 | $4,633.30 |
| April 2024 | $3,936.43 | $4,694.22 | $4,960.27 |
| May 2024 | $3,936.50 | $4,218.75 | $4,485.09 |
| June 2024 | $3,922.80 | $4,014.11 | $4,820.88 |
| July 2024 | $3,944.59 | $3,973.89 | $4,105.23 |
| August 2024 | $3,937.96 | $4,030.13 | $4,096.88 |
| September 2024 | $3,929.11 | $4,014.48 | $4,511.30 |
| October 2024 | $3,918.55 | $4,645.18 | $4,726.41 |
| November 2024 | $3,919.59 | $3,993.48 | $4,361.27 |
| December 2024 | $3,922.04 | $4,242.41 | $4,348.32 |
ETH Ethereum Price Prediction 2025
The Ethereum merge price prediction 2025 was provided by PricePrediction.Net. The average values might grow from $3,404 all the way to $4,665.
| | | | |
| --- | --- | --- | --- |
| Month | Minimum Price ($) | Average Price ($) | Maximum Price ($) |
| January 2025 | 3,112.51 | 3,404.31 | 3,501.58 |
| February 2025 | 3,378.37 | 3,540.48 | 3,637.75 |
| March 2025 | 3,517.01 | 3,646.70 | 3,779.37 |
| April 2025 | 3,557.52 | 3,719.63 | 3,961.71 |
| May 2025 | 3,664.34 | 3,794.03 | 4,147.69 |
| June 2025 | 3,745.74 | 3,907.85 | 4,337.39 |
| July 2025 | 3,934.47 | 4,064.16 | 4,493.70 |
| August 2025 | 4,015.76 | 4,145.44 | 4,696.91 |
| September 2025 | 4,149.15 | 4,311.26 | 4,862.73 |
| October 2025 | 4,267.80 | 4,397.49 | 5,035.18 |
| November 2025 | 4,399.72 | 4,529.41 | 5,211.08 |
| December 2025 | 4,535.61 | 4,665.29 | 5,437.55 |
Ethereum Price Prediction 2030 and ETH Long-Term Forecast 2040-2050
Sadly, since these forecasts are so far out, they can only be considered rough estimates. In almost nine years, the market may change drastically. The forecasts that were previously emphasised are all based on historical data. But it's a challenging task to predict ETH's price performance by 2030. 
In light of this, we still have one more forecast to discuss. This Ethereum price prediction for 2030 is offered by Coin Price Forecast.
| | | | |
| --- | --- | --- | --- |
| Year | Mid-Year ($) | Year-End ($) | Tod/End,% |
| 2030 | 4,756 | 5,008 | +273% |
| 2031 | 4,315 | 4,099 | +148% |
| 2032 | 4,293 | 4,486 | +171% |
| 2033 | 4,678 | 4,869 | +194% |
| 2034 | 5,060 | 5,250 | +217% |
Ethereum Price Prediction 2040
Long-term price forecasting is difficult to do. In this case, we will calculate using performance to date. ETH prices may reach a new ATH level this year, according to our long-term Ethereum name service price prediction. Depending on market trends, we could anticipate an average price of $23,871.42 in 2040. The highest coin price we expect Ethereum to reach in 2040 is $25,241.81. If the market turns positive, Ethereum might increase more than our 2040 ETH price prediction. ETH's lowest price level, however, can go as low as $21,513.45 if the market turns bearish.
Ethereum Price Prediction 2050
The average price of ETH in 2050, according to our projection, might be $45,128.53. While an Ethereum can cost as little as $41,213.29, it can cost more. Many cryptocurrencies can reach their new all-time highs this year, joining Ethereum after such a long journey. Ethereum is predicted to trade at its highest price of $50,156.47 by the year 2050. Ethereum prices in 2050 may be even higher than our projection if more investors become interested in ETH between now and then.
Ethereum Price Predictions from Industry Experts
We've gathered several Ethereum price predictions published by prominent crypto strategists.
Real Vision
Raoul Pal (Co-founder and CEO of Real Vision) claims that Ethereum will likely offer the best risk-adjusted profits going ahead but that many other competing altcoin projects could potentially achieve bigger gains in a recent interview teaser with Altcoin Daily.
Goldman Sachs
Bitcoin will now progressively rival gold as a "store of value," according to the Ethereum long-term forecastby Wall Street giant Goldman Sachs, and may reach $100,000 in five years.
JP Morgan
In an interview with CNBC, JPMorgan CEO Jamie Dimon referred to rapidly higher borrowing costs and Russia's invasion of Ukraine as major factors ginning up economic risk.
"These are very, very serious things, which I believe are likely to push the US and the world – I mean, Europe is already in a downturn – they're likely to put the US in some kind of economic downturn six to nine months from now," Dimon said.
Pantera Capital
Both Nigel Green, the creator of deVEre Group, and Dan Morehead, the CEO of Pantera Capital, estimate that the price of ETH will surpass $100,000 over the course of the next ten years.
Plan B
The inventor of the Stock-to-Flow model, who goes by the alias PlanB, revealed his Ethereum long-term forecast for the years 2023 to 2025 on YouTube. 
According to his "months till halving chart," which was issued in early January, the cost is increasing from $1 to $10, which is equivalent to $10 to $100.
ARK Invest 
According to Ark Invest, the market capitalisation of the second-largest cryptocurrency will reach or exceed $20 trillion by 2030. Each coin would cost between $170,000 and $180,000. Ether would need to increase by around 7,200% from its current price of $2,480 to reach the firm's goal.
Cathie Wood of Ark Invest believes that Ethereum will have a $20 trillion market cap by 2030, notwithstanding the decline in cryptocurrency prices to begin 2022.
Standard Chartered
One of the top 100 publicly traded businesses on the London Stock Exchange, the banking titan, set a price objective for Ethereum for September 2023. 
The international own research team at Standard Chartered predicted the Ethereum cost of $35,000.
Winklevoss Capital Management
The Winklevoss twins, who jointly founded theGemini digital asset exchange and family business Winklevoss Capital Management, have forecast that Ether's price may eventually reach $40,000, with a price objective of $5,000 to $10,000 for the end of this year.
Because of how bad the bear market was, any prospective upturns took longer to occur. The creator of Ethereum, Vitalik Buterin, expressed that he wasn't overly surprised by the outcome and that what matters most is that they have laid the groundwork for further technical advancements and wider adoption.
Should You Trade or Invest in Ethereum?
Hopefully, this Ethereum price prediction overview gives you a general idea of where this asset is headed. As you have just seen, the value is likely to go further up, so investing is still a viable option.
However, you can't take potential advantage of the crypto market's fluctuations when holding long term, also known as HODL. Plus, there are no guarantees in the crypto market. Even if you're pretty sure prices will be on an uptrend, new regulations or technologies might drive them down pretty sharply.
So, instead of purchasing Ether and letting it sit, you can actively trade it. Since the price of Ethereum rises and falls all the time, keep your eyes peeled for the optimal moment to enter the market.
There's also an option to trade CFDs. This way, you'll be able to access the underlying asset at a lower cost, with ease of execution and the ability to go long or short. However, remember that trading CFDs is a complex instrument. It means that there is always the risk of losing everything in a moment.
To start your journey on the right path, sign up for a Libertex demo account. It allows you to see how price action develops and understand the market. Here, you can develop and test your strategy without any risks: automated and manual. And then, when you feel ready to enter the real market.
If something is still unclear, please, check out this FAQ section.
FAQ 
What Will Ethereum Be Worth in 2025?
While some sources forecast the value will increase to roughly $4,000–$5,000, others have even more optimistic estimates that go as far as $10,000 and beyond.
Will Ethereum Have a Correction?
Ethereum was heading towards the $2,600 mark. Unlike BTC, it was a long but steady growth with no sudden spikes. We might see a correction soon. However, this is likely only a bump on the road that will quickly switch to price growth.
What Will Ethereum Be Worth in 2030?
Here's the ETH price prediction for 2030. According to what we've learned, ETH may not be in a great position at about $5,000.
Can Ethereum Reach $20,000?
Ethereum has firmly established itself to become the universal value settlement layer of the internet. At this point, we're nowhere near the value of $20,000, but it doesn't mean we won't be there in the future. 
Is Ethereum a Stable Coin?
It isn't. But some stable coins even use Ether, the native token of the Ethereum network, as collateral. One example of a stablecoin on the Ethereum blockchain is DAI.
Disclaimer: The information in this article is not intended to be and does not constitute investment advice or any other form of advice or recommendation of any sort offered or endorsed by Libertex. Past performance does not guarantee future results.
Why trade with Libertex?
Get access to a free demo account free of charge.
Enjoy technical support from an operator 5 days a week, from 9 a.m. to 9 p.m. (Central European Standard Time).
Use a multiplier of up to 1:30 (for retail clients).
Operate on a platform for any device: Libertex and MetaTrader.